This is my favorite place to ride in all of South Florida. It is relatively close to home, the roads are smooth and car traffic is minimal. Tiger Woods likes the area so much, he spent tens of millions of dollars buying a house on the Island.
Jupiter Island Ride Summary
Full Distance: 42.6 miles
Summary: Few cars, good amounts of shade, some beach views, mostly flat but with up to three bridges, water fountains and public bathrooms every six to ten miles.
Ideal for: all-around nice route, bring the entire family
Down side: only one convenience store along the entire route
Possible Start Locations
Marcinski Road (42.6 miles)
Coral Cove Park (31 miles)
Bridge Road
When to Ride Jupiter Island
There are always cyclists along this route, especially the area between Marcinski Road and Bridge Road. This is a prime area for biking. In the morning and evening, you'll find the most people out there because the path is substantially shaded at those times. Just about any nice morning, however, you'll be able to find a group to fit your pace.
When and How Does Matt Ride Jupiter Island?
My Saturday ride starts in the Marcinski Road parking lot at 7:30 am Saturday morning. This loop is 42.6 miles if you do the full loop and include the 30-minute breakfast stop.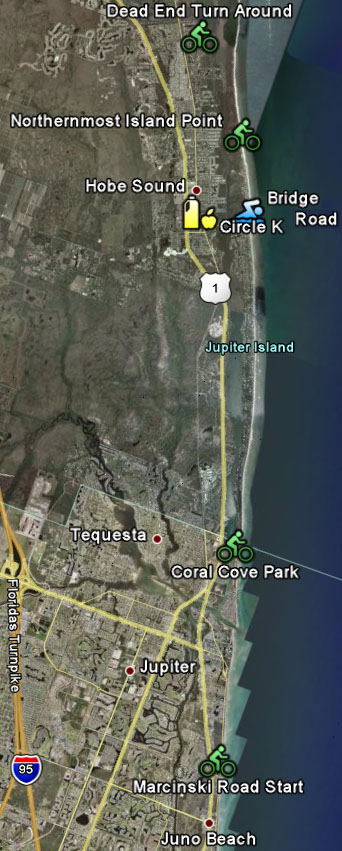 The 25-50 riders you will find there are primarily people who used to make up a Palm Beach cycling club that has since disbanded. While I having been riding with them for just a few months, there are people there who have been riding together for more than 15 years. The group is very welcome to newcomers. Please introduce yourself if you intend to ride with the group.
Marcinski Road to Coral Cove Park is six miles and takes about 20 minutes. Those six miles are your warm up for the main event. The speed for this section is about 15-18 miles an hour.
At Coral Cove, we stop for five to ten minutes to allow for a bathroom break and to allow those who want a shorter ride length to join us. The ride stars north at 8:00 sharp.
Depending on how many people show up, there is an A+, A and B group. The A+ group is as fast as the leader can crank, usually above 24 miles an hour with the top speed reaching 30 mph during sprints. The A group aims for 22/23 miles an hour. The B group — where I am most comfortable — aims for 18 miles an hour.
The age range for the riders is amazing. The youngest person I have seen in our group is a teenager and the oldest is well past 70. Those two, by the way, both left me (early-30s) in the dust when I was dropped from the A+ group one morning.
From Coral Cove, the group rides to the very top of Jupiter Island (10 miles) then back to Bridge Road (two miles), across to the mainland (one mile) then north up Southeast Gomez Avenue. Gomez hits 7th street (2.5 miles) then goes west for a block then goes north again until it dead ends (two miles). Turn around and head south to Bridge Road. From Bridge Road, go a quarter mile west (past a Circle-K) to a shopping plaza. In that plaza, there are two bakeries and a grocery store.
The group stops for 20 to 30 minutes for breakfast.
After breakfast, we start with a slow (15 mph) two-mile roll through a small Jupiter neighborhood to let out food digest. Then, it is back on Bridge Road across the bridge and onto the Island.
The final 12 miles back to Marcinski Road are fairly fast no matter with which group you started. You'll probably be able to keep up with your selected group but the idea is to leave nothing in your tank when the ride is over.