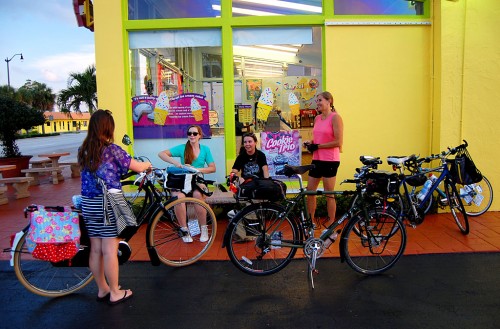 I've been getting invitations to the Ladies Cycling Society Tuesday night rides for some time, but I've either been out of town or lightning has scared me off. I'm not saying I DESERVE to be hit by lightning, but why take a chance that Thor is having an off night and misses the target he was aiming at. (Click on any photo to make it larger.)
Riding partner Anne on the mend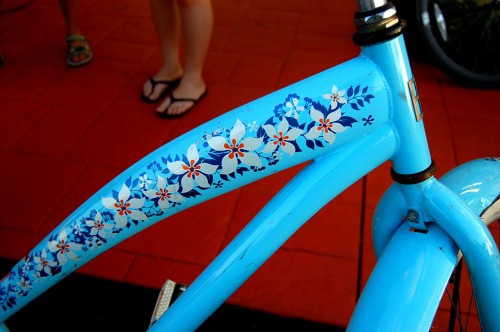 Riding Partner Anne has been to several of them, but was afraid she wasn't going to get medical clearance after a fall that resulted in broken ribs and a punctured lung. She'd like to brag that it happened on her bike, but the real story, while frightening, doesn't involve road rash or crashing out. (That's Anne in the pink jersey on the right in the top photo.)
Gender reassignment not necessary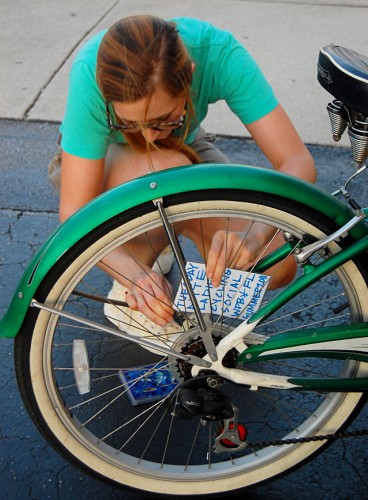 When I got my first invitation from organizer Tyra Forker, I wanted to clear up something first.
Here's my message to her: "Thank you for adding me to the Ladies Cycling Society. Before I accept the honor, I have to ask one important question: there's no gender reassignment involved in the membership, is there?"
She quickly assured me that I wouldn't have to switch to a girl's bike, but guys are asked to kick in a $5 donation that'll go toward paying MS150 expenses.
(That's Tyra, in green, installing a spoke card above.)
Carvel is West Palm Beach institution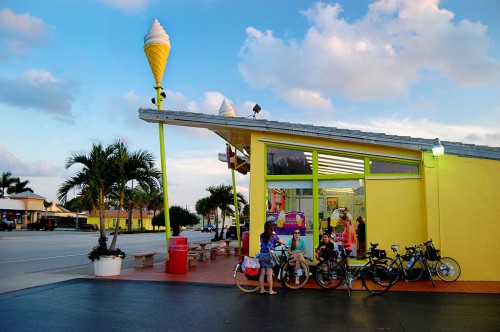 Former coworker George Primm and I met Tyra on our way to our first West Palm Beach Critical Mass ride a couple years ago. We were stopped at a red light when a car went blasting through the intersection and almost T-boned another one. She was on one corner and we were on the other.
When the light changed, we stopped to compare notes about what we had seen and started chatting about bikes. She was new in town from Kansas City, down to work on arty stuff at the Armory. We invited her to join us. That marked her introduction to the Freakbike Militia community. We like to thank that chance encounter at a red light has had something to do with her sticking around the area.
Colorful bikes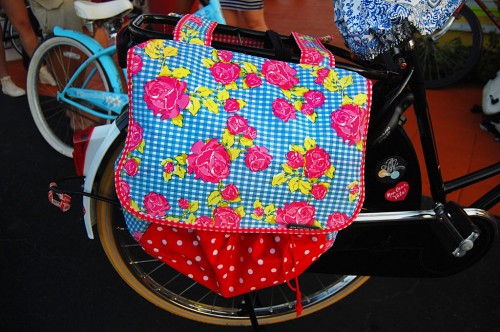 The rides form up at Carvel Ice Cream on South Dixie on Tuesday nights at 7 P.M. Roll-out, strictly enforced by Tyra is 7:20 SHARP. A coin flip decided whether the group was going south to Lake Worth or north to Palm Beach. The coin came up heads, so Palm Beach it was.
Spoke cards by Tyra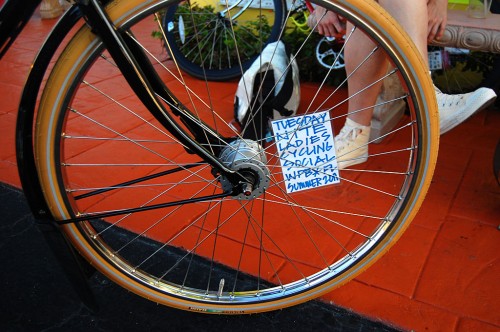 Before we pulled out, though, we were given one of Tyra's creations: laminated spoke cards to put between our bicycle spokes.
We headed over to Flagler Dr., across the Southern Blvd. bridge, then up A1A to the lifeguard stand on Palm Beach.
As fast as slowest rider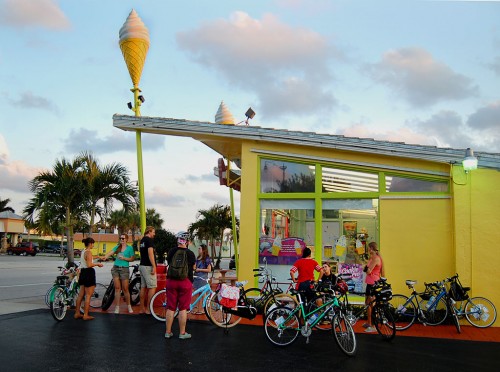 The ride was almost exactly 10 miles from my house, which is only a few blocks from Carvel. It's a ride that's billed to be as fast as the slowest rider. My average speed for the whole evening was 9.6 mph. Considering that Anne and I picked up the pace when we were riding back by ourselves, the group ride speed would have been even lower.
A good part of the time was riding in a double line because traffic was so light. If we saw someone coming up behind us, we'd single up. We got lots of friendly waves and had no unfortunate encounters with anyone.
Charlie Brown would have been at home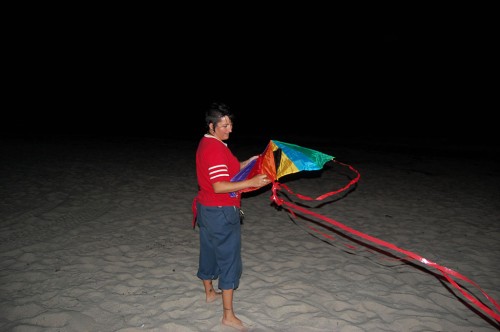 The invitation said the evening was going to consist of a bicycle ride, a dip in salt water and flying kites. At least three riders brought kites. We arrived at the beach just about dark-thirty. Kites were launched in near – then pitch – darkness. There were a few Charlie Brown moments, but no riders were permanently injured.
A few of the riders headed down to the surf for a quick swim. When Tyra sent an invitation for a swim ride while I was out in the Midwest, I made a suggestion: "Do it sans suits and I bet the guys would kick in more than $5."
Her response wasn't exactly a no: "We're saving the sans suits ride for the calendar photo shoot! Hope you're enjoying MO besides the heat…"
Getting comfortable on the beach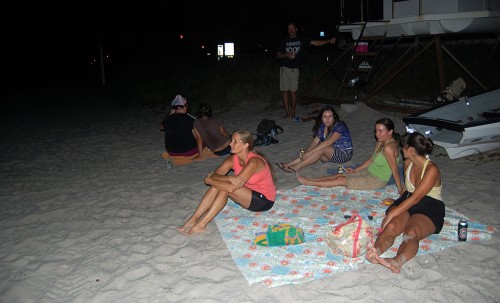 We had just stated getting comfortable when we saw the glow of a nearly-full moon pulling itself out of the ocean.
Here comes the moon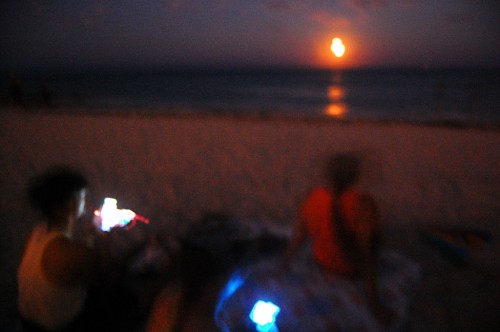 I had just about decided that this one of those nights when make I'd memories, not photos, when the temptation to grab a few frames got to be too much. I discovered that I'm not capable of hand-holding a camera with an exposure of 8 to 10 seconds. Still, I sort of like the effect.
Just think a couple generation ago, beachcombers might have been illuminated by the soft glow of a campfire. Today, the illumination comes from a smartphone screen.
Waves in the moonlight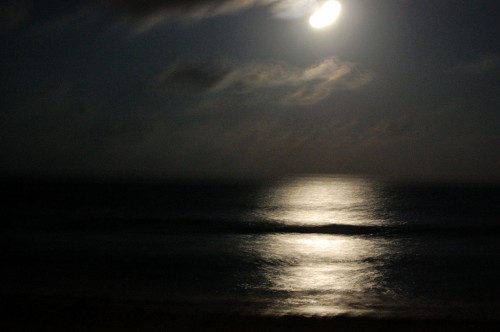 You can see from the moon that I was moving the camera around during the long exposure, but the waves came out fairly well.
Goodnight, Moon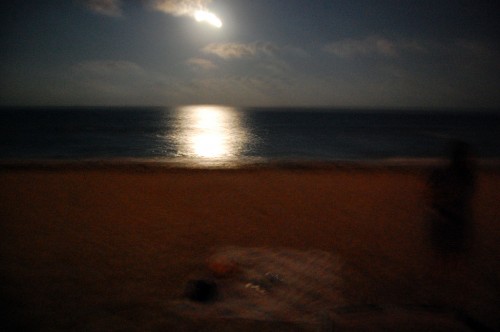 Finally, almost too soon, it was time to hop on the bikes and head out. Several of the folks wanted to make a bathroom break, so we rode over to public restrooms in West Palm Beach. (Palm Beachers don't like to provide those kinds of amenities.) Anne didn't want to stretch her first bike outing too much since her fall, so we peeled off from the group and headed home by ourselves.
If you are on Facebook, here's the fan page for the Ladies Cycling Society of the Greater Palm Beaches.