I stopped by Port Cape Girardeau to see an artist about having some business cards designed and to see if anything was happening along the Mississippi River.
Port Cape Girardeau and Common Pleas Courthouse
Someone in the bar mentioned that the local paper had a story that today was the 100th anniversary of the day President Taft and a flotilla of boats visited Cape Girardeau.
In fact, if I'd step outside, that very occasion was depicted in a mural on the floodwall right in front of us.
Indeed, there was President Taft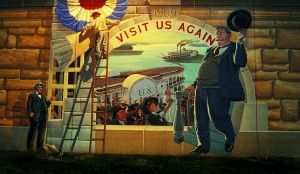 If you go to the historical pictures in The Southeast Missourian story, you'll see that the townsfolk built an arch over the street that looks a lot like the one in the mural.
I apologize for the quality. It was taken at night under marginal lighting.
I visit Cape Girardeau more than Taft
I'm miffed. Taft shows up once in 100 years and it's a big deal with a special painting on the floodwall. I show up at least once every year and nobody even throws me a parade.
Coast Guard buoy tender keeps boaters safe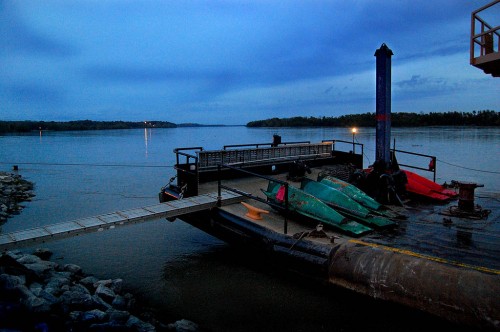 A Coast Guard buoy tender was moored at the waterfront on the other side of President Taft. They're the guys who maintain the red and green buoys that tell barge pilots where the shifting Mississippi River channel is safe to run.
Captains have a lot more toys than in the Mark Twain days, but the Mississippi River, which is rising rapidly with all the recent rains, is still an unpredictable place.