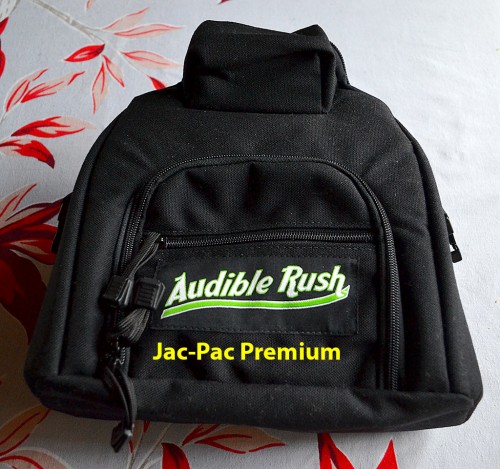 When I was first approached with an offer to review Audible Rush's Jam-Pac Premium handlebar bag and music dock, I turned the request down. I thought the product was overpriced for the casual user – $159.50 – and not something the serious bike tourist would be interested in. You can click on any photo to make it larger. For the record, the type in yellow in the photo above isn't on the product. I added it as a title.
Marc Nussbaum, CEO of Audible Rush, made some compelling arguments:
Our system has by far the best sound quality of any production bicycle music system. You will be very surprised when you hear it. We use a full digital 12 volt amplifier and a Lithium Ion rechargeable power source.
It is hidden inside a handlebar bag and the bag can also carry your valuables.  Use the quick release to carry everything during your lunch break- it is virtually theft proof since you take it all with you.
Jam-Pac is a full-featured smartphone dock. It works with all players; MP3 players, iPhones, Android phones, Etc.
The player is held in front so the user has full access to all controls.
Our high end model can recharge some model smartphones (iPhones and others) from its internal lithium ion rechargeable batteries. This allows users to stream internet radio (Pandora, Etc.) or use GPS navigation or bicycle computer/fitness applications without running out of phone battery time. This can be very handy in situations where the user needs to make an emergency call.
Despite my reservations, I told them to go ahead and send me one on a loaner basis to check out.
First reactions to Jam-Pac Premium?
It's not really aimed at me. I already have a heavy-duty Arkel Small Handlebar Bag mounted on a second stem on my Surly Long Haul Trucker. It's a perfect size to carry my camera gear without being so large I'd be tempted to overload it. The Jam-Pac is a nice size to hold a spare tube and a few tools, your wallet and cell phone, but it's not big enough for my needs.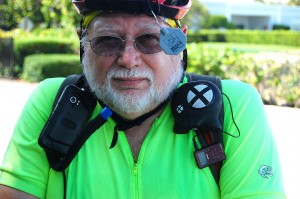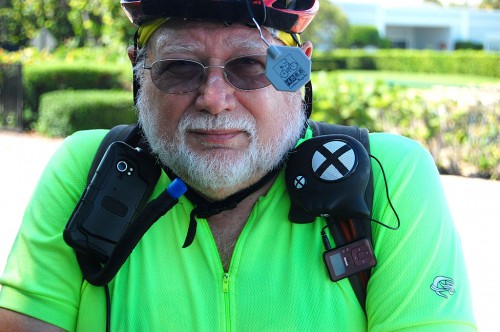 I like music for those days when I'm riding alone and I want something to take my mind off a boring stretch of road or the headwind that won't let up. I don't like earbuds (plus they are illegal) and I don't necessarily want to rattle windows.
A good compromise for me has been the BoomBotix BB1 that I clip to the strap of my Camelbak hydration pack. Here's my review of the BoomBotix.
I thought I'd stick the Jam-Pac Premium on riding partner Anne's bike, but even her cockpit was too busy. I relocated a headlight, moved a front reflector and started to mount the bracket, but I was going to have to start cutting nylon ties to slide her bike computer out of the way and that was more trouble than I wanted to go through for a review. That's not to say that it couldn't have fit her bike and that she wouldn't have been happy with it, it was just a hassle for a temporary installation.
I'm convinced that it will mount fine on most bikes if you don't mind moving some things around (the same as you'd have to do for ANY handlebar bag. You can see some photos of the bag mounted on bicycles on the Audible Rush website.
Things I like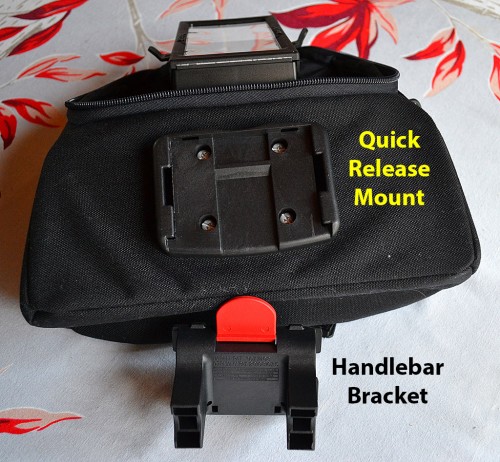 It has an quick release bracket that allows you to take it with you. I use that feature a lot with my Arkel bag. In fact, I use it as a camera bag when I'm not using my Domke shooting vest.
Will adapt to about anything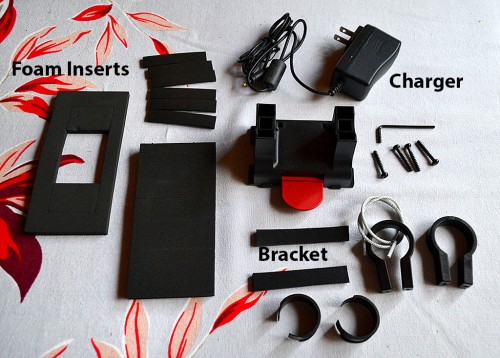 It has lots of different foam inserts that will adapt to just about any MP3 player or phone you might be carrying.
Handy storage space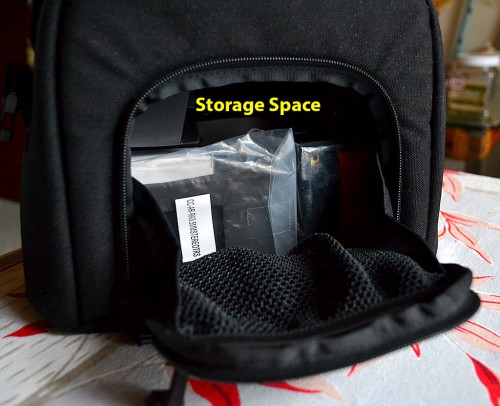 Has room for wallet, cell phone, spare tube, small tools
Protects MP3 player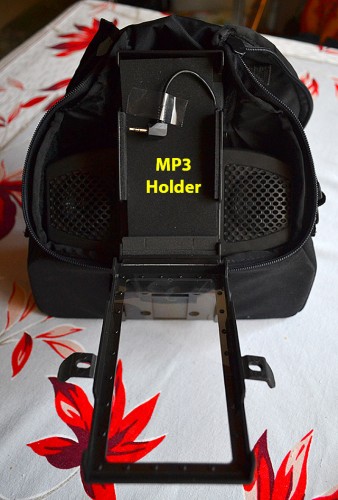 It produces lots of sound. (See below.) If you go on "party" rides where you want to entertain all your friends, it'll do that.
MP3 player controls are accessible, but the unit is protected.
Price isn't out of line
I figured Son Matt, a go-fast weight wienie like his Uncle Mark, would poo-poo all over it. Surprisingly, he thought some of his friends might be interested in it, particularly if you start adding up the costs of all the pieces.
Audible Rush Products
These are Amazon prices. (If you order through one of these links, I get a piece of the action without it costing you anything additional.)
Jam-Lite Essential: the minimalist lightweight stem or bar mount speaker system. Lists for $39.95; has 3 volt amplifier and runs up to 12 hours on two AA alkaline batteries. I find this the most tempting replacement for my BoomBotix BB1.
Jam-Pac Essential: described as the budget handlebar speaker system. Has a 3-volt amp that runs on two AA batteries and a quick-release weather resistant handlebar bag. It lists for $114.85.
Jam-Pac Premium: The big difference between the Premium and the Essential is that the former has a 12-volt amplifier and runs for up to six hours on a rechargeable lithium ion battery. It lists for $159.50.
Jam-Pac Premium Plus: has everything the Premium does, plus it has a USB connection to charge your phone or GPS. It costs $209.95.
You can get more information and find out about accessories from the Audible Rush website.
Watts the deal with volts?
I had a question about how the speakers were rated and sent CEO Marc Nussbaum a question on a Friday night. He responded Saturday morning. That's pretty good. Here was my question: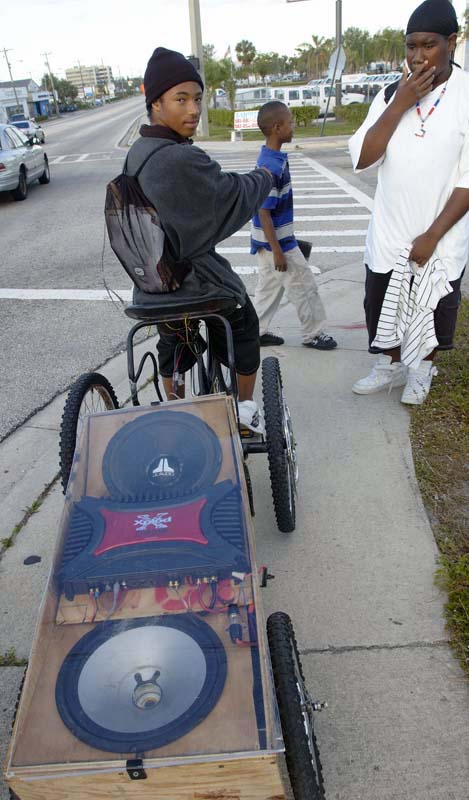 "When I look at the comparisons of your various products, I see that some amps are 3 volt and others are 12-volt. Speakers are usually rated in watts. Did you really mean "volts" on your website?"
Marc's explanation:
The quick answer: The amp in the Jam-Pac is specified to deliver 6 watts per channel, as compared to the amp used in the Jam-Lite and most other bicycle stereo speaker systems we've seen which are specified to deliver 2.0 or 2.2 watts per channel, however, watt rating of amplifiers don't tell the whole story.
What's important to the sound quality as far as the amplifier goes, is its ability to drive dynamic changes in the music and especially to be able to do this at the lower mid-range and bass frequencies where it takes the most power. 3 volt amplifiers don't have nearly the dynamic range to drive a decent pair of speakers fast enough and far enough to reproduce high quality. So this is no mistake on our part as far as the spec goes. The voltage is more important in this application and adds both design complexity and cost to the product.
The amplifier in the Jam-Pac is very sophisticated and runs on 12 volts like the stereo in your car. If you only had a 3 volt battery in your car, even if your speakers in the car were as large as they are now, it would still sound pretty bad, muddy, without punch. This is the 'secret' behind the great sound of the Jam-Pac… Good quality speakers (that cost about 15 times as much as the standard portable speakers used in most products) and the full voltage swing of a 12 volt amplifier to more accurately reproduce music dynamics.
 Also, let's talk speakers. Speakers are usually rated at the max wattage they can be driven before distortion and/or damage. The Jam-Pac speakers are specified at 6 watts maximum (that's for each speaker) and are quite large for this type of product; 2″ (51mm) in diameter. Our smaller product, the Jam-Lite (similar to most other competitors) use speakers rated at 2 watts each and are 1.4 inches (36mm) in diameter.
By the way, the kid on the trike can rock the road, even if he's not using a Jam-Pac. I hate to think how many batteries THAT puppy takes.