Photographers live in the NOW. If you don't have just the right camera loaded with just the right kind of film with just the right lens on it, then you are likely to come up with memories, not pictures.

A photographer named Jim Domke was given the assignment to come up with a camera bag that would suit his fellow photographers at the Philadelphia Inquirer in the middle 70s. He had a prototype ready for the 76 Republican Convention.
Domke bag became the defacto standard

The Domke F-2 Camera Bag became an instant hit with not only his staff, but photographers all over the country. We needed something that would hold multiple lenses that could be grabbed in an instant; plenty of pockets for film, filters and junk. It needed a wide strap that would hold onto your shoulder without digging in or sliding off. It needed to be water resistant and it had to be able to stand up to the abuse of travel and spot news.
When I traveled, I might check my clean underwear, but my Domke bag went carry-on. After all, if my equipment didn't get there, it didn't matter if I did.
Three generations of bags
The foreground, frayed bag was my first, bought shortly after it went on the market in 1976; the top bag is probably 20 years old and the middle bag, owned by Son Matt, is about five years old.
There are a few subtle differences among them. The new version, for example, comes with a padded insert that Matt didn't like. Somehow or another, I ended up with it, and he has the canvas one that was in the original bag.
I didn't like working from a bag
The Domke bag was the best of the bunch, but I didn't really like using a bag.
It put a lot of weight on one arm.
It interfered with the camera strap if you were working with cameras on both shoulders and around your neck.
It made it hard to work your way through a crowd.
I bought fishing vests
They had lots of pockets, they were fairly inexpensive and they distributed the load more evenly than a camera bag.
I owned several of them over the years.
The darned thing must have shrunk
When Wife Lila and I headed out to New Mexico, I dug out my old fishing / shooting vest from the back of the closet. It probably hadn't been used in about 20 years.
I don't know exactly how it could have happened, but the thing managed to get smaller while hanging up. It certainly didn't fit that tight when I was on the street.
It was time to check out the Domke Vest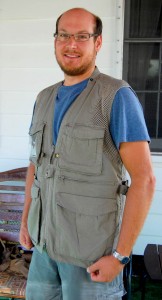 The Domke PhoTOGS Vest was everything the cheap fishing vest was and more. It claims to be khaki, but I think it's more of a greenish gray. Not a bad color, just not khaki as I know it.
The fishing vest had lots of pockets, but they tended to be a bit shallow. After they got some wear on them, the pockets started to get a little thin and I worried about a lens popping through the material at the worst possible time.
The Domke vest is made out of fairly heavy cotton. I think it'll take a lot of abuse before I'd get concerned about fraying.
Heavy, but cool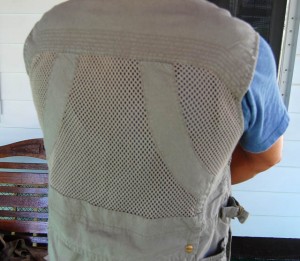 The heavier material is offset by cotton mesh on the front and back to let out heat. I don't think I'm going to need the hand warmer pockets anytime soon, but it's nice to know they are there.
It fits a little longer than a fishing vest, but I think it looks better.
A large fit Son Matt and me. (If it's a little too big, it has waist adjustment tabs to pull it in a bit.)
Pockets on the inside, too
Not only does it have pockets on the front and back, it has large, usable pockets on the inside, too.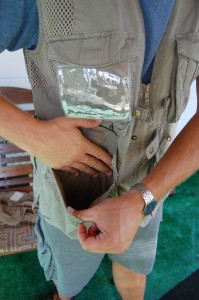 OK, it doesn't have a soft pad to stick my fishing flies in, but it DOES have little loops for wire holders near the top. It has a raised collar to keep the camera strap from rubbing your neck, and the tops of the shoulders have rough stitching that will keep the strap from sliding off.
Because photographers carry more weight than fishermen, the overall cut of the garment is designed to distribute it over a wider area. It even has a clear plastic window held on with Velcro that can hold press ID. (If you don't need to display an ID, then it comes right off.)
The only thing that's lacking is a hook on the back to hang it up.
It's obvious that the person, who came up with the specs, had spent a lot of time on the street shooting pictures.
The Domke Vest lives up to the Domke name
I paid $64.95 for my Domke PhoTOGS Vest on Amazon (plus shipping), but I don't regret the amount. It's a piece of equipment that will outlast me. (If I can keep the shrinking closet from attacking it or one of my sons from "borrowing" it.