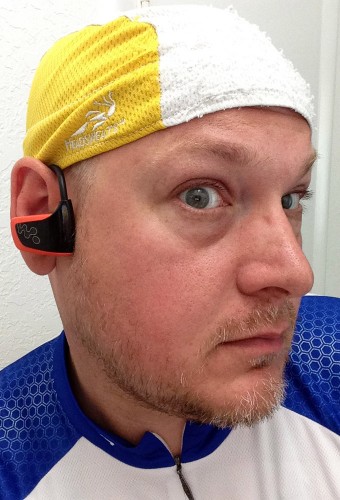 I'm a complete sucker for free stuff so when my Klout score was high enough for Sony to offer me a Sony Walkman NWZ-W262 for review, I said 'yes, please'.
Then, I got the Sony Walkman MP3 player in the mail and it just sat on the dining room table for weeks. I couldn't bring myself to break open the package. When I'm cycling, I typically don't have anything in my ears. When I do choose to engage in audio, it is with SanDisk Sansa because it is cheap (as low as $25 from Woot), has physical buttons, long battery life and seems indestructible having been dropped and rained on several times.
Finally I got to feeling guilty and was doing a solo ride so I gave the Sony Walkman a shot.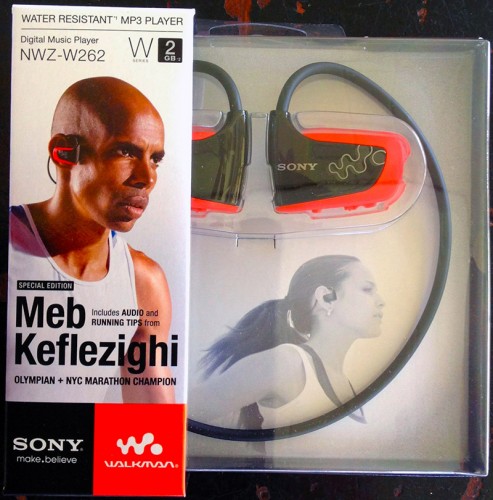 It was just as easy to load music on the Sony Walkman as it was the Sansa. This is great news. Other companies (I'm looking at you, Apple), make you load proprietary software. Not the Sony. All I did was plug it into a USB port and my computer saw it as a drive. I dragged and dropped my usual music selection and some podcasts onto the Walkman and it was good to go. Nice.
Sony Walkman: Comfortable, Secure Fit
The Sony Walkman fit like a glove. The earpieces were secure in my ears and very comfortable. Best of all, I didn't pick up any wind noise like I do with normal ear buds. These things were great at keeping out ambient noise. (Which, at best is illegal in my state and, at worse, is likely to get me killed in traffic. But, hey, that isn't Sony's fault. (Unless I get killed in traffic in which case I'm suing them for creating a faulty and clearly negligent product.))
I had never really noticed how annoying earbud wires were until I rode with the Sony Walkman. No wires snaked down my jersey to the player was a big improvement. I was worried that the Walkman would fall off when I removed one ear so I could still hear traffic but it fits snugly enough that I'm not worried about losing the device.
Good Button Placement, Easy to Use With Gloves
The buttons were easy to find and use with full-fingered cycling gloves. Unlike a touch screen which is iffy in gloves (see also: iPod), the physical buttons worked like a charm. I had no trouble skipping tracks and adjusting the volume while in motion.
Battery life was good. On a half-hour charge right out of the box, I was able to do a two-hour ride and still have a few hours of juice later in the week.
What's Not to Like?
There is no visual track indicator nor is it possible to queue tracks.
I listen to a lot of podcasts while on the road and most of them have the same audio intro. Sometimes I have to get two or three minutes in to be able to tell if I have heard the podcast already. If I had a screen, I could easily see that I've already listened to the May 7 podcast and go onto the next. Still, I'm willing to forgo the visual track indicator because there simply isn't room for it nor would it help this product with its target audience.
The audio cueing, however, is a problem. Let's say I started listening to a two-hour podcast at work on my computer and am 30-minutes in before I hop on my bike. I'd really like the ability to press and hold the 'track forward' button and have it fast-forward in the track. That would allow me to guestimate my way into the track to the unlistened to part. This should be an easy software change for Sony. I realize I'm probably in the minority for this feature but I don't see how adding this minor software tweak would negatively impact the Walkman's core audience.
Sony Walkman MP3 Player Review Summary
I really didn't expect to like the Sony Walkman: too much overlap with known-good product (Sandisk Sansa), a smartphone (Motorola Droid) and in an untested (for me) form factor. After a couple rides worth of testing, it may have replaced the Sansa. I really like the lack of cables and that it really blocks out the wind noise. I've tried a number of earbuds ranging in price from $4 to $45 and none have as good of fit as the Sony Walkman. All signs point to long-term durability similar to the SanDisk.
Nice job, Sony and thanks to Klout for hooking me up.