Buy Levitra online in the Uk alt="" src="http://www.palmbeachbiketours.com/wp-content/uploads/2010/08/Malcolm-on-bike-500×332.jpg" width="500″ height="332″ />I was supposed to meet 6-year-old Malcolm this afternoon to ride home from school with him. I was running late, so I threw my Surly Long Haul Trucker on the rack and headed 12 miles up to his school.
As I was cranking along at 65 miles per hour, I noticed in the rearview mirror that my front fender was flexing a little more than usual. I figured it was just getting buffeted by the wind coming off an 18-wheeler next to me.
Planet Bike fender had cracked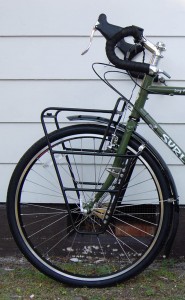 When I got to his house, I took a closer look. The front fender had cracked and was barely holding on by a thread. I guess it must have developed "plastic fatigue."
The fender was a Planet Bike Cascadia, so I went to their website to see if they had a local dealer who might have a replacement in stock. Bingo! Not only did they have a local dealer, it was one I had done business with. I'm not going to name the dealer for reasons that will become apparent.
A call to a local bike shop
"Hi, do you have a Planet Bike Cascadia fender in stock?"
"No, but I can order you one."
"If you're going to have to order it, is there any financial advantage to having you order it versus me ordering it direct."
His tone changed and he said, "If you order stuff off the Internet, where are you going to go for local service 10 years from now when all the local shops are out of business?"
"Whoa, wait a minute. I support local bike shops. I bought two bikes from you. I've bought accessories from you. I've sent friends to you."
He just kept asking, "Does Planet Bike put back anything into the local biking community? Does Planet Bike put anything back into the local biking community? Answer me that, yes or no."
Finally, I had to admit that, the answer was 'no'.
Planet Bike donates 25% of profits to advocacy groups
I wish I had known this about Planet Bike while we were having our discussion:

Planet Bike helps out by donating 25% of company profits to grassroots bicycle advocacy groups. These groups of people lobby local, state and federal government to make our communities more bicycle friendly. Learn more about how these folks are Making It Happen.
Since 1996 Planet Bike has donated over $1,000,000 to grassroots bicycle advocacy. Most of our money goes to the Alliance for Biking & Walking, (formerly the Thunderhead Alliance), a coalition of 160 bicycle advocacy groups across the nation that are working together to promote safe bicycling.
May I speak with the owner?

I asked if I could speak to XXXXX, the owner, a guy I thought I knew from doing business in the shop and from seeing him at biking events.
"You're talking to him."
"This is Ken Steinhoff," I said, hoping we could connect on what I believed had been a previous friendly personal relationship. "I TRIED to do business with you. You were my FIRST call."
How many products does Planet Bike Carry?
"Do you have any idea how many products Planet Bike carries?"
I had to admit that I didn't have a clue.
"Well, lots. I can't afford to stock one of everything that they carry for someone who might come in once a year to buy it."
"You won't have to worry about ME coming into your shop in the future."
How could I have handled this better?
Maybe the exchange would have been less testy had I said, "I was really hoping to get one right away. I'll call some of the other bike shops to see if they have it in stock."
I really wasn't trying to beat him up on price. I threw out the question about price advantage to give him an opening to save the sale.
Had he said, "I can have it here in two days, at the same price," I might have thrown him the order, even though he's a 26-mile round trip from my house. If I order it online, a nice man in a delivery truck will drop it off at my front door.
I don't know how Planet Bike works and/or what their price structure for dealers is. I was looking for speed more than price, all things being equal. I know that some shops won't place an order with a distributor until they get enough together to make it worth their while. If this place is like that, I'd rather deal direct.
What IS a local bike shop, anyway?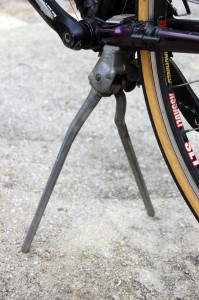 Several years ago I considered buying a double-legged kickstand. I knew Harris Cyclery carried them, so I called Boston to ask some questions. When I started to place my order, the guy at the other end said, "I KNOW you. I've seen your name on some of the bike forums."
That's better recognition than I can get from shops that are just up the road from me.
Hubbub Bicycles
Diane Lees of Hubbub Custom Bicycles in Cleveland and I have never met, but we've exchanged several dozen bantering emails over the past decade.
She's my regular supplier for helmet-mounted Chuck Harris mirrors and she's an active phred. Is SHE my LBS?
Peter White Cycles
I've never seen Peter White, but I've bought a two generator hubs and a bunch of lighting equipment from Peter White Cycles of New Hampshire. His bedside manner is a bit rough, but he knows about as much about lighting as any guy in the country. Is HE my LBS?
Will my local bike shop be extinct?
To go back to the question the owner of my former LBS asked, "What will you do if all the local bike shops go out of business?
The answer is, I'll learn to do more of my own wrenching, and I'll spend my money where people don't cop an attitude.