Even though statistics show that being hit from behind is rarer than a lot of folks would think, I still like to know what's going on behind me.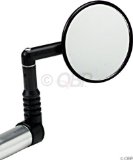 Over the years, I've tried all kinds of mirrors. One flavor attaches to the bars. They were OK, but the image was too small for me to get more than a vague idea of what was happening to my rear.
They'd also vibrate, change position and get broken when the bike fell over.
How about a helmet mirror?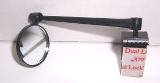 That sounded like a good idea. I went through several of these. Most of them used some kind of stickum to attach a plastic stem to the side of the helmet.
Since I'm left-eyed, this worked very well because the mirror would mount on the left side of my helmet, the traffic side (at least in the United States). A quick glance up and a sweep from left to right will keep you updated about what's coming up.
Are you left or right-eyed?
[Want to know if you are left or right-eyed? Point your index finger at an object in the distance. Close one eye and then the other. The one that lines up the object with your finger is the dominant eye.]
The only problem was that the stickum would frequently become non-stickum. And the cheesy plastic stems were easy to knock out of adjustment.
I joined the Chuck Harris cult
I read the phreds talk about a rearview mirror handmade by some guy named Chuck Harris out of broken mirror pieces, bent spokes and heat shrink tubing.
Hubbub is my source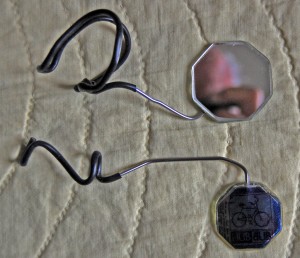 I had to see what the mirror cult found so special about this thing, so I tracked them down to treatments of vitiligom.com/">Hubbub Custom Bicycles in Cleveland, OH. They sell both the helmet mount and eyeglass mount mirrors. They brand them with the store logo and sell them for about half the price I've seen them at other places. (Although, I have to point out that the price has gone up about $6 since my first purchase.) Unfortunately, they are at the mercy of Chuck Harris to produce the product, so they are frequently out of stock.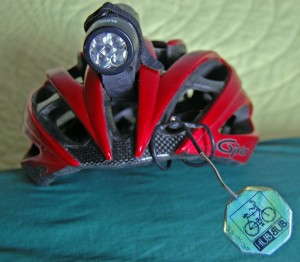 If you order one, tell Diane Lees hello for me. She's good people, a great bike advocate and a Yoga instructor who can bend you into a pretzel and, hopefully, back again.
I'm a hoarder
Over the years I've bought more than a dozen of them to give to friends and family. Because they are custom-made and hard to get, I never let my home stash get lower than two. I have one eyeglass mount version, but have never used it because my frames are too thin to make it work.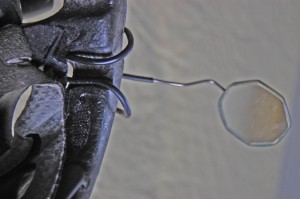 These puppies are bombproof. Once you get it installed and adjusted, you'll never have to touch it again. You can, literally, pick up your helmet by the mirror's stem and it won't change adjustment.
I've only had one mirror fail in eight or so years. On a ride across the state last year, I noticed that my mirror seemed to need adjusting. It turned out that the spoke had broken where it attached to the helmet. Even then, the heat shrink tubing kept it going long enough to finish the ride.
A bargain if you're in Canton
If you live in the Canton, OH, area, the Stark County Bicycle Club will sell them for $10, but only to club members (and they don't ship).
Mark Boyd, one of my favorite phreds and the God of Goop, has been a long-time Chuck Harris user. Over the years, he's worked out several ways to adapt the bits and pieces when they eventually wear out.
MessengerMirror an inexpensive alternative
Bruce, below, suggested I take a look at his mirror. Here's the full review of the MessengerMirror. It's worth a look.