Reader Pam Henderson sent me a question the other day, "Know what the grade is on Lake Worth Bridge?"
Lake Worth Bridge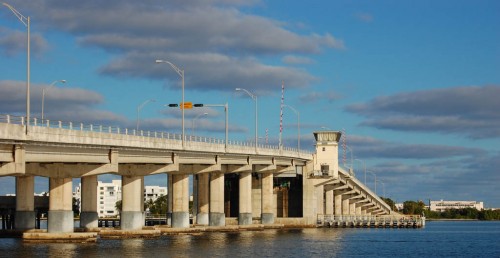 I told her I'd have to dig out some old GPS tracks to calculate it, then I realized that I have on application on my brand-new Verizon HTC Droid Incredible that emulates a level. When I looked at the options, it allowed me to turn on angles and pitch.
Magic Droid Incredible Bubble Application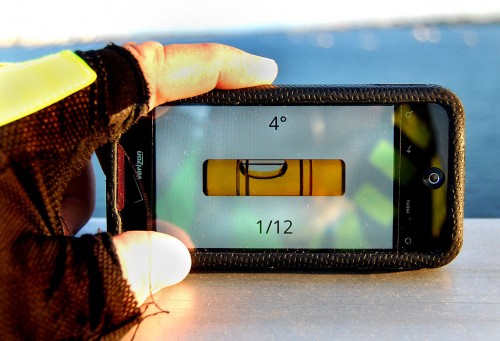 Osa called and said she was ready for a short ride after our LOST Full Moon adventure, so we headed to Lake Worth and the bridge. I set the phone up on the bridge railing, which appeared to be parallel to the bridge deck and saw that the angle was somewhere between 3 and 4 degrees, with a rise of about one inch of climbing for every foot of horizontal travel.
The photo also shows that my Glo Gloves are beginning to come unraveled.
Roller Blader Lynn Pohl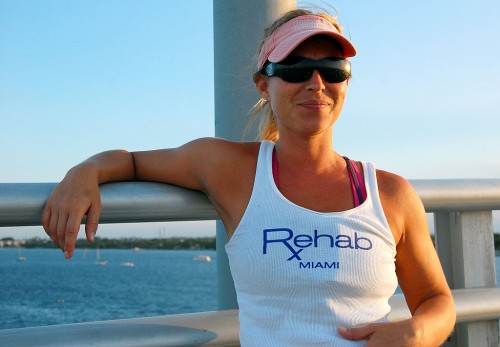 While mucking around with my camera and Droid, a roller blader whizzed past me on her way up the bridge. She and Osa were chatting at the top of the bridge when I got there.
"How fast do you go DOWN the bridge?" I asked.
"Pretty fast, when these walkers get past us, but I don't know exactly how fast," she replied.
20 mph down the bridge
I paced her on the downstroke, calling out speeds as we went along. Two-thirds of the way down, she hit  20 miles per hour and held it for some distance. Unfortunately, I pushed the wrong button on my video camera and missed capturing her descent.
At the intersection of A1A and Lake Worth Road, she turned south onto the multi-use path that parallels the road. I decided to follow her to see how fast she could go on the flats. She rarely dropped below 11 mph and frequently topped 15, for an average of about 14.4 mph.
A1A Trail between Lake Worth Road and Lantana