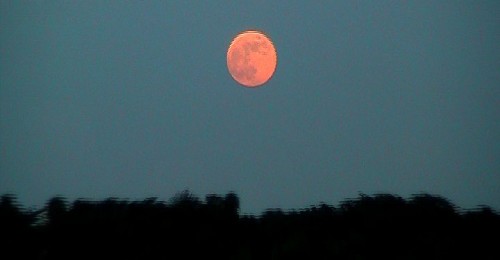 I've been telling my riding partner, Osa, how nice it is to ride the Lake Okeechobee Scenic Trail (LOST) for months, but weather and schedules have kept us from going out until this weekend. Sunday night was supposed to be a Full Moon, so I thought it would be a perfect introduction for her.
Rain made it look iffy
Rain chances were put at 40%, but some pretty heavy boomers were popping up around the lake, then moving on. We decided to risk it. We got on the road about 5:45 p.m. intending to go where my Droid Incredible radar showed the least weather. All things being equal, we were going to start so we'd have a headwind out and a tailwind for the return.
The first thing that went wrong was that my normal route was under construction. A detour took us about 10 miles out of our way. That wasn't so bad, though, because Osa hadn't had a chance to see much of the Glades farming area. She was disappointed when we saw only one alligator in a canal that I said, frequently, had a couple of dozen.
Nubbins Slough looked rain-free

We opted to put in at Nubbins Slough, on the northeast corner of the lake. The winds were out of the southeast at 8-12 mph, and our route was mostly headed southeast to south.
We didn't spot any gators at the Slough, normally a hot spot, but these birds were kind enough to pose for us.
Osa fitted with a bug screen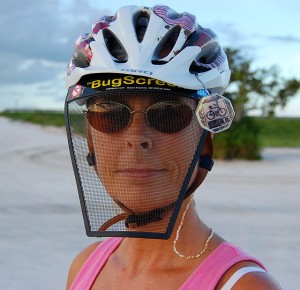 I'm working on a review of the GBNpro Bug Screen. Bob Prusinski was kind enough to send me three to try, so I fitted one to my helmet before I left home and gave Osa one to attach to her helmet on the way out. The contraption is held onto the helmet with a strip of Velcro tape.
I'll have a full review after I've had a chance to see if a couple problems we ran into were because we use helmet-mounted mirrors. After getting her picture taken, Osa took hers off. I, too, decided to hold off mounting mine until it got closer to Bug o'Clock.
Blue skies above us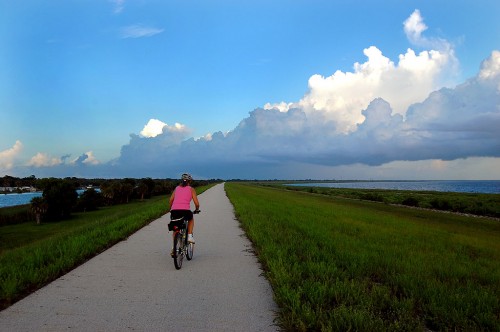 As you can see, we had blue skies above us when we started off on our ride. Osa has a thing about clouds, so she stopped frequently to take photos of the ever-changing skyscape above us.
That is NOT a Clif Shot bloc
During one of those stops, I took the opportunity to reach into my pocket for a Clif Shot Bloks (Strawberry, not that it makes any difference). I like them because I can tuck them in my cheek and suck on them as I'm riding along. It gives me a steady inflow of energy and encourages me to drink more frequently.
Anyway, I bit down into the first bloc. They're about the consistency of soft candy Gummy Worms. On the second chomp, I bit down on something hard. Something that was definitely NOT soft Gummy Worm consistency. I had a sinking suspicion that I knew what it was. Yep, I had pulled a dental crown right out.
Fortunately, I hadn't bitten down hard and I hadn't swallowed it. I took a tentative sip of water to wash my mouth out. WHOAAAAA! We're not gonna do THAT again. Even sucking in hot summer air let me know that something was exposed that didn't want to be exposed.
Remember those rain clouds off in the distance?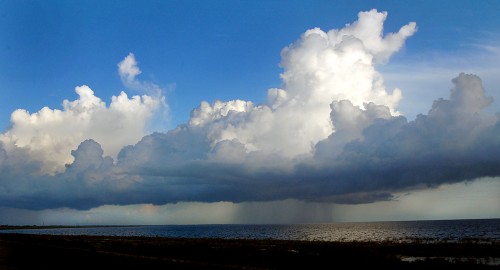 It looked like we were going to go in the blank space between the two rain showers. It LOOKED like that right up until the point that the sky opened up. Osa pulled on a jacket and slipped her phone and some other stuff in a Ziploc bag.
I put my Droid Incredible, Sandisk Sansa Clip MP3 player and i-Ride Pro speakers into a Ziploc bag and put them in my jersey pocket (more about that later). I put the rain covers over my Arkel small handlebar bag and Tailrider Trunk bag and debated pulling on my Campmor Rain Cape, but decided it wasn't going to rain that long. Plus, it was hot enough I wasn't afraid of getting chilled.
Sure enough, we rode out of the rain in a couple of miles, just in time to get some photos of the moon rise. The frame at the top is a little unsharp because it's a still shot taken out of a video. My Canon FS100 Camcorder has a longer effective lens than my Nikon D40.
Dusk means bugs
Shortly after we got moving again, I told Osa that I was going to put on my Bug Screen because it was getting to be "that time." She elected to wait a bit longer. I thought that was a mistake, because I was already seeing small bugs bouncing off the screen and seeing them stuck in the sweat on my arms.
She started complaining that she could feel bugs crawling around inside her helmet, so I offered a bandanna to put over her hair. We stopped to find it, and immediately became a feast for mosquitoes that covered every part of us, clothed and unclothed. Osa went into a whirling dervish swatting frenzy, then hopped on her bike vowing to pedal until she dropped, hopefully dead, if she couldn't outrun the bloodsuckers.
I photographed Mathilde doing the Frog Dance on one Full Moon Ride. Osa put her to shame.
When we got to our turnaround point, Osa didn't even slow down; she just put it in whip-around and kept going. Fortunately, by the time we got back to the car to load up, the bugs were gone. Either the bug window had closed or we had satiated every mosquito around the northeast corner of the lake.
Health and welfare check
When we got into the car, I took the Ziploc package of electronics out of my jersey pocket (more about that later) and called Wife Lila to let her know we were off the LOST and headed home, even if a couple of quarts low and uncrowned.
I commented to Osa that my gas tank was a little low, but I was "pretty sure" I had enough to get us to a station. She remembered the mosquitoes and didn't like the sound of that. She became even more concerned when the Low Fuel light flashed on. (That means I can go about another hundred miles, and we only had about 50 to go, but I didn't share that with her.)
There's a gas station in Indiantown
We pulled into the last gas station in Indiantown. The pumps say to pay inside, so I walked into what looked like a combination gas station, produce stand and night club and gave the clerk my credit card.
While I was pumping my gas, a guy came out of the shadows with a cell phone in his hand and asked if I had a buck. "I'm paying for the gas with a credit card as it is," I told him, not literally being untruthful. He wandered back to stand in the shadows with another guy, waiting for someone who wanted good Karma (more about that later).
Maybe I should have given the panhandler the buck
We made it home uneventfully. Osa even said she had fun and was ready to go back again. With a stronger bug spray this time, though. When I carried everything in, I couldn't find my MP3 player and speaker, even when I looked in the nooks and crannies of the car. My guess is that the slick Ziploc bag slipped out of my jersey pocket either at Nubbins slough or at the gas station.
Maybe I should have given the panhandler a buck to fill up my Karma bucket. If I lost it at the gas station, I hope he enjoys my taste in music.