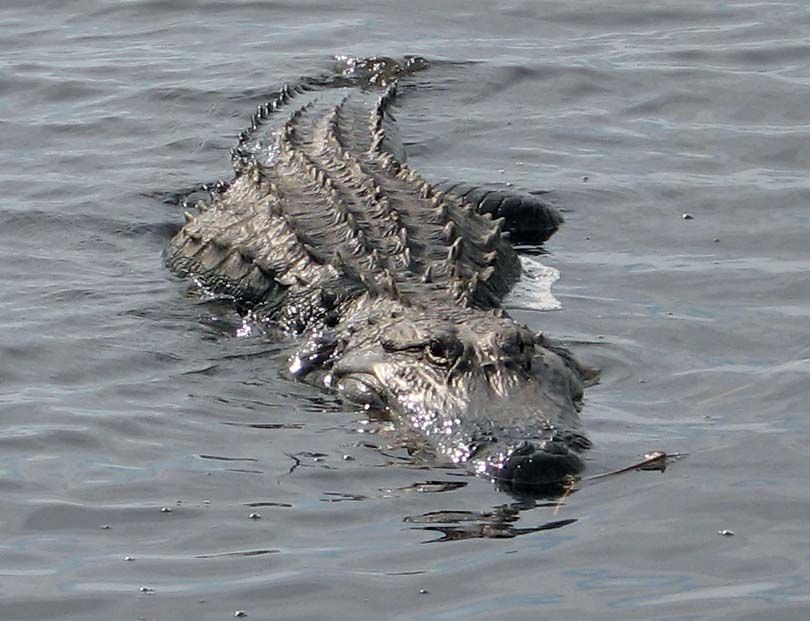 An Okeechobee, FL, teen lost his arm after he decided to go for a 2 A.M. swim at Nubbin's Slough, which empties into Lake Okeechobee, reported The Palm Beach Post on June 23.
Not surprisingly, alcohol was reportedly involved.
Arm not saved
The Post quoted a sheriff's deputy as saying that an 11-foot alligator rose from the water and bit the teen, trying to drag him down.
He fended off the attack by grabbing an orange buoy in the water, the deputy said, but the alligator bit off the boy's left arm below the shoulder.
Rescuers captured the alligator and found the arm in its stomach but the arm was too damaged to reattach.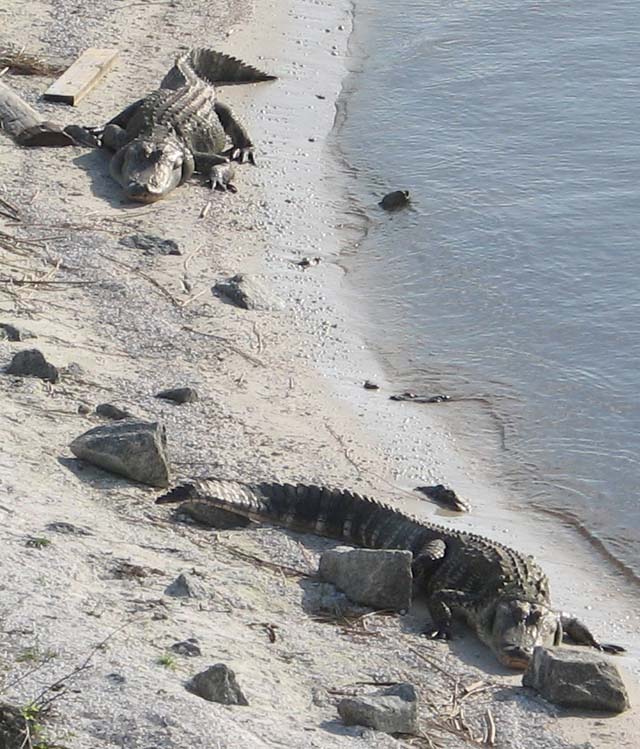 I'm not surprised to hear about the attack. I've counted as many as 25 gators in the 8-foot and longer category at Nubbin's Slough.
Spring Breakers get lucky
The day I shot these at the Slough, a bystander said that college spring breakers had been running down and touching them.
They, obviously, had never seen a good-sized gator wheel around and grab something. Urban legend is that they can outrun a horse in a short sprint. I don't know if that's true, but shortly after I shot the gator at the top, he stood up on his tail in the shallow water and the top half of his body got about four feet of air.
I was very happy that I was shooting with a medium telephoto and not a wideangle lens.
Gators conserve their energy
The fishermen below are probably safe. The gators on the bank are perfectly happy sunning themselves and wouldn't bother to climb the rocks unless they were very hungry or the folks started making noises like a poodle or a marshmallow, favorite snacks.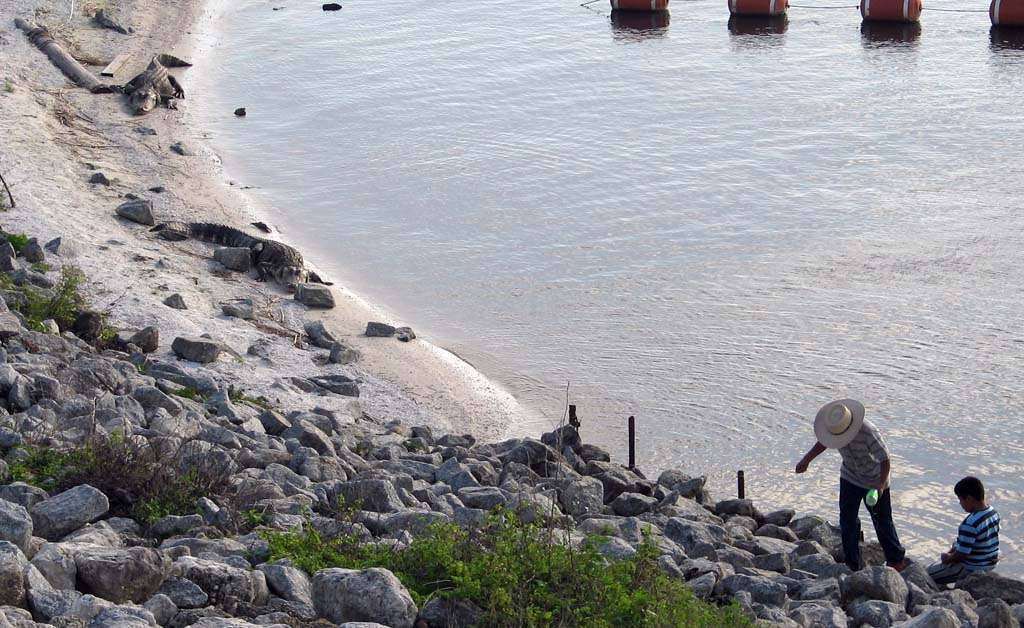 I've never done a ride on the Lake Okeechobee Scenic Trail (LOST) when I haven't seen at least one alligator.
Sometimes they're sunning themselves like these, other times you'll see a convoy of 10-footers cruising down the Rim Canal like they owned it. Now that I think of it, I guess they do.
I've never seen one up on top of the dike where the bike trail is, though. It's a long, hard slog and gators are like cyclists: they don't like to work any harder than necessary.
It goes without saying that a 2 A.M. swim in alligator-infested waters (meaning just about anything other than your bathtub in Florida) is not a good idea. Particularly if alcohol is involved.