One of my staffers is headed to Tallahassee to move a phone system, so I wanted to make sure he had the address of a pizza joint that was recommended by local cyclist Ed Picolo when Brother Mark, Wife Lila, Kid Adam and Kid's Wife Carly did the TOSRV in April.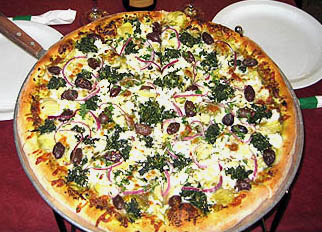 Riding builds up strong cravings. When I climb down, I usually want Dead Cow, pizza or nachos. That night, it was pizza, and I don't mean run-of-the-mill chain pizza.
Ed told us that Paulina's Pizzeria, 6615 Mahan Dr Ste 308-B, Tallahassee, FL 32308 was a favorite stop for local riders.
It quickly became evident why.
The menu offered so many selections that it was hard to make a choice. The waitress was friendly and put up with our (to us) good-natured bantering.
Salads fresh and attractive
It's been a couple of months, so I don't remember specifically what we ordered, but I do remember that it was all excellent. The salads were fresh and attractive looking and the dipping sauce for the garlic knots was good enough that I was afraid Brother Mark would start licking the plates. (We've pretty much broken him of that in public, but he's been known to relapse.)
When I expressed a preference for a thin, crispier crust, the waitress said she'd talk to the boss because they're pretty particular about how they make their pizzas. She came back and said the cook would do his best, but that he couldn't guarantee that the dough wouldn't tear. His good enough was good enough, because it was perfect.
Adam and Carly ordered the Crème Brulee desert. They didn't proclaim it the best they had ever eaten, but they also didn't leave any on the plate. They have a large selection of imported beer if you are dry as well as hungry.
If you're on the LOST
Closer to home is Gizmo's Pizzas & Subs, 3235 US Highway 441 SE, Okeechobee, Okeechobee, FL 34974. They're located in Taylor Creek, on the north side of Lake Okeechobee, convenient to where you must come off the Lake Okeechobee Scenic Trail (LOST) to cross Taylor Creek.
They're a local, family-owned business who do good pizza and Stromboli. Their food isn't as fancy as Paulina's and they don't have a fancy web site. They just do good biker food. The best part is that I can call them at 868-357-2188 about the time I hit Nubbin's Slough and the pie will be ready when I get there.
They're also nice about letting you leave your car in their parking lot if you want to make Taylor Creek your starting or ending point.
Pizza on the web?
On those nights when I roll in with a pizza craving and I'm not in Tallahassee nor Okeechobee and I don't opt for one of Wife Lila's excellent homemade jobs, I confess that I turn to a chain store about a mile from my house.
You couldn't have told me five years ago that I'd be ordering pizza on the Internet; I'd have said you were crazy.
Well, I'm convinced. After being put on hold, hung up on and getting screwed-up orders when I called in the orders, I decided to give online ordering a shot. Much to my surprise, the Papa Johns order line actually works. It's quick, convenient, remembers my special orders and doesn't put me on hold. I love it when I pick up my pie and watch a harried order taker punching blinking phone lines and saying, "Papa Johns, please hold."