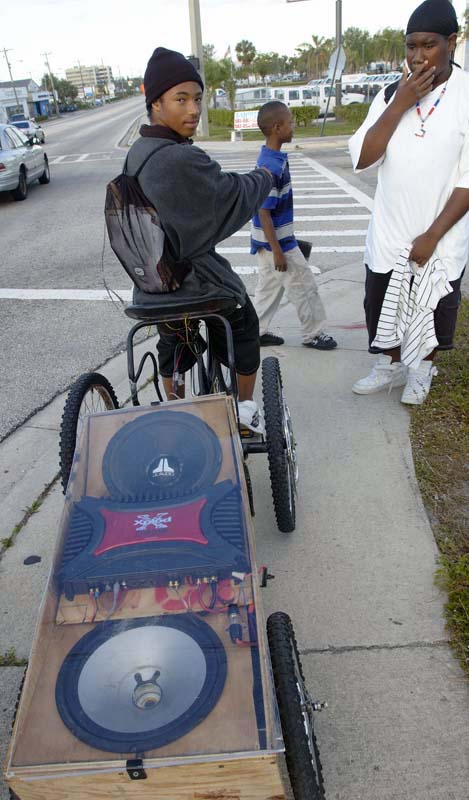 UPDATE UPDATE UPDATE ON i-Ride Pro
As far as I can tell, the i-Ride Pro is no longer available. Based on the number of complaints I've received and from my own experience, I have to withdraw my endorsement of the product. The Active Tunes website is down, so they may be out of business.
Good news: I have a NEW favorite MP3 speaker
You can read my review of the BoomBotix BB1 here.
I'll leave all the other info in place for historical purposes. I still LIKE the i-Ride Pro, I just can't recommend that you try to buy one. Too bad.
After researching much about loudest portable speakers, I finally found an MP3 speaker that works well on my bike.
No, it's not the one Son Matt saw on the way to work a few years back. Even I'M not prepared to carry a boom box so big it has to have its own trailer.
The Active Tunes i-RIDE Pro is a winner
I'm going to award the It Really Works Trophy to the i-RIDE Pro from Active Tunes.
I'll detail the als0-rans tomorrow and the next day.
I'm going to have to set expectations here. I'm not an audiophile. Most of my life has been spent with multiple police scanners blaring stuff like, "One Adam 12, see the woman…" into my ears.
That means the speaker has to be just good enough for me to recognize the song over wind and traffic sounds.
Why Do I like the i-RIDE Pro?

It's small, 4″ x 1.75″.
It's lightweight.
It produces acceptable quality sound with 4 watts output.
The built-in rechargeable Lithium Ion battery has long life and recharges from a USB port. If you don't have a computer with you, you could use a USB adapter (not included) to charge it from AC. Active Tunes says it'll play for eight hours on a charge. I went for a four-hour ride on a Sunday and forgot to turn it off. On the next Wednesday, I noticed the LED was lit and turned the MP3 player on. Much to my surprise, the speakers still worked.
Mick from Active Tunes says the battery should last for about 3,500 hours. If it fails within the first two years, Active Tunes will replace it free. If you play it while riding four hours a day, 365 days a year, then it should last 2.57 years. I think something better will come along before I need to replace the battery.
It comes with a carrying case that uses Velcro straps for multiple mounting possibilities. The case has a built-in MP3 player holder with a transparent front so you can manipulate the controls.
What nits can I pick about the i-RIDE Pro?
It's a little expensive at $59.99. (Although it's cheaper than the junk box full of others I've bought one at a time.)
It uses a Lithium Ion battery that's not removable. If it dies while you're out on the road, then you're out of luck until you can charge it again.
It's not waterproof. (Mick says they've had reports from riders who were caught in the rain and didn't encounter any failures. The neoprene pouch is water resistant, but neither it nor the speaker should be considered waterproof, he warns.)
The case's MP3 player holder is designed for the newer, smaller players. My Classic is too big to fit it, so I cut it off.
How do I mount my i-RIDE Pro?
My Surly Long Haul Trucker's cockpit is a bit busy, so I attach the speaker to my Camelbak MULE strap and put the iPod in a special pocket made for it. I use the iPod's remote control to skip tracks, pause and adjust the volume.
Since the speaker is right under my ear, I don't have to turn the volume up very high, which probably gives me longer battery life on both the player and the speaker.
The flap-looking thing at the left of the holder is for the smaller version of MP3 players. I cut it off after the first ride.
MP3 player video shoot-out
You can listen to all of the speakers here, including on the road.
The Active Tunes folks respond quickly
They're nice folks who have always been responsive to my email. You can find them here.
[Disclaimer: Mick at Active Tunes sent me a free speaker to review. I've been a satisfied customer and a past winner of an i-Ride Classic in the company's monthly giveaway contest.]
Tomorrow I'll review my second and third-place speakers choices, the Byco WRX1 and the Active Tunes i-RIDE Classic.