We're going to be talking about biking music for the next few days.
Tomorrow I'll review the best MP3 portable speaker I've found. The next day that I'll write about the also-rans.
After covering hardware, I'll share some of my playlists that make the miles go by. I know there are some purists that think you should be "one with nature," but there are some days when the hills are too steep, the wind is too strong or you don't have anyone to talk with. Tunes help me get in a groove.
Do you know the origin of Bad Moon Rising?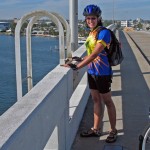 My former riding partner, Mary, was an innocent who would believe anything. One day we were riding along Ghost Road 27 when John Fogarty's Bad Moon Rising cued up.
When the chorus started – "Don't go 'round tonight, it's bound to take your life, there's a bad moon on the rise," –  I asked, "Do you know the origin of that song?"
Of course, she didn't.
Hank Bordowitz didn't even have this story in his book, Bad Moon Rising: The Unauthorized History of Creedence Clearwater Revival.
The Creedence bus was highballing with a broken bathroom
"One night, the Creedence Clearwater Revival bus was highballing through the swamps of Louisiana trying to make it to the next gig when the bathroom broke," I explained.
"One of the band had to answer nature's call, so he convinced the bus driver to pull off on the side of the road. He was in mid-stream when a highway patrol car pulled up with blue lights flashing and started to arrest the long-haired singer for indecent exposure and anything else he could come up with.
"They finally managed to convince the cop to let them go, but the experience has been immortalized in these lines forever, listen: Bathroom on the right. [It takes a c0uple seconds to load, so be patient.]
"Can't you hear them singing, 'Don't go 'round tonight, it's bound to take your life, there's a bathroom on the right.'"
In fairness to Mary, I've told that story to a number of people. The most common response is, "Really?"
[Disclaimer: I told my friends at Aussies on Bicycles Network Australia that, for the record, I do not use botox. I can keep a straight face while spinning these tales without the aid of chemicals. (Is alcohol a chemical? I may need to amend that last statement.)]
Gavin Edwards makes a living with misheard lyrics
Here are three of his books.
What song lyrics have you heard mangled?
(By the way, I've made the commenting process easier. You no longer have to register and remember a password to be able to post a comment. We'll try it this way until and unless the spammers become a problem.)