If you'd rather ride than read, skip straight to the video
I stuck my video camera on a RAM mount on my buddy George Primm's bike and asked him to hang with me on a ride through West Palm Beach and Palm Beach. George was a copy editor  in his former newspaper life, not a photographer, but he did an OK job.
His bike had some fairly low-powered lights, so the reflectors would have shown up much brighter in car headlights. Still, you can get a pretty good idea of how your signaling is much clearer with the Glo Gloves.
For you detail-oriented folks:

I'm a night rider. I like it because it's cool and traffic is calmer and better behaved at night.
To see and be seen, I have a SON generator powered B&M Lumotec IQ Cyo R N Plus light on the front, along with at flashing 5-LED ViewPoint Flare.
In the back, I have two taillights. A huge 4×6-inch 18-LED RealLite flashes like a billboard and a solid generator-powered B&M Busch&Müller 4DToplight Senso Multi with battery standlight. I used to have a NiteRider taillight, but my battery died and I haven't felt the need to replace it.
I'm a fan of reflective material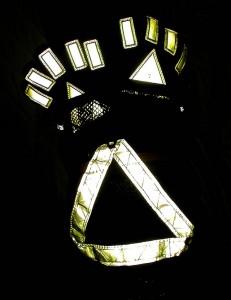 I have a large Slow Moving Vehicle Triangle on the back of my CamelBak M.U.L.E.. I also stick my Glo Gloves where they add some flash back at vehicles behind me when I'm not wearing them.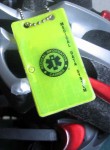 After my riding partner had an accident in the middle of nowhere and I didn't have any contact info for her family, I wear two Medical Data Information tags made of reflective material.
One is attached to the back of my helmet (you'll be able to see it flashing in the video); the other is on the Camelbak.
So, what are Glow Gloves?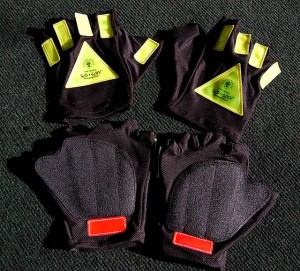 In 2003, someone named Glolady asked if any of the folks on the phred bike touring list would like to test some prototype gloves. Shortly after I volunteered, a pair of Glow Gloves arrived. They looked pretty much like the Original Glo Glove shown on the web site.
I really liked the large red triangle on the palm, but they weren't overly comfortable on the bike and they tended to slip on the bars. They were redesigned with the red reflective material higher on the wrist and a better gripping palm and named the Sport Glove.
Not enough padding in the right places
I still didn't like them as a standalone biking glove, because they didn't have enough padding in the right places for my taste.
What I DID discover was that they were stretchy enough to pull right over my normal gloves when I wanted that extra bit of visibility.
I rediscovered Glo gloves recently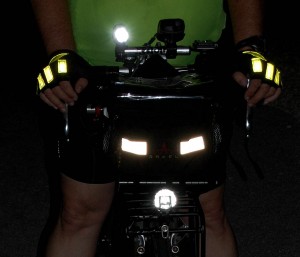 I've been riding with some new folks lately and I've been stressing about how you need to claim your space on the road and to clearly convey your intentions.
I pulled on the Glo Gloves and found myself interacting with drivers more (and not just with a single digit). If I'm coming up to an intersection and see a car that looks like he may pull out, I'll holler or whistle loudly while holding up a highly reflective hand. It's actually more effective than my Delta Airzound Bike Horn in some cases. As I pass the intersection, I'll give a friendly wave "thanking" them for doing the right thing, like not running over me.
Another nice thing is that the gloves add reflectivity to the front and sides of your bike when your hands are on the bars.
(The two white horizontal reflectors are on the Arkel Small Bar bag.)
Editor's note: My Glo Gloves were provided for evaluation in 2003 and GloLady was kind enough to send me a new pair for review to make sure that I had the latest version. You can go to the Glo Glove website to find a dealer.