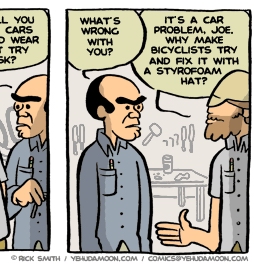 There's a thread in one of my favorite comic strips, Yehuda Moon and the Kickstand Cyclery, about bicycle helmets. Check out the comments. I was hooked the first time I logged in.
I normally stay out of the helmet wars. I confess to being irked when the first question / statement folks make when they hear I'm a biker is, "You wear a helmet, right?"
I reply that the more appropriate questions would be, "Do you ride like a vehicle, obeying all of the appropriate traffic laws? Do you ride WITH traffic, not against it? Do you have plenty of lights and reflectors so you're visible? Do you take the lane when necessary? Do you signal? Are you always aware of your surroundings?"
Helmets: parachutes for your head
That magic foam hat is just like a parachute: it's only needed if things go horribly wrong. And, just wearing one doesn't mean it'll save your life.
Now, having said that, I'm going to tell you why I never get on my bike without a helmet these days. Here's a message I wrote to the phreds on January 7, 2007, explaining why. It's a long story and it doesn't have a happy ending.
A place for my mirror
For the record, I wear a helmet on the road. I don't think it has magical properties, but it's a good place to mount my rearview mirror and it takes care of the scenario where some pond-scum lawyer says,
"Yes, my client DID squash your client like a possum with his Hummer, but YOUR client wasn't wearing his helmet."
My riding partner, Mary, and I took off for a jaunt on the Lake Okeechobee Scenic Trail, one of our favorite riding spots. Holidays, rain, etc., had kept her off the bike since our impromptu century in November, so she was ready to hit it.
It was a perfect day
It was a perfect day, clear, about 82 degrees with a 4-6 mph cross headwind. She was in the groove, but for some reason, I couldn't get the right rhythm going and she left me in the dust. At our normal seven-mile rest stop, she was a quarter-mile ahead of me.
Figuring I might just need to top off the tank, I popped an energy gel and split an energy bar with Mary. We called my brother in Missouri to rub in our great day, then hit the road.
The gel helped, but Mary still took the lead by a good tenth of a mile. The bill of my cap was pulled down and I was looking down slightly, so I didn't see her until I was about 100 feet from her. Oh, great, I thought, she's rubbing in that I'm so slow. She's stretched across the trail pretending to take a nap until I can catch up.
Nobody gets road rash for a joke
That's when I noticed that her bike wasn't on its kickstand and that the rear wheel was still spinning. When I got even closer, I saw that this wasn't a joke. Nobody goes to all the trouble of getting road rash for a joke.
I was still expecting her to sit up, embarrassed at taking a header on a clear, straight path.
She didn't move.

I got off my bike and saw that she was unconscious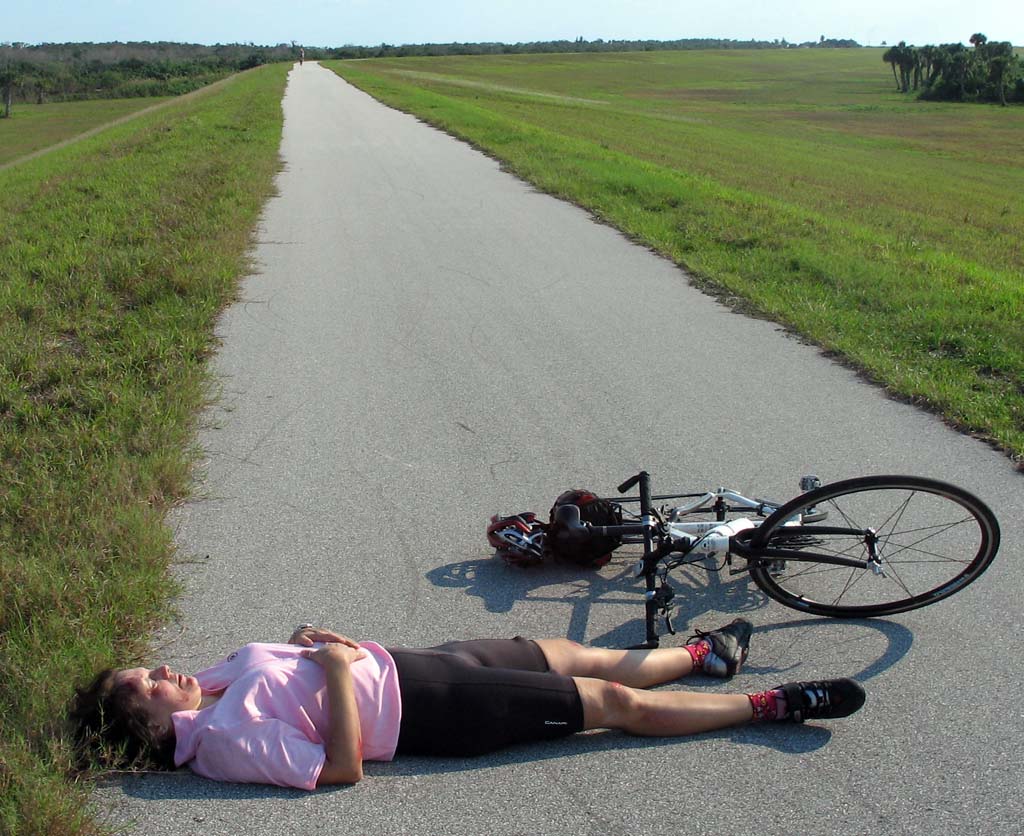 and had a knot about the size of a golf ball above her right eye, which was already swollen shut. Blood was trickling out of the side of her mouth, but she was breathing; shallow breathing, but breathing.
I dialed 9-1-1. The dispatcher answered and I said I was on the LOST trail one to two miles north of the Chancy Lock with a bicyclist who had severe head trauma, bleeding from the mouth and was unconscious.
There was some confusion on her part because she was with Okeechobee County and we were just over the line in Martin County, but she said she'd relay in the info to them.
During the conversation, Mary started to regain consciousness, but was disoriented and wanted me to help her up. I determined that she knew who she was, who I was and where we were, but she didn't know what had happened. I insisted that she not move.
I asked dispatch to consider an air evac because of the remoteness of the area. "I have a GPS and I can give you the exact coordinates." She said she'd put a chopper on standby and both she and Martin County
would dispatch rescue units.
A group of Okeechobee medics were first of the scene. They did a professional job of getting her stabilized, decided to cancel the chopper and the crew from the other county.
How do I notify her family?
Mary and I have worked together for more than 20 years and we've ridden more than 4,000 miles together, but I was soon to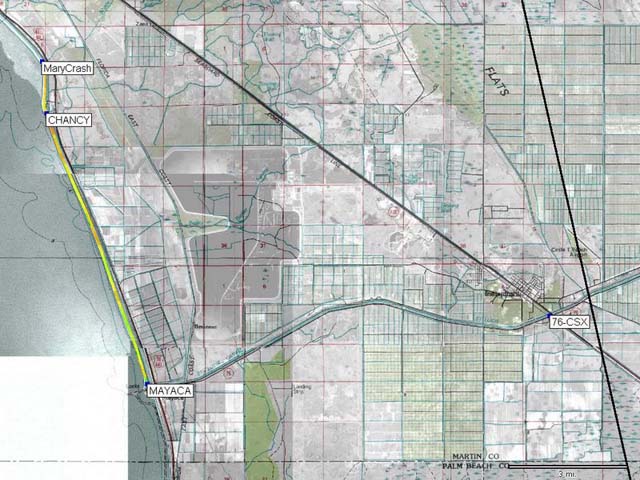 find out how little I knew about her.
We carry company Nextel radios, so that's how we keep in touch with each other. She had forgotten hers this morning, so I couldn't even use her phone address book to track down her significant other or any family members. I asked someone at work to start tracking down the SO, who works as a police officer at a local state university. Dead end after dead end. Finally, the folks in our newsroom were able to come up with a number.
When I got to the hospital, I expected to get the royal runaround because of all the new privacy rules. Much to my surprise, the charge nurse came out right away to say that Mary was undergoing a CT scan; that she was conscious, but her condition had deteriorated on the ride in. "She started out with swelling on the right side, but her left eye is starting to swell and turn purple now."
Do you have her insurance info?
Then, another woman called me over and asked if I had any insurance info. "We work for the same company, so I can give you general info, but I'm embarrassed to say that I don't carry my insurance card with me. I have ID, money and a credit card, but that's it. Let me call my wife and she can tell you what's on my card."
When I finally got in to see her, the nurse said that the scan had shown that her skull was fractured in five places and that they were going to transfer her to a coastal hospital with more specialists available. It didn't look life-threatening, but they didn't want to take any chances.
After Mary got out of the hospital, she suffered from double vision and vertigo so severe that she was never able to go back to work. Over time, her condition has improved enough that special glasses with prisms built in were able to correct most of the vision problem, but she still can't work or bike.
Here's what I learned.
1. Wear the helmet even when I'm not dodging traffic. I used to say that I was more afraid of heat stroke than head injury on a trail where there were no motor vehicles. Mary wasn't wearing a helmet. In fact, my helmet was strapped to the back of her bike.
I'm not going to make any of those "my helmet saved my life" statements, but I will say that she'd have survived her crash with minor road rash and some embarrassment if she had been wearing one.
2. Carry contact information. I carry a laminated card with all my emergency contact info on a chain attached to my Camelbak. And another attached to my helmet.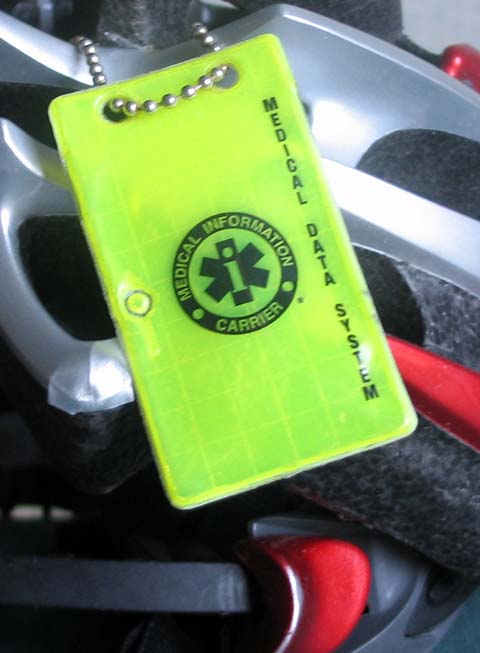 You can get your own at Medical Emergency Data Systems (MEDS). I'm partial to the Adventure System style because you can wear it on a chain lanyard or attach it to any number of places. They make bicycle-specific models that have a sticker for outside the helmet and the contact info inside. I'd rather not have anyone twisting around on my helmet looking for stuff.
3. Personalize your information. The medical alert data systems have forms to fill out, but I decided to create my own using Excel with even more info on it:
The name, city, home and mobile phone numbers for my wife, brother, two sons and mother. It shows their relationship to me, but not their last names. A rescuer might want to call the person nearest to them, so that's why the city.
My full name, address, date of birth and allergies.
My employer and all of my insurance info.
A place to sign my name over Consent to Treat.
I keep additional copies of the info in a Ziploc bag in my panniers to exchange with friends who ride with me. The emergency personnel may not take the time to collect it, but at least it'll be there.
Y'all be careful out there. Bad Stuff happens when and where you least expect it.
UPDATE: I did an update with Mary three years after her crash