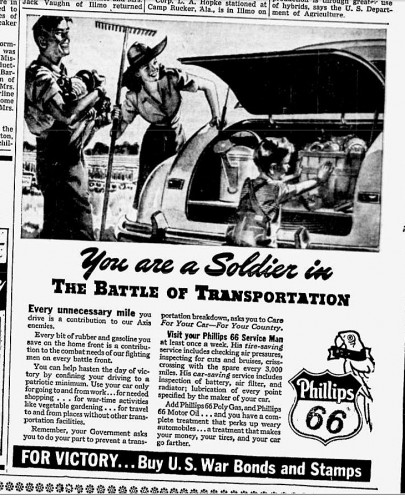 "You are a Soldier in The Battle of Transportation," read the June 11, 1943, Phillips 66 advertisement in The Southeast Missourian.
I was researching another story when my eye was drawn to the headline and body copy: "Every unnecessary mile you drive is a contribution to our Axis enemies."
"Get a car! Bike lanes are lame."
In the same local paper today was a story saying that a $253,000 grant from the Missouri Foundation for Health will pay for 30 to 40 miles of bike lanes along seven Cape Girardeau streets, which officials said will provide a healthy connection to the city's parks, schools and other recreational areas.
Almost immediately, the story attracted 40 comments (and climbing), mostly from people knocking the idea. Here is a typical one: "Who commutes by bike in Cape? Last time I rode one was when I was 15. Get a car! Bike lanes are lame."
Confine your driving to a patriotic minimum
What happened to the shared sacrifice Americans were asked to make during World War II?
Have you seen or heard anything like this on TV, radio, in print or coming out of the mouths of politicians?
"Every bit of rubber and gasoline you save on the home front is a contribution to the combat needs of our fighting men on every battle front.
"You can help hasten the day of victory by confining your driving to a patriotic minimum. Use your car only for going to and from work …for needed shopping…for war-time activities like vegetable gardening…for travel to and from places without other transportation facilities.
"Remember, your Government asks you to do your part to prevent a transportation breakdown, asks you to care for your car–for your country."