Last year's bike rodeo was fun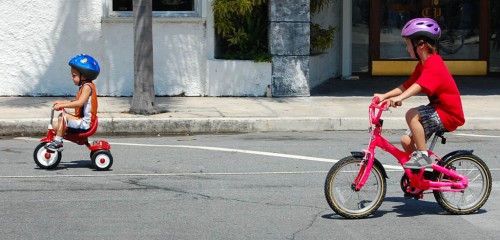 I had a good time covering the city's bike rodeo last May, so I got my act together and made it down to Lake Worth just as the event was getting started.
Sheriff's deputies offered safety tips
To be honest, I thought there was a bit too much emphasis on wearing helmets and too little emphasis on vehicular cycling. Deputy Rafael Duran DID mention that it's important not to ride against traffic, but I would like to have had some other topics mentioned:
Taking the lane when the roadway is too narrow for a vehicle to pass you safely without crossing the center line.
The legal and practical reason for equipping your bike with lights and reflectors.
The importance of being predictable: riding in a straight line; signaling turns and obeying traffic control devices.
How to properly position yourself on the roadway.
In fairness, they did provide Bicyclists Must Think Like Drivers, an excellent brochure by the Florida's Pedestrian & Bicycling Safety Resource Center, that covered all those subjects and more.

For the record, I'm not anti-helmet. You can hear me toward the end of the video recounting the experience my riding partner had when she crashed without a helmet on the Lake Okeechobee Scenic Trail. You can read about her crash here and track her progress three years later here.
A stop at a Ghost Bike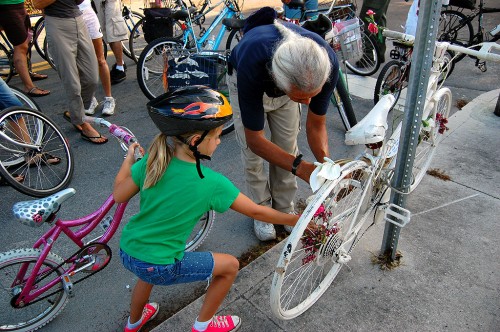 Sgt. Enrique Ponce told everyone at the start, "It's gonna be a fun ride." He was right, but there was one somber moment when the group stopped at a white-painted Ghost Bike to place flowers on the memorial to a cyclist who was killed at that intersection.
Video of Lake Worth Community Bike Ride
It was a ride worth doing. I'll have to watch my Facebook events a little closer in the future.