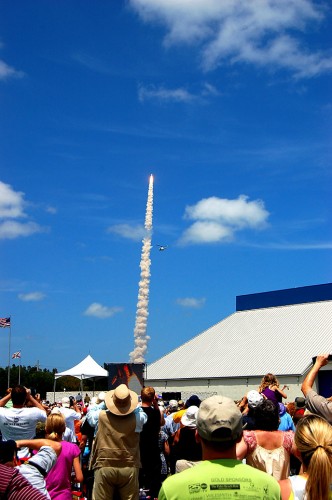 My youngest son, Adam, and his mother own a computer network managed services company, DedicatedIT. He decided it would be fun to take his employees and their families up to Cape Kennedy to watch the last launch of Space Shuttle Atlantis on May 14, 2010. After all, they're geeks, and there's nothing geekier than rocket science.
DedicatedIT ready to go if called
Connectivity on the road
There's been a lot of discussion on the bike lists about how to stay connected while you are on the road. The security advisories to get into the Space Center are pretty daunting (but the actual security search was cursory). Adam called to ask if it was possible to bring a laptop with a Verizon Wireless air card on the property so he could keep up with his clients. Authorities said it would be OK, but he was warned that there was no guarantee that he could get a signal.
MiFi™2200 Intelligent Mobile Hotspot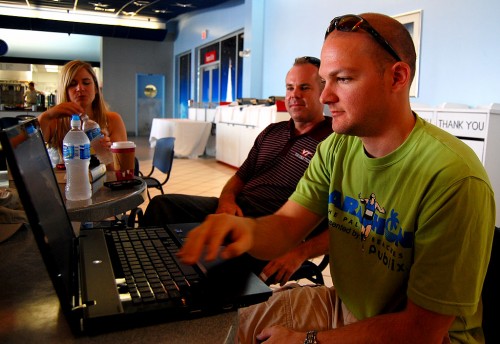 Coincidentally, I had upgraded my wireless card to Verizon's new MiFi card. Essentially, it is a standalone air card that acts as a wireless router capable of supporting up to five devices. That sounded perfect for these guys, so I turned it over to Adam.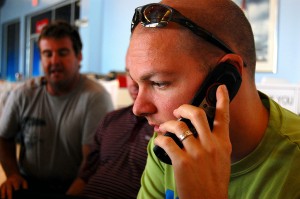 It worked great. I could pick up a signal two rooms down in the motel. It had a faster connection than the business-class hotel provided. (You need the WEP to connect, so it's reasonably secure.)
UPDATE: my kid sent me a comment below with some additional info. It's important enough that I'll add it here.
The MiFi, he points out, is encrypted with WPA2. He found a site that warns that the default password is somewhat vulnerable to brute force discovery and advocates changing it (which he did).
Weak signals at Space Center
I don't know if authorities at the Cape do something to kill wireless signals or if there aren't carriers beaming into that area, but coverage dropped off as soon as we got close to the visitor center. ATT phones went dead, but my Verizon Wireless phone worked fine. Speeds on the MiFi card ranged from slow to nope. We ended up forwarding any trouble calls for DedicatedIT to my phone. Fortunately, it was a slow day, so it was fairly quiet.
Killing time at the Kennedy Visitor Center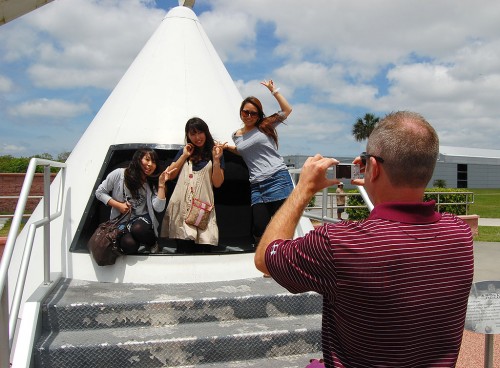 We had several hours to kill before and after the launch, so we played tourist, looking at exhibits, eating expensive junk food and taking photos of each other and helping tourists shoot each other.
Jake and Ben try out Apollo capsule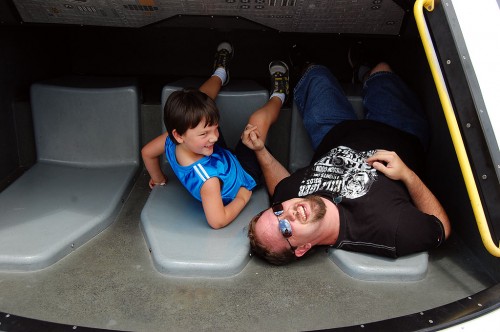 Jake wasn't sure he liked the idea of flying on his back.
Finally it was time for the launch
Tried to avoid traffic
I've written before about our experience with traffic leaving a shuttle launch. There are only a limited number of roads and they become massive (barely) moving parking lots. We decided to hang out at the visitor center for about three hours to let things clear out.
Nope, it still took us about 2-1/2 hours to go 30 or so miles.
iPad and Google Maps Traffic was cool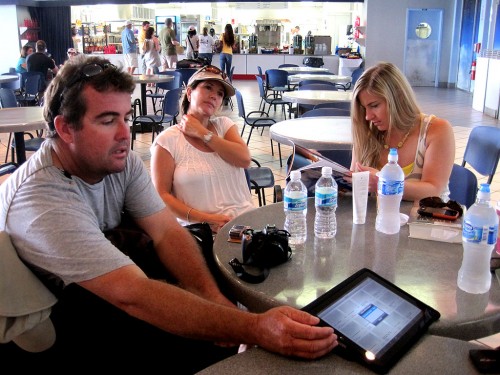 Joe had an iPad with him. I'm not a big Apple fan, but I was very impressed with how well Google Maps Traffic showed up and how accurate it was. If it showed a clear road ahead, it was clear. It was accurate within a few hundred feet when it showed a slowdown, as well.
My Verizon HTC Droid Incredible will do the same thing when it comes in, but the display on the iPad was very nice. If it was $200, I'd have one.
There are only two more shuttle launches left, but I think I'll watch the rest of them from my front yard in West Palm Beach. You can't feel the ground shake, but I don't have to spend hours stuck in traffic.