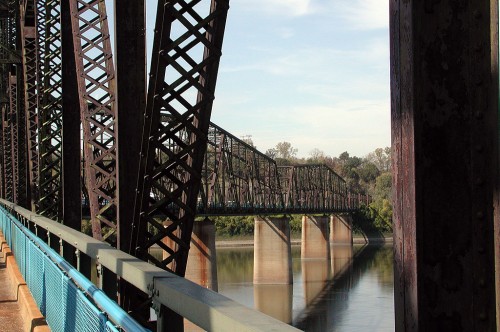 There's been some discussion on the phred bike touring list lately about crossing the Mississippi River on the old Chain of Rocks Bridge between Missouri and Illinois.
I rode up the riverfront and across the bridge with Bro Mark in 2004. I'm getting ready to head out of town, so I didn't have time to pull up my GPS track, but here are some random photos from that ride and some links that might help.
The photo above shows the famous 22-degree bend in the middle of the bridge that was necessary to allow river traffic to have uninterrupted navigation of the river.
St. Louis Arch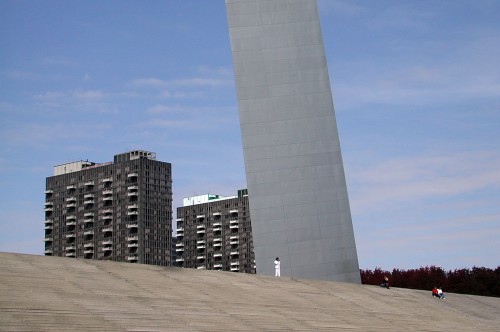 My brother lives directly in front of the Missouri Botanical Gardens. We rode from his house on surface streets past the St. Louis Gateway Arch, the Union Light and Power Company and  a ceramic artwork on the side of the Mississippi River floodwall.
Maybe it was because I was with a native who knows the right roads, but it was a much more pleasant experience than I would have expected. In fact, it was much more enjoyable than most of my St. Louis treks by car.
St. Louis Gateway Arch and Mississippi River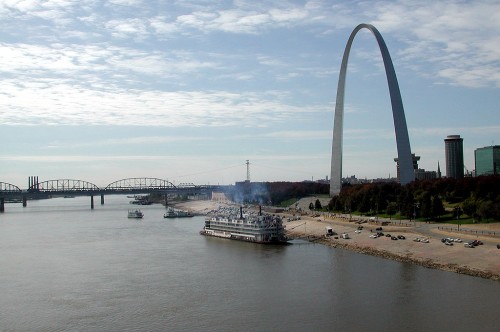 A ride to the top of the arch is a great experience if you're not claustrophobic. The view is spectacular.
St. Louis is home to classic old buildings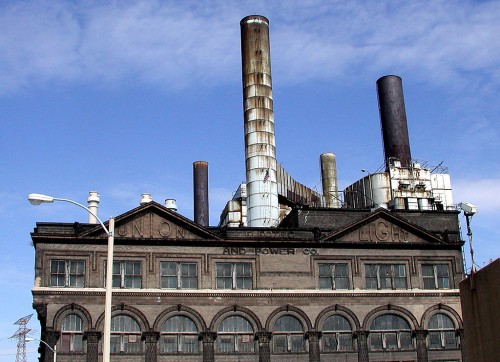 The coal-burning Union Light and Power Company generating plant just north of downtown St. Louis was built in the early 1900s to provide electricity to a growing population. It's still in use.
When I was a kid, we always thought of St. Louis as a dark and "dirty" town. I realize now it was because many of the homes and businesses burned coal for heat.
The Confluence River Trail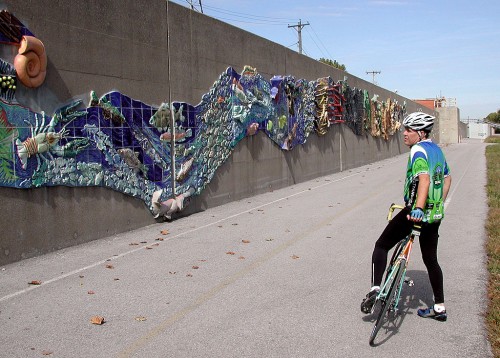 There is a 190-foot ceramic mural depicting the flora and fauna of the Mississippi River on the floodwall. The Confluence Greenway website has a trail map and video of the 11-mile trail that leads from downtown St. Louis to the Chain of Rocks Bridge.
View of Chain of Rocks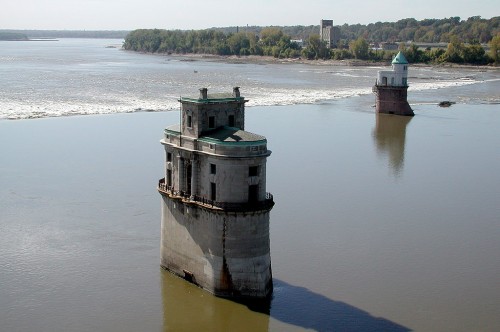 Here's a view of the Chain of Rocks that caused river traffic so much trouble. I believe that the objects sticking up were water intakes for a water plant that opened in 1894.
James Baughn, a virtual friend of mine, has a website on Historic Bridges of the United States. Warning: do NOT go there unless you are prepared to spend hours jumping from bridge to bridge.
He has an extensive entry on the Chain of Rocks Bridge. One theme that runs through many of the comments is that the bridge is in an isolated area and that burglars prey on cars parked on both sides of the bridge. Two sisters were raped an murdered on the bridge in 1991.
Experienced bicycle tourists are less likely to be victims than unaware pedestrians, but caution is advised.