I'm visiting my mother in Cape Girardeau, MO, a Mississippi River town halfway between St. Louis and Memphis.
I get back here at least once a year to recharge my psychic batteries in an area that has real hills, real trees and real people, all of which are sometimes in short supply in SFL.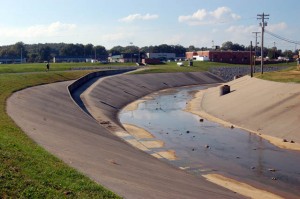 Way back in the last century when I was a kid, Cape LaCroix Creek – known to locals as Three-Mile Creek – would overflow and flood homes and businesses every few years.
Got fed up with it
The Local Fathers got fed up with complaints from the wet folks and managed to scrape up enough money to make the creek run more efficiently and drain off the water before it spilled over its banks.
A side effect of that was the Cape LaCroix Recreational Trail, a 4.2-mile paved multiuse path, that was created next to the creek.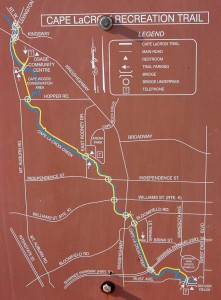 The trail starts (or ends, depending on your perspective) just down the hill from the old homestead, so I ride it several times when I visit. It's fun meeting folks and it's a great way to get from the north end of town to the south end without climbing a bunch of hills.
Arguably the most-used park in town
I've never been on it without meeting tens of bikers, roller bladers, joggers, walkers, families with strollers and dog walkers. I've often thought that it's the most-used park in town, particularly if you define "use" as "actively participate" and not just "spectate." It attracts all ages and demographic groups.
Other paths I've ridden seem to attract mostly local users: elderly folks who do short exercise rides in the evening, kids going to their friends' houses or (on the Withlacoochee) an old guy who would walk to the convenience store with a small shopping cart to pick up the week's supply of beer. I assumed this trail would be the same, especially since it's so short.
Trail draws users for miles around

This afternoon I ran into a category of rider that local governments should take into consideration when people gripe about building public facilities like this one.
The first person I encountered was pulling a child's trailer with a huge cooler and other stuff it in. When I got closer, I saw he had a toddler in a bike seat behind him. Up ahead was his wife with another toddler, a young girl and another adult couple.
They explained that they had driven to Cape from the Farmington, MO, area to ride the trail and have a picnic alongside it. Farmington is about an hour's drive from Cape. Let's review that: two families had loaded two cars with bicycles, snacks, toddlers as young as 18 months and driven close to 100 miles round trip so they could do a sub-10-mile bike ride because there weren't any good facilities close at hand.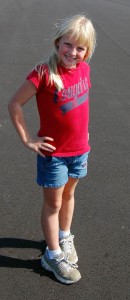 Cash registers were going to ring
Oh, yeah, and while they were in Cape primarily to ride their bikes, they were also going to do some shopping.
[Editor's note: I am horribly embarrassed to admit that I stuck a digital recorder under their noses and very carefully recorded every name so I could mention them. Unfortunately, Murphy was riding along with me and ate the info. The only name I can remember was 8-year-old Kendra who thought riding was "good excercise and a lot of fun, but I think it might make me lose too much weight."]
Not the only one
I would have thought they were an anomaly until I found the Cerneys who drove 30 miles from Illinois to ride the trail. The said that they had often seen riders on the trail when they came into Cape for shopping and they decided to bring their bikes along for a ride.
After giving their names, Mr. Cerney asked, "Don't you want our ages?"
"Sure," I replied. "I just didn't think it was polite to ask."
"I'm 72 and Jane is 71," he said. (I should be drinking what they're drinking.)
Finally, local riders
On the way back home, I ran into the Schroeders just as they were entering the Cape Woods Conservation Area on their way to the Osage Center to watch her brother play flag football. They thought they'd take their bikes since it was such a nice afternoon.
Well maintained
The Cape area has had several flash floods this year that  put the trail under some raging waters. I was curious to see if there would still be debris, rocks and gravel across it. It was spotless. Part of the credit goes to the local bicycle club which conducts periodic cleanup sessions.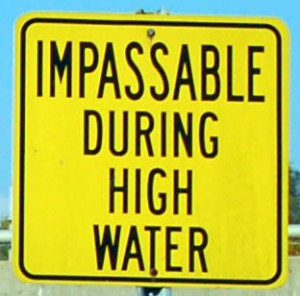 This just goes to show that parks don't have to have expensive lights and facilities to attract a large number of users, some from out of town with money to spend to bolster the local economy.
The only negative I can see is the local Letters to the Editor Yahoos who gripe, "Why are people riding their bikes in the street when we built them that nice bike path."