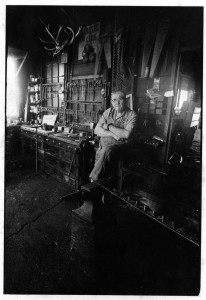 I have to tell you right up front that I'm a still photographer kind of guy. I took pride in being able to go to an event and capture the essence of it in 1/1000 of a second. To be able to meet a perfect stranger and, in one brief moment, capture his or her soul.
Video is what you shot at a kid's birthday party or on vacation with your dad's 8MM Bell & Howell movie camera.
Duller than poodle poop
I thought video might be the way to show folks what rides look like. You know, mount a camera on the handlebars and grind away. Man, is that ever dull. And bouncy.
Wife Lila got up and said she had to quit watching because it was going to make her throw up. A budding videographer garners no respect in his own home.
Freakbike Friday the 13th Ride was my first video project
It suffered badly from a lack of editing. On top of that, my mounting method had too much "slap" in it. At any kind of speed, it vibrated all over the place.
A RAM Video Mount is solid
The first step to improve my on-bike video was to find some way to solidly mount the camera onto my second stem and still be high enough to shoot over my Arkel small handlebar bag (not shown here). I chose the second stem location so I didn't eat up any more real estate on my main bar.
The RAM tall camera mount did the job.
RAM mounts take a modular approach. The handlebar u-bolt portion has a rubberized ball on it that the long top stemp clamps onto. Before I used it for the video camera, I had a Garmin GPS mount attached to the top of the stalk. Setting it up for a camera just required buying a camera mounting plate (which can be bought separately if you already own the other hardware).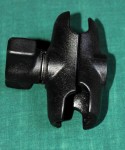 If you didn't need the height, you could use a shorter mount, like the RAM Mount Aluminum Short Dual 1.0 inch Socket Arm. Both the tall and short stems are very solid, but I'd opt for the small one if possible.
The Camera mounting plate will fit both. It comes with a 1/4 x 20 bolt just the right size to hold the camera without punching through the camera body.
Use a quick release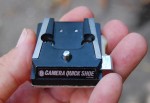 The only problem is that it takes a long time to unscrew the camera if you want to take a picture OFF the bar. ("Long time" is relative. Remember, I'm used to dealing in 1/1000s of a second.)
To solve the problem, I stopped in to see Pete Smith at FotoCamera Repair in Lake Worth, FL, the home of all kinds of old stuff. Pete's kept my Nikons in working condition for almost 30 years.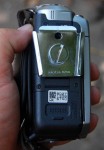 He rummaged around in his junk drawers until he came up with two Camera Quick Shoes. One side fits on the bottom of the camera and the other on the mounting bracket. Slide the two parts together, press a safety locking gizmo and your camera is safely attached, but can still be removed quickly when you need it.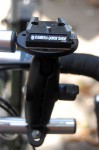 This isn't the same model as my Camera Quick Shoe, but it looks like it works the same way.
I put one on the bike and one on my tripod.
To be on the safe side, I added a lanyard to the camera and loop it where the camera wouldn't take a fall if the mount fails.
Camera, RAM mount and quick release on my LHT
How well does it work?
It's much more stable than the old mount, but it still picks up a lot of road vibration. You don't realize how much you move your handlebars from side to side to keep your balance, either, until you watch the video. At slow speeds, you feel like your head is being whipped around. I'm going to see if there's something out there with better image stabilization.
I'm learning to shoot in shorter bursts, to mix up close and long shots and to go for tight interview shots. Basically, it's the same formula I learned for shooting still picture stories, except with sound and motion. I need to watch for more transition shots and find out a way to get cleaner audio.
Here's my latest project from this week
I think I've learned a lot since the first Freakbike Milita ride in March. The camera mount certainly is a lot more stable.
[Update: If THIS ride didn't shake the mount off the bike, nothing will. It didn't make for wonderful video, but the mount and the camera didn't bounce off.]