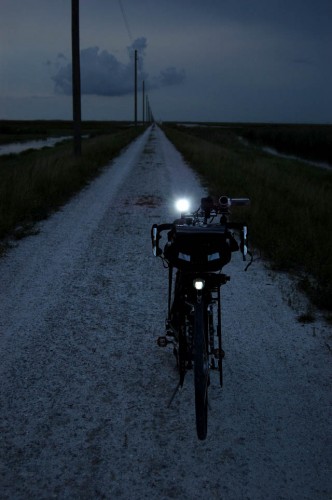 I just bought a Busch & Muller Lumotec IQ Cyo R N Plus (hereafter referred to as the Cyo IQ) headlight in my eternal quest for the best and brightest light I can pair with my SON generator hub.
A review on one of my favorite bike blogs, EcoVelo, tipped me over the edge. Alan@echoVelo promised to write a letter to spouses because his endorsement generated lots of comments from folks like me who were going to reach for the plastic.
I've only had a chance to do one quick ride with it. Son Matt and I went out on shellrock roads in the middle of nowhere the other night, but we were hurrying back to beat mosquito o'clock and I didn't have a chance to see it in complete darkness. I'll post a full performance review later.
Here's an overview of the light and how to install it in this review.
One Cyo IQ will replace two lights
I've used three generator-powered headlights with my SON.
(SON, by the way, has no relationship to Son Matt or Son Adam. It stands for Schmidt's Original Nabendynamo. That mouthful is why most folks call it a SON.)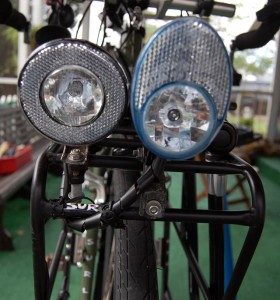 I started out with a Lumotec Oval Plus halogen bulb light as the primary, with a Busch & Müller Lumotec as a secondary.
The primary light would get up to full power at about 10 mph, and the secondary would be at full brightness at around 14 mph. The bad thing is that halogen bulbs get progressively dimmer as they age and eventually burn out. You can't get one of these bulbs at a 7-11 in the middle of nowhere.
DLumotec offered more light at lower speed
Then B&M introduced the DLumotec Oval N Plus, which used a 1-watt LED as a light source. It reached full power at slightly over walking speed, never dimmed down and was rated at 100,000 hours, so there was no reason to ever turn it off.
The old Missouri safety slogan, "Lights On for Safety" was drummed in my head at an early age, so I LIKE to ride with my lights on.
The LED light was powerful enough that I rarely switched on the secondary light unless I wanted to aim the LED light close to the bike and the secondary down the road.
If you hate to read, here's a video of the Cyo IQ installation
What comes with the Cyo IQ?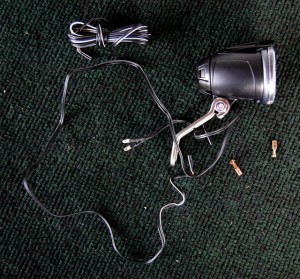 You get the light, with a bracket suitable for mounting to your fork; two female spade lugs (more about those later), a spare piece of wire and a couple of pieces of heatshrink tubing and a multi-language instruction sheet.
Coming out of the end of the light are two sets of wires.
A short pair with two male spade lug attachments.
A longer wire with no connectors.
The Cyo IQ R N Plus light comes in different flavors
The N designator means that it has a straight On/Off switch. A Senso version comes on automatically. Since I run with it on all the time, that didn't appeal to me.

The R means it has a reflector, which is required in Germany, where it's made. The R models are set up so that the "nearfield" is lit, something that is useful for low-speed commuters and loaded tourists. The standard model projects a brighter, more focused beam farther out for folks who go fast.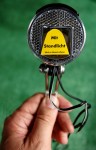 Both of them have a sharp cut-off at the top of the beam pattern to keep from blinding oncoming traffic, just like your car headlight. Peter White's site does a great job of comparing light outputs.
The Plus means that it has a standlight. A capacitor stores enough energy from just a few minutes of pedaling so the light will stay on when you're stopped. That means your light doesn't go out when you're at a traffic light.
I mounted it on my Surly Nice Rack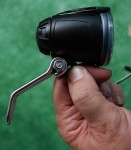 The light is designed to mount on the fork crown, so it's shipped in a forward-leaning position to give clearance. I opted to mount it on the front of my Surly Nice Rack, where that would have had it sticking way out in front, vulnerable to being knocked about.
I reversed the mount, which allowed it to sit back where it'll be less likely to be hit.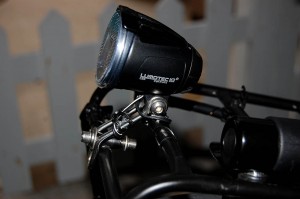 I'm very pleased with how neatly put together and compact the unit is. I had some issues with the dLumotec switch being a bit finicky sometimes. The On / Off switch on this light seemed to be much more positive. (Of course, in my case it's really just an ON switch.)
Plastic split tubing protects the wiring
I used plastic 3/8″ spiral cable wrap or split tubing to run the wiring down the rack and to protect it. You can pick it up at Radio Shack or on Amazon.
It's quick to apply, holds well and blends in with the black rack so it's hardly noticeable. I like it better than black electrical tape which can turn into a gummy mess if you ever have to deal with the wiring in the future.
What about those terminals?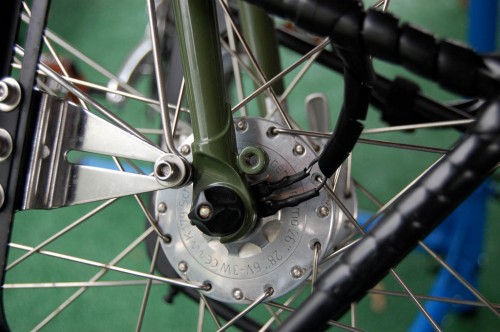 I have one major nit to pick.
The light came with two small female spade lugs to go onto the end of the wires leading to the hub. I'm a belt-and-suspenders kind of guy, so I carefully soldered the lug in addition to crimping them. You can't beat both a good electrical AND mechanical connection. Then I put heatshrink tubing over THAT.
Then, and only then, did I look closely at the male connection points on the hub.
Think Great Dane mating with a Chihuahua. It ain't gonna happen. Or, even if it's possible, it's gonna require some serious bending and stretching.
On top of that, they're some funky metric size.
Instead of chasing all over trying to find new terminals, I opted to reuse the ones off my old light. I didn't really want to do that, but it was the easiest and fastest solution to get on the road.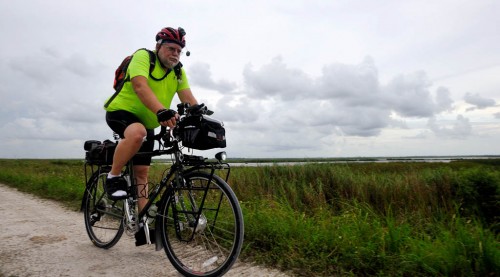 Son Matt shot this on the light's inaugural run. For the record, I don't usually wear white socks with my Shimano sandals. We were going to Bug Country at dusk and I wanted to be prepared to cover as many gnawable areas as possible as quickly as possible.
Where can I buy a Lumotec IQ light?
Alan, at EcoVelo, got his review light from The Bicycle Business in Sacramento, CA, so I decided to throw them some business, even though I usually buy this kind of thing from Peter White.
My only complaint – and it's my fault for not looking at a map – is that California is a L-O-N-G way from Florida if you're shipping by ground. I placed my order on Monday evening, August 17, it was shipped by Bicycle Business the next day, but didn't arrive in South Florida until Monday, August 24.
I may stick with East Coast vendors in the future, not because I'm unhappy with Bicycle Business or manager Bob Rolke, but because I can get faster shipping from companies on this side of the Mississippi.
The light cost $103.95 plus $11.23 shipping.
I'll have another review when I've logged some nighttime hours.