I like the West Palm Beach Freakbike Militia folks (referred to hereafter as FM because I manage to misspell Militia and have to keep correcting it) and they tolerate me hanging around, so it's a good mix.
Remember their Summer of Love Ride? These folks know how to have fun.
When TIII sent out a message that there was going to be a 48-hour bike build at the Hen House, I sort of wangled an invitation.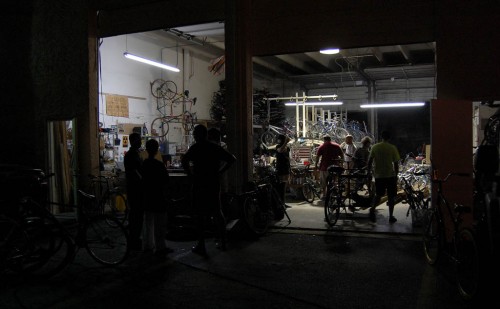 Another naming convention: I know that most of the FMs have birth certificates somewhere with real names on them. They prefer to go by nicknames like Wet Paint, Accident, Banjogrrrl, KrusherZ and the like. One of them mentioned that it has to do with parole officers, but he was kidding. I think.
Jack the Bike Man
The Hen House is a storage unit in Lake Park where volunteers work on restoring bikes for Jack the Bike Man. You can read all about Jack, his organization and his projects here.
Jack told the FM that he had to move to a smaller place to cut down on rental costs.
TIII set three goals for the weekend
Build as many bikes as possible – particularly kid bikes
Repair damaged drywall in the unit
Empty and remove a huge rack in the middle of the shop, all to prepare for the move.

Drinkslinger drove down from Melbourne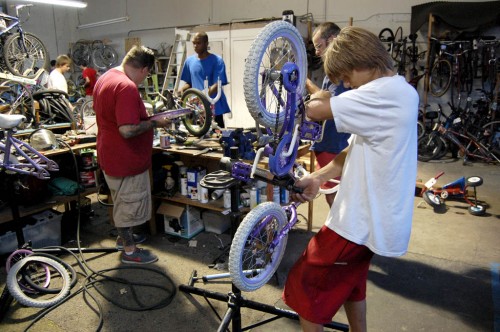 Drinkslinger, in the red shirt, came down from Melbourne and worked at least 40 of the 48 hours. He was cranking out bikes every time I looked at him.
When he wasn't building them himself, he was showing others how to tear apart and rebuild old clunkers.
"Lots of grease," he counseled. "That's the ticket. The kid will probably outgrow it before he wears it out."
Ricky, in the white shirt, had already knocked out seven or eight bikes when I saw him the next morning.
Freakbikers also teach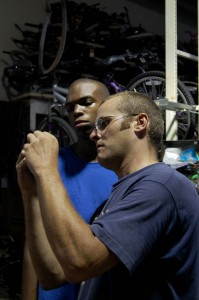 Freakbikers do more than just party and build funny bikes. They spend a lot of time working with high school-age kids like Rand, one of KrusherZ's neighbors. TIII is showing him the finer points of tire valves here.
Think Shop Class with heavy metal
And cool teachers who do this because they love it.
When the crew needed a break, they'd pull out their own pet projects to work on. There are tall bikes that are eight feet tall; and low riders that almost drag the ground; bikes that look like they have scales and bikes that shoot fire. Imagination and the laws of physics are the only limits.
These are not your *-Mart's Huffy bikes. They may be MADE of discarded *-Mart bikes, but that's the end of the resemblance.
Building a tall bike
KrusherZ, left, Wet Paint and Accident are starting to work on a tall bike.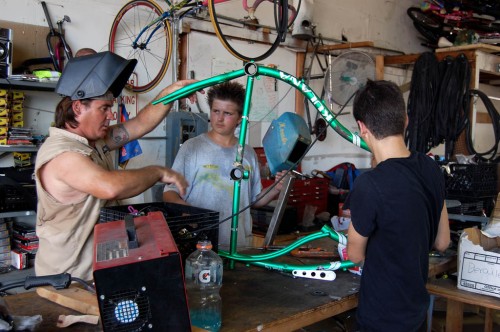 "We're all here because we enjoy what we're doing and we enjoy giving back to the community," KrusherZ said. "And it gives us something to do other than sitting at home playing video games."
Accidents WILL happen
Putting a bunch of young males (and some who are not so young) in a room with instruments that cut and make sparks pretty much insures that blood will be spilled eventually. Parental warning: Nothing REALLY gory happens, but there IS one brief, if understandable, use of profanity in the video.
Tony was using a grinding wheel when he discovered that the spinning blade takes off flesh faster than it does metal. Fortunately, the Hen House stocks first aid supplies. After a debate about which of those supplies to apply first, KrusherZ produced the REAL first aid. "Icy pops fix EVERYTHING," he said.
The last time I saw KrusherZ and Tony, they were headed off to KrusherZ's house where Super Glue was available.
Do I REALLY want to run this video?
I sent a message to ask Banjogrrrl if she thought anyone would take offense at the Freakbike Militia First Aid video.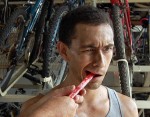 "Oh, I was fine with the video.  I don't know Tony, but I figure he would be too…I've ground a knuckle or two my ownself (although apparently not that badly, or maybe I just have a higher threshold for pain — anyway, not badly enough to require a fainting couch with little girl bike tires as a pillow…)"
OK to quote you?
"oh, lolz, sure.  Again, I don't know Tony, so I don't know how he'd feel about it, but I feel like I have built up enough injury cred to be able to get off a little good-natured ranking  :)"
So, Tony, if you have a grinding wheel in your hand the next time we meet, I want you to remember that it was Banjogrrrl who said that, not me.
Hundreds of bikes will go to needy kids at Christmas