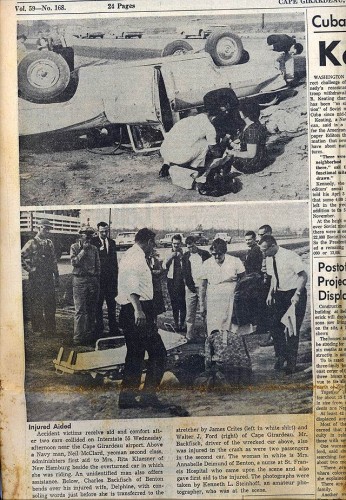 Time sure does move quickly. My first newspaper photograph was published April 18, 1963, on the front page of The Southeast Missourian.
The day before, my high school earth science teacher, Ernie Chiles, and I had stumbled upon this crash moments after it had happened.
After taking the pictures, I called the principal at home and talked  him into giving me the master key for the high school so I could open up the darkroom to process the film.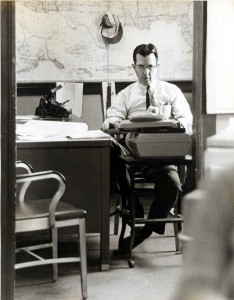 The next morning, bright and early, I went in to see John Blue, editor of my hometown paper. He knew my name from letters to the editor I had written, but this was the first time I had ever met him.
That afternoon, when I showed up to pick up my bundle of papers for my afternoon paper route, my pictures, with a byline were leading the front page.
The next day a check for $10 showed up in the mail.
Fame. Fortune. I was hooked
JBlue hooked me harder than a pusher behind an elementary school.
Where did the time go?
The next thing you know, you've put college behind you, worked at The Jackson (MO) Pioneer, The Southeast Missourian (MO), The Athens (OH) Messenger, The Gastonia (NC) Gazette and The Palm Beach Post and Evening Times.
I wrote this to a Telecom group several years ago: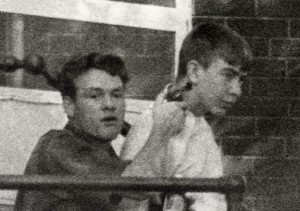 I've covered race riots in Illinois, anti-war protests in Ohio and Washington, D.C., a truckers' strike in Alabama, the gas shortage in Detroit, a blizzard in Indiana, Ku Klux Klan rallies in three states and the Cuban Boatlift.
I've attempted to cover, with little success, the landfall of at least 13 hurricanes. (Unfortunately, four of them have found my house in the last few years.)
On the other hand, I've also been to a thousand Kiwanis club plaque presentations, 40-million fender-benders and several hundred bridal showers. I still get nostalgic for the smell of teargas in the springtime.
Then, it's all over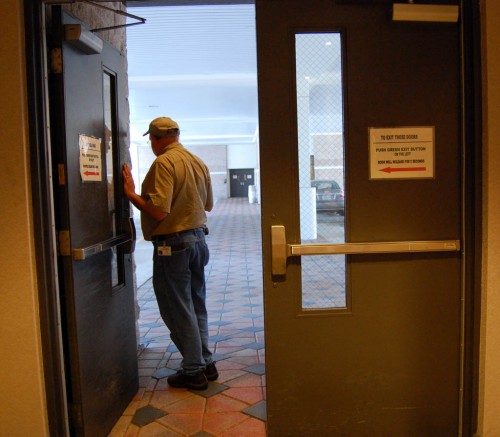 Then, after 35 years working at Palm Beach Newspapers, Inc., as a staff photographer, director of photography, editorial operations manager and telecommunications manager, you're walking out the door for the last time.
It's been a year since that door slammed behind me.
Do I miss it?
Not in the slightest. Twenty years ago, when I let the job define who I was, then it would have been hard. When an opportunity arose to take early retirement in 2008, I was ready.
I have to admit a little twinge the first time I went back to visit my old staff and had a visitor pass stuck on my shirt.
I'm going to bed
I had planned to pull together a batch of favorite pictures taken over the last 12 months: the trip to Vegas where I spoke at a telecom conference; pictures around Cape; stuff shot on the bike (and OFF the bike); our trip to New Mexico to celebrate our 40th wedding anniversary; shots of Grandson Malcolm getting bigger.
Then, I realized that being retired means that I can just go to bed if I want to. You'll get to see those pictures later.