I was in Wayne's Bicycle Shop this afternoon talking with him about building a wheel for my new Surly Long Haul Trucker when a young woman came in with a beater bike that needed air in the tires and a seat adjustment.
We struck up a conversation and I gave her a Palm Beach Bike Tours business card. She looked at it for a moment and said, "I think I've been on that blog before. Do you write about your family in it sometimes?"
I confessed that I had been known to slip in some family references.
She mentioned enough other details to confirm that yes, she was actually the first stranger I had ever met who had made it to the site. She said some nice things, too, but she might have just been polite since I was blocking her exit from the shop.
It's still exciting
I'm going to let you civilians in on a secret. Journalists, at least the ones I've worked with, are secretly excited to find out that folks look at their stuff.
I was still in high school filling in for the city government reporter when I started covering a particularly fractious political squabble. One day I was in a local coffee shop having lunch when I overheard a couple of local movers and shakers talking about MY story: "The paper says…."

And I thought, "'Paper says?' I wrote that. And I wonder what they'd think if I'd go over and let them see the snot-nosed kid whose words they were treating as gospel."
I've been tear-gassed in riots
I've covered Civil Rights marches, been to so many anti-war rallies that I thought my head would explode if I heard one more repetition of Give Peace a Chance, got trapped in a library sit-in (on the night my newlywed wife had planned a dinner party) and been on drug raids where friends were the targets.
I've been hassled by guys with guns
Most of them were wearing badges. This encounter was on the Florida turnpike in 1977. The series of pictures that staffer C.J. Walker and I shot ended up defining the highway patrol's media policy that has been adopted by fire and law enforcement departments nationwide.
I've climbed high objects
I've climbed bridges, water towers; talked my way onto rooftops and crawled into coal mines. Sometimes it was because it made a better vantage point. Other times, because it was just something neat to do.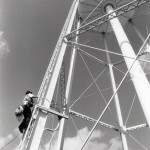 I was half-way up a water tower in a small Florida town when a booming voice came over a PA speaker, "Climb down off that tower. NOW!!!"
I explained who I was and what I was doing, but he said he was afraid that I'd sue him and the county if I fell off. "How about I sign a release?" That might work, he said, but he didn't have anything like that with him.
He settled for my handwritten statement: "I, Ken Steinhoff and my heirs will hold harmless the county of XXXX in the State of Florida and Deputy XXXX, in particular, in the case of my death or injury. In addition, I promise to scream all the way down to warn anyone who might be walking under the water tower."
I've dangled, uncomfortably, from a helicopter
Despite the fact that the newspaper had been critical of the Palm Beach County Sheriff buying a Bell Jet Ranger helicopter, I managed to convince the right people that I should do a story on the good things that it did.
I spent almost six months flying with the crews, most of it on my own time.
Some of the crewmen didn't know whether to trust me or not. While we were going through the chicken dance, getting to know you phase, I heard that they were going to do some practice picking up victims in the rescue sling. That sounded like fun, so I volunteered.
The last thing they pointed out before we lifted off was a red switch covered with a safety. "That's the guillotine switch. If we ever feel that the load we're lifting is endangering the aircraft, I just pull the safety back, push this red button and a blade cuts the cable: The cable you're swinging from."
He wasn't smiling when he said that. I kind of got the point.
I spent a month covering the Cuban Boatlift
And discovered that some news footage of me shooting a boatload of refugees made it into the opening titles of the movie Scarface. (That's me in the yellow Cat hat, in case you didn't recognize me.)
The first thing you do
The first thing you do as soon as the paper comes off the press is to turn to your story or picture. You want to see if some editor screwed it up. Or if the composing room manged to switch your picture of the city's new garbage cans with the mug shot of the mayor (it happened). You want to see if it reproduced correctly, and, most importantly, you want to see YOUR name in a byline.
Finally, you listen carefully to see if you hear anyone in a coffee shop say, "The paper said…."
I got that same rush today in Wayne's. I can't wait until it happens again.