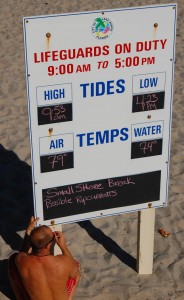 I don't want to rub it in to you folks who are snowed in, flooded out, blown away or still stranded at O'Hare Airport, but today was the kind of day that makes even a non-Florida fan like me appreciate the state.
It's not ALL good news
See, the water temperature is 74 degrees, five degrees cooler than the air. That would be chilly. I don't get in unless it's about 94.
Then, there are possible rip currents. The lifeguard went on to add Man of War sightings and child-eating pythons. (OK, just kidding about that last one.)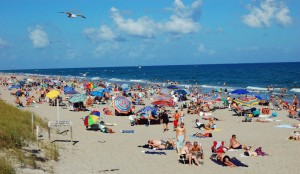 Despite the warnings, the Lake Worth, FL, Beach was packed. Based on the acres of pale flesh, I'd say the Snowbirds have arrived.
I'd sure like to have the sunburn ointment concession in South Florida.
Back to my childhood
Just as I was starting to get back on the road, this 1959 Buick Electra passed. My folks had the LaSabre station wagon model that looked almost exactly like this. My dad, mother and my two brothers and I piled into that car in Missouri in 1959 for the Great Florida Vacation. I'll never forget that car.
"That's close enough"
I took my driver's test in that land yacht. It has massive fins fore and aft and a hood that looked like the deck of an aircraft carrier. I passed the written test with a perfect score, didn't kill anyone on the driving portion, but then we got to the dreaded parallel parking test. It was a hot summer day in a car 38 feet long and 12 feet wide. It had no air conditioning. It had no power steering. I did OK until the last second, when I touched one of the orange pylons, which would normally mean flunking the whole driving test.
The instructor looked at this scrawny kid, dripping sweat from wrestling that beast and said, "Kid, in THIS car, that's close enough. I'm gonna pass you."
My kid brother Mark, for whom nothing is sacred, doctored a photo of him and his brother, David, standing next to the LaSabre for a promo piece that must not have been too successful, 'cause he's still as poor as the rest of us.
South to the Boynton Inlet
I generally ride north, but I thought I'd cruise south on A1A from Lake Worth to check out the Boynton Inlet. There's construction on that stretch of road and it's supposed to be for local traffic only, but another pbbt (Palm Beach Bike Tours) rider said that he rode it earlier in the week and it was fine.
What little shoulder there was was taken up by Bob's barricades, but traffic was light and respectful. It was such a nice day that I think everyone was in a good mood.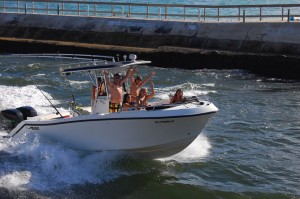 Boat traffic wasn't heavy, but it was probably higher than it was a few weeks ago when you had to mortgage your home to fill the tank.
Glad to be on a bike
The parking lot at the park was jammed. Watching cars making endless loops waiting for someone to pull out of a space made me really happy to be on a bike.
All in all, I must have seen at least three dozen riders on every possible description of bikes during the 22-mile spin. Looks like I wasn't the only one enjoying the day.