Several folks liked the picture of Sea Gull Cottage I posted yesterday, so I thought I'd throw up a couple more things I saw on the same ride up the Palm Beach Lake Trail.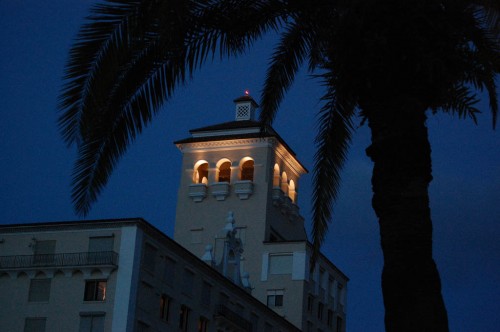 What is now the Biltmore Condominiums was built in 1926 as the Alba Hotel, was renamed the Ambassador Hotel and finally became part of the Biltmore chain of Hotels.
Biltmore headed for demolition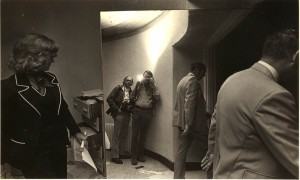 When Palm Beach Post chief photographer John J. Lopinot shot this picture of the two of us reflected in a mirror on a tour of the place in the mid-70s, there was a very good chance that the building would be demolished.
When I get down to that level in my photographic archeological dig, I'll post pictures of what a dump it had become.
$10.5M for a Biltmore penthouse?
None of us walking through the Biltmore on that tour would have ever thought that one of the three penthouse apartments would go on the market for $10.5 million in January 2009.
Here are details from Megan V. Wilson's January 28 story in The Palm Beach Daily News:
With 3,299 square feet, the two-bedroom home at 150 Bradley Place, No. 1002, would have the highest price per square foot for a Palm Beach condo at about $3,183 per square foot…
Owner Pari-Sima Pahlavi, 81, bought the property with her late husband, Dorrez Dolats, for $2.7 million in 1993, according to property records. Pahlavi is the sister-in-law of the former shah of Iran. Her first husband was the late Prince Abdul Reza Pahlavi.
The Biltmore boasts three penthouses, and the north and south ones sold within a month of each other in 2007 for $6 million and $8.9 million, respectively. The south unit covers 3,914 square feet, and real estate broker Tara Pearl, who represented the buyer during its sale, believes it currently holds the condo record for per-square-foot sales price at about $2,274 a square foot.
In May, developer Stephen Ross' former Il Lugano penthouse set a local record for total price when Lee and Laura Munder bought it for $12.1 million, but at 5,798 square feet, it cost only about $2,087 a square foot.
[Editor's note: You know you're in Palm Beach when someone can use the words "only" and $2,087 per square foot in the same sentence.]
Televisions: modern-day equivalent of flickering candles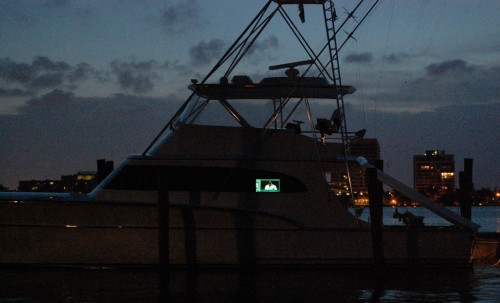 Not too far north of the Biltmore on Lake Trail, I spotted a glow coming from a boat moored in the Intracoastal.
Televisions are the 21st Century version of flickering candles.
You'll soon learn that flickering lights come from TVs, but steady glows are computer monitors.