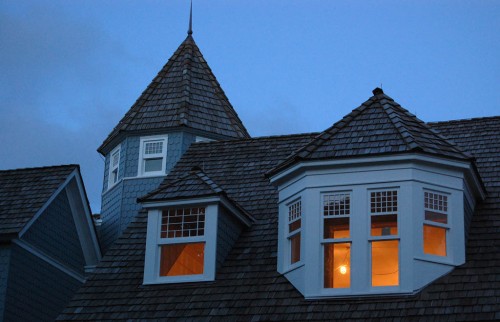 A night ride took me past Sea Gull Cottage in Palm Beach right at dusk. Lights inside the building cast an orange light that contrasted with the cold light of the coming night.
Flagler's first winter residence
Sea Gull Cottage was built in 1886. Henry Morrison Flagler, the man most responsible for making Florida a winter tourist destination, bought it in 1893 and made it his first winter residence.
The building was originally located north of the Royal Poinciana Chapel. It was moved east to The Breakers in 1913 and used as a rental property. The Preservation Foundation of Palm Beach paid to move it to its present location in 1984 to save it from demolition.
The lights in the windows are from construction workers renovating the interior, adding a 2,000-foot extension to the north side of the building and replicating an octagon-shaped turret that was lost decades ago.
Sea Gull cottage is located next to the Flagler Museum