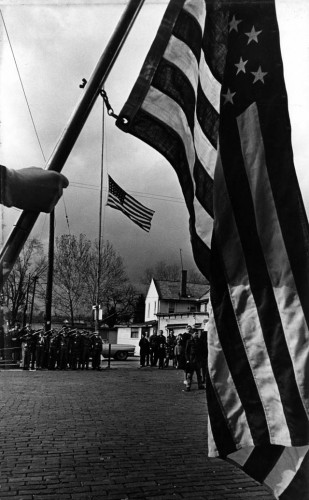 One of the blessings and the curses of shuffling boxes of prints, slides, negatives and clips of 40-plus years of newspaper photography is that you KNOW you have just the perfect picture to illustrate a posting. You just haven't had time to digitize it yet. And you don't know WHICH box it's in right now.
Two assignments I remember on memorial Day
In the morning I photographed a soldier home on leave being presented service medals for heroism in battle. It was a pretty routine situation: just another environmental portrait, grab the IDs and go on to the next job.
Putting on brave faces
That afternoon there was a ceremony at the Athens Ohio County Courthouse where an elderly couple was given similar medals for their son who had died in Vietnam. I remember in my mind's eye a simple, hard-working couple, just this side of all used-up, standing there holding their dead son's medals and trying to put on brave faces for the camera.
The real picture – and the one I hope to find by next Memorial Day – was a shot from behind them as they walked out the dark lobby of the Courthouse into the light. All of the starch had gone out of them. They were older leaving the building than in my formal picture shot minutes before.
I didn't want to think about their ride home with a box of medals on the seat next to them where their son used to ride.
Did another photographer have the same assignments?
When I was in the darkroom that afternoon printing up the two assignements, I wondered if some photographer in North Vietnam had received the same two assignments – just in mirror image.
To all of the men and women who have kept us free and continue to keep us free, thank you for your service.