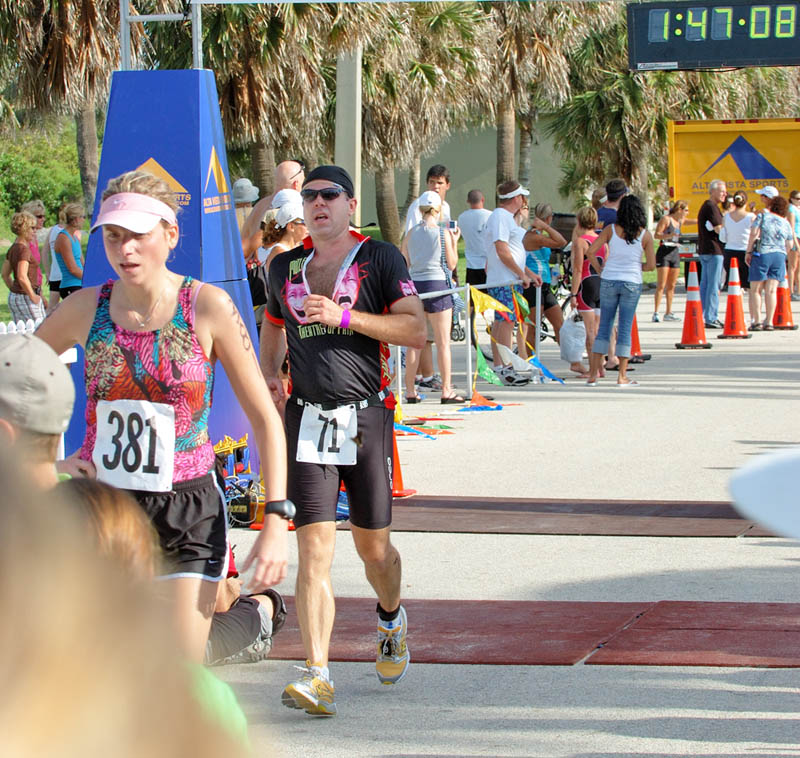 Palm Beach Bike Tours regular rider, Scott Maulsby, completed the 2008 Tropical Triathlon in Lake Worth this weekend in 1:25:46. In August, he finished the Loggerhead Triathlon in 1:27:06, so he has improved 80 seconds in a month. Actually more and more on that later.
There was much controversy to this year's Tropical Triathlon. The swim portion was almost canceled because of bad weather (aka Hurricane Ike). Even with the green light to swim, many were slowed by the choppy surf. The bike route, too, was an issue.
Bike: 11 Miles or 13 Miles?
Tropical's bike portion was to be 11 miles. Several competitors rode the 11 miles then looked at their bike computers, got confused and stopped for clarification or simply cut back. As more and more participants turned early, others followed. Race officials stopped those who returned after 11 miles, put them back on the course and instructed them to ride 13 miles. By all accounts and dozens of odometers, the bike portion of the race was 13 miles not 11 miles.
Scott was one of the many who lost time by following the advertising and other riders instead of the course. So, while the clock shows just an 80 second improvement, had he not run into the 11/13 problem, he might have finished even quicker.
Lesson Learned: Follow the Course
Follow the course, not your odometer.
Full results for the Tropical Triathlon are available online.
—Matt