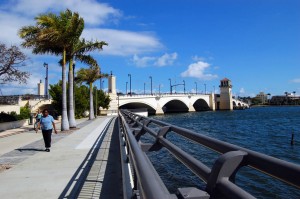 Links between West Palm Beach and Palm Beach
Folks who live in West Palm Beach, FL, don't normally know the names of the bridges that link us to the rarefied Town of Palm Beach. In fact, I had to pull up Google Maps to remind me that the bridge that connects Okeechobee Blvd on the west to Royal Palm Blvd. on the east is named the Royal Park Bridge.
North Bridge, Middle Bridge and South Bridge
Our cats over the years have official names when we take them to the vet, but during their lifespans, they're usually known as things like Black Cat, Orange Cat, Big Cat, Little Cat and, most frequently, That Bleeping Cat. (The latter is a generic term applying to all of them at one time or another.)
Our bridges are the same way. North Bridge is really the Flagler Memorial Bridge. Interestingly enough, Google Maps is confused. They have it also named Hammock Dunes Bridge. Since I had never heard of THAT, I looked it up and found that it's up near St. Augustine. Who knew?
Middle Bridge, as mentioned, is the Royal Park Bridge. South Bridge is the Southern Blvd. Bridge.
Bicycle snobs can miss things
I'm an admitted bicycle snob. If the road can be ridden, I make it a point of pride to ride on it. It sends the message that bikes belong.
By limiting myself to being traffic and going where cars go and riding like cars ride, I've been missing a great view of West Palm Beach and Palm Beach.
Jim took the bike-ped path
I was riding with Jim Beloian, a snow bird I met on an earlier Inlet ride, when he started to take the bike-ped trail instead of the road. He was leading, so I followed.
There's a whole world under there
The path takes you under the bridge so you don't have to cross six lanes of traffic (including turn lanes)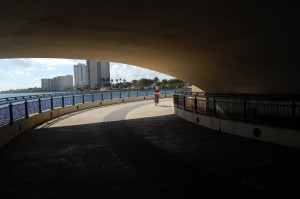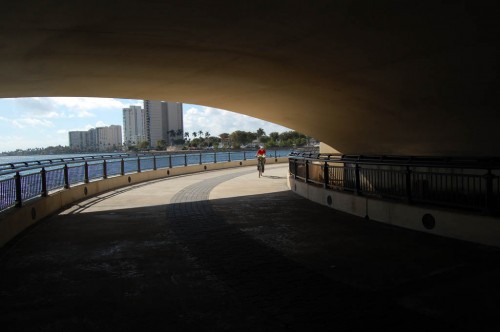 In addition to offering safe passage, there's some welcome shade when it's hot and shelter when it's raining.
I was surprised to see how many bikers and walkers passed by in the short time I stopped.
Here's something motorists don't see
The interplay of light and shadow against the ever-moving water is beautiful and relaxing.
Sometimes the prettiest part of bridges is underneath them.
Coming out of the shadows
When you go around the north curve, the downtown cityscape starts to emerge.
There's plenty of room under the bridge to pull over and check out the scenery. There's even a row of bricks down the middle of the path to subtly divide the northbound and southbound traffic.
Downtown West Palm Beach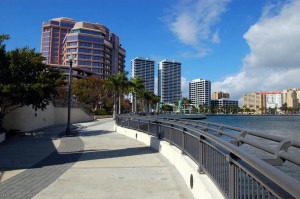 Once you pop out from under north side of the bridge, you can head north along Flagler Drive or curve back around to cross the bridge to Palm Beach on a protected sidewalk.
Given the right light, West Palm Beach can look pretty impressive.
When we moved here in the early 70s, the Harris Building was the biggest thing downtown. We hicks from the Midwest looked up and said, "Wow, we're finally living somewhere with a skyscraper."
Unfortunately, West Palm Beach was rapidly becoming too big. I had always said that I didn't want to live anywhere I couldn't stop my car in the middle of Main Street and take a picture without getting honked at.
Cape Girardeau bridges stay put
Bridges back home know how to conduct themselves. They don't start sticking up in the air when you're waiting to cross them. Of course, there aren't many drawbridges back there.
Every time I see one of these up close, I keep waiting for someone to come rocketing through the crossing gates and try to launch themselves over to the other side like a bad action movie.
That's The Breakers
While waiting for the boat to clear the bridge, you can look over to Palm Beach and see the two towers of The Breakers Hotel peaking up over the tree line.
The Breakers was built by Henry Morrison Flagler for whom the North Bridge is named. If you take the bike trail north along Lake Worth, you'll pass Whitehall, Flagler's home.
How come nobody's honking?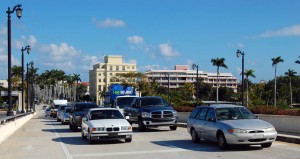 It never ceases to amaze me.
When the drawspan goes up, scores of cars line up waiting for someone's floating tax deduction to cross under the bridge. Sometimes traffic will be tied up for 10 minutes or more.
Nobody starts honking, hollering or throwing things at the boats passing below.
Those same motorists will do all those things if a bicycle holds them up for 10 or 15 seconds.
OK. Rant over. I'll go back to my Happy Place.