If you are a cyclist, eventually, you have to do a century — one hundred miles by bike in a single day. It is a right of passage, much like runners eventually need to upgrade from a 5K to a 10K to a half marathon and finally a marathon.
When I say 'eventually', I mean you ride increasingly longer distances and work your way up to a century. Some cyclists take years to get to the point where they can bang out 100 miles.
But Not Laura — I Hate Laura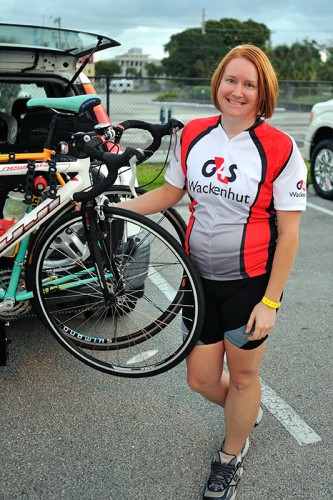 In February — late-February, she is quick to add — Laura decided to buy a bicycle and become a cyclist. She hadn't ridden in years and was never a serious cyclist.
Her company, G4S Wackenhut, was organizing a team to ride the MS-150. I met Laura on a team training ride. She did nearly 30 miles at better than 16 miles an hour. I didn't think much of her performance. That's about average for a semi-regular cyclist working her way up to a charity ride.
She Had Been Riding for Only Three Weeks
It was only after the ride that I learned that she had owned a bike for only three weeks and, at that point, had ridden only 77 miles in the last decade. It was also about that point that I learned to hate Laura: no one should be able to ride that well after only three weeks.
Not only was she able to put in hefty mileage at a good speed after just three weeks, she did well in traffic, displayed no fear, road a pace line comfortably and — this is the worst part — never complained. She is always positive.
Pouring down rain on the Saturday morning we're going to do 42 miles? No complaints. Hot? No complaints. Cold? No complaints. No sleep the night before? No complaints. It is almost pathological the way she manages to keep a positive attitude.
Police Athletic League Century Ride
April 19 was the Palm Beach Police Athletic League Century Ride. Laura's longest ride to date had been 40-some odd miles. And, oh, by the way, did I mention she has only been riding for nine weeks?
Laura finished the hundred miles in about six an a half hours of saddle time for an average speed of 15.2 miles an hour.
To put that in perspective, my first four metrics (100 kilometers; about 62 miles) were done slower and my first century was done at 13.5 mph and I had been riding for eight years at that point. For a first timer with only nine weeks experience, she knocked it out of the park.
Nice work, Laura.
Laura at the Finishing Line Flaunting Her Cycling Prowess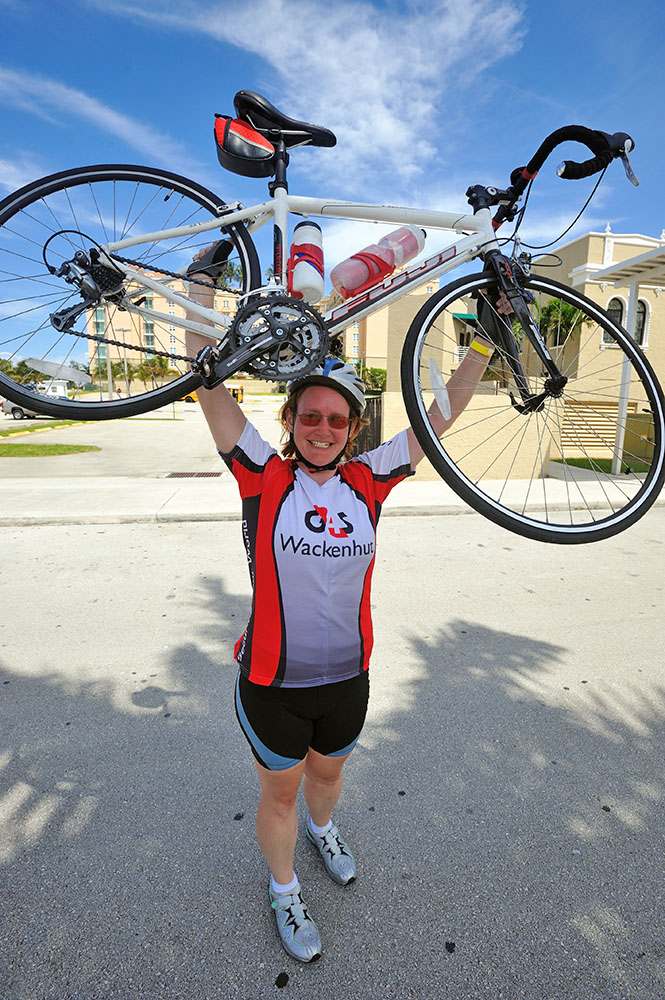 Tell Us About Your First Century Bike Ride
Do you remember the first time you rode your bike 100 miles? Post your story below.
—Matt