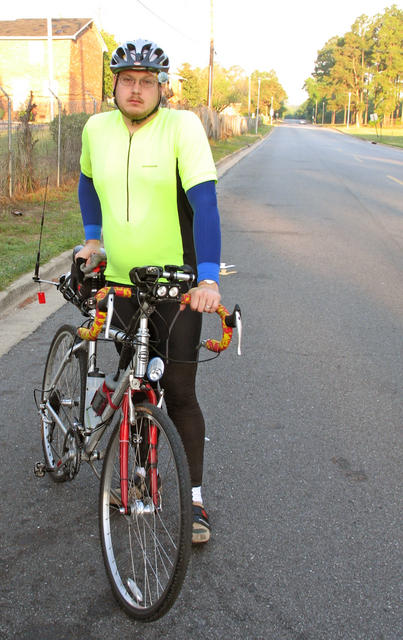 My new, used 2001 Bianchi Talladega is an awesome bike and a huge step up from my frankensteined Trek 7300.
First, a few words about the Trek 7300. I bought it in 1998 shortly after moving to Orlando. I didn't know anyone in town and figured that with an empty social calendar I could get some exercise. I stopped by the local bike shop (Bike Works, MetroWest location) and told them what I wanted — a low-end road bike. When they told me that would cost $800, I asked them what they had for $500. That brought me to the Trek 7300. I swapped out the straight bars for drop bars and rode it for the next ten years. After eight years, the head tube cracked and Trek replaced the frame (under warranty) with a Trek 7700 frame. I even managed to do a century on the bike.
Still, it was a beast of a bike. Naked, it weighed in at 22 pounds. Add in the lights, rack, generator hub, ham radio, MP3 player with handlebar-mounted speakers and whatnot and it must be 40 pounds. My fault, I know. Still, heavy and slow. It was no road bike.
I had never seriously considered upgrading since all the bikes I lusted after were more than $2,000 and I really had no excuse to spend money on a bike that I rode ostensibly for exercise.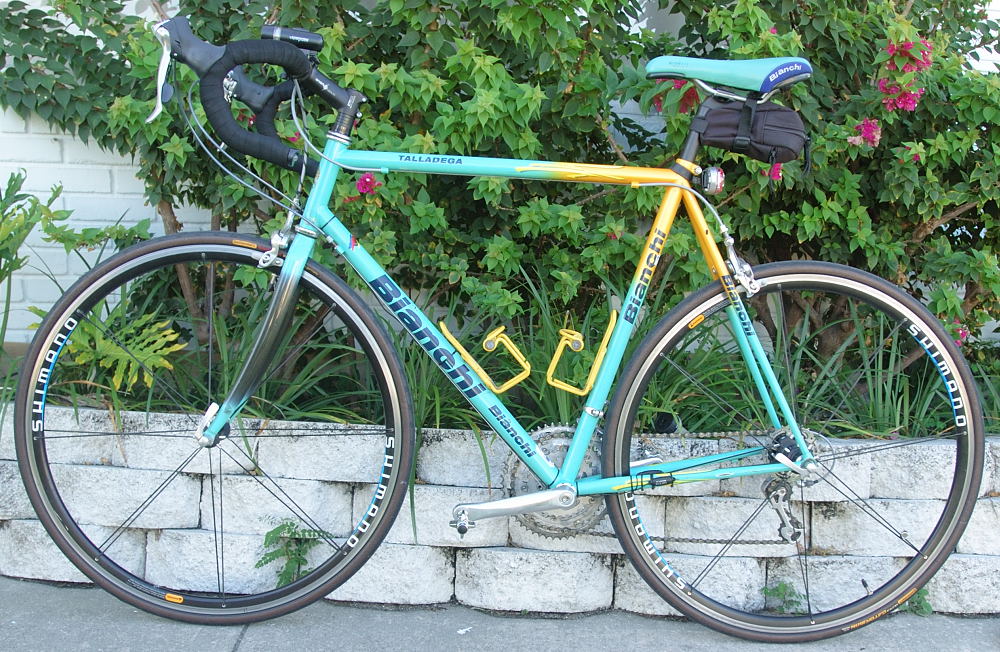 That was, until my (now favorite) Uncle Mark borrowed a full carbon bike for the Tour of Rural Southern Vistas (TOSRV). After tearing up the road on a bike that was lighter than air, he was hooked. Not too long after he got home, he bought a 2008 Trek Madone 5.5. Good for him and better for me. The fine Italian road bike on which he had put more than 25,000 miles, a 2001 Bianchi Talladega, was put out to pasture. (Read about Mark's Bike in his own words.)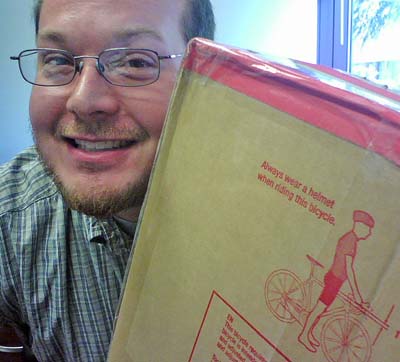 After weeks of negotiation, begging, whining and small unmarked bills, Uncle Mark put the bike in a box and it showed up at my office.
It didn't take long to see an improvement in my speed. You can check out my Bike Mileage Log of Truth for actual ride statistics. The best average I had on the Trek 7300 was 15.8 mph over a 14 mile ride. More often then not, 12 to 14 miles an hour was the best I could average.
With the Bianchi Talladega, I'm seeing a 17 mph average when I control the pace of the ride. That's a huge improvement. I can log the same number of miles in almost half the time. I'm sure some of the improvement is mental but the rest is the bike.
The Blue Heron Bridge — a fairly hefty bridge, over 80 feet at the top — is less than five miles from my house. From a dead stop at the top, coasting to the bottom in the Trek 7300, I would hit 24 miles an hour. From the same dead stop on the Bianchi Talladega to the bottom, I hit 35 miles an hour. Fast. Almost too fast. The Trek is two or three times the weight of the Bianchi so it should descend faster, all else being equal.
Needless to say, all else isn't equal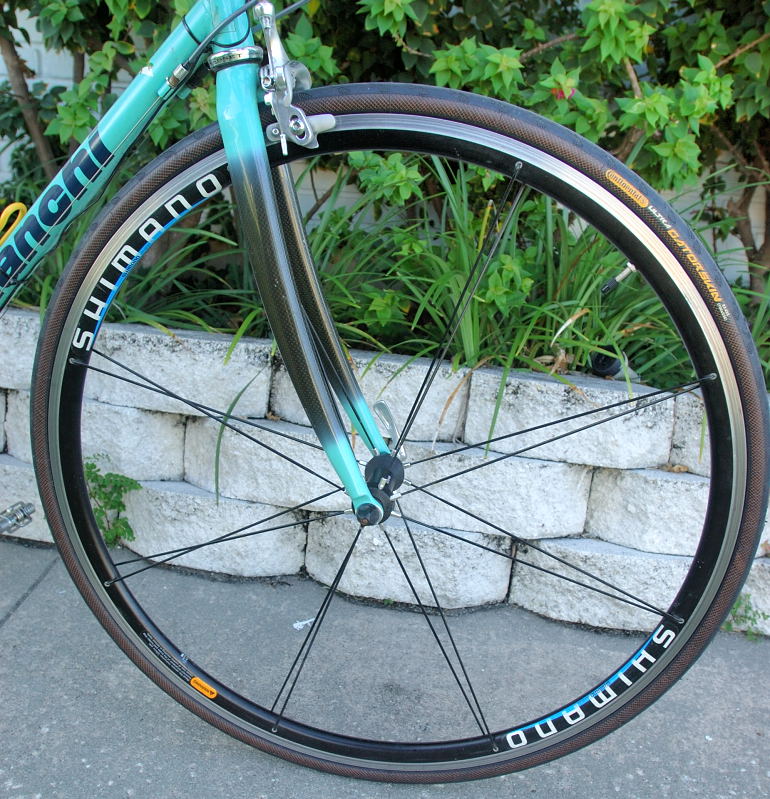 I'm convinced that the wheels play a large part in the downhill speed. Not only are they fine looking wheels, they are aerodynamic. The few spokes it does have are flat to cut through the wind like a hot knife through melted butter. I never would have guessed that wheels would make such a difference in performance but they clearly do.
Others complain that they wheels are comparatively heavy and think they climb slow. Both of those criticisms are probably true. However, living in flat Florida, I'm more concerned about wind than weight. In a strong cross wind (as is often the case when riding along the ocean), I can tell a meaningful difference between the Shimano wheels on the Bianchi and the fully-spoked wheels on the Trek. While others are getting blown around, I'm sitting upright and pretty. (Well, maybe not pretty but upright.)
The Bike's Components Matter More Than You Might Think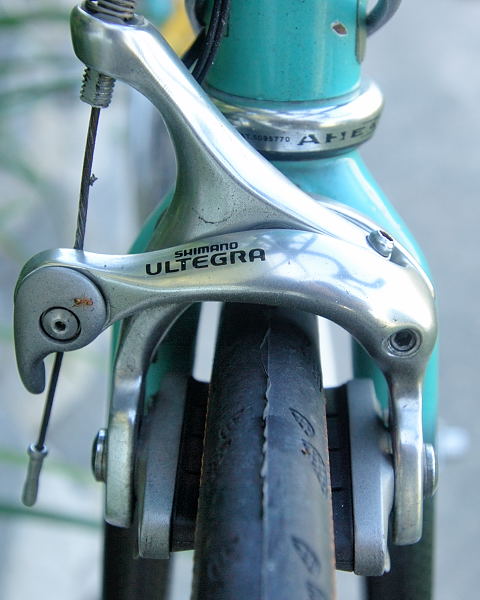 The Bianchi Talladega has a complete Shimano Ultegra component set. Yet again, I'm impressed by the difference components make.
My brother (Trek 5500), sister-in-law (Trek 1.2 WSD) and a couple friends (Trek 1.5, Trek 1.2) have all just recently bought road bikes or tested road bikes (Trek 2.1). Seriously, in the last three months, everyone I know has upgraded or become a new rider.
The components on these bikes covered almost the entire range of the Shimano road line. These bikes had some combination of the following…
Shimano 2200
Shimano Sora
Shimano Tiagra
Shimano 105
Shimano Ultegra
Shimano Dura-Ace
I didn't do extensive testing but I did take a short spin on all the new and test bikes. From the 105 on up the product line, shifting is smooth and braking is solid. Below the 105 level, there wasn't a crispness to the functioning. Everything worked well enough but there was a clear difference. For someone new to cycling, I wouldn't have a problem recommending a bike such as the Trek 1.2 with the Sora/Tiagra components. However, for a more experienced cyclist an upgrade to at least the 105 level is recommended.
The Ultegra components on the Bianchi Talladega are sweet. The Trek 5500 (bought used) has the Dura-Ace STI Dual Control Levers but the rest is Ultegra. I didn't notice any difference between the Ultegra shifters and the Dura-Ace shifters moving the Ultegra derailleurs. Someone with a more refined pallet might.
With only 230 miles on the Bianchi Talladega, I'm hesitant to post a few review. When I hit 500 or a thousand miles, I'll provide an update.
Below are some photos of my new bike. Bike porn, if you will.
—Matt
She's Italian!