Jon asks:

I am in the process of interviewing for a position in Miami. I've always wanted to move from NJ to somewhere in the Sunbelt. As I'm getting older (I'm now 49), cold is beginning to bother me more. I've been trying to locate bicycle clubs in FL, but they all seem to only offer racer paced rides.
I ride long distances 35-67 miles in NJ, but at an avg speed of 11-13mph. Where do I find southern FL clubs that have C and/or D paced rides? Also, even with nice weather, FL does not appear to offer a lot of riding locations. Am I correct? Any information would be appreciated.
I try not cross the south Palm Beach County Line
I may not be able to address your specific questions, because Miami is about 60 miles south of us and I try as much as possible not to go south of the Palm Beach County line. And, I'm pretty much a solo rider, so I don't hang around the clubs. But, here's some other info.
You'll be trading cold for heat and humidity
If you live in New Jersey at this time of year, I'm sure Florida looks really attractive. I DID pass on riding this morning because the wind chill was down in the low 40s and the winds were 16 mph, gusting to 26.
On the other hand, summer's heat and humidity cause me to shift my riding to the evenings and nights after about May. I'm a decade older than you and the heat kills me as much as the cold does you. Maybe my radiator isn't working as well as it should, because a hot day will elevate my heart rate 10 to 15 beats per minute.
I'm not a club rider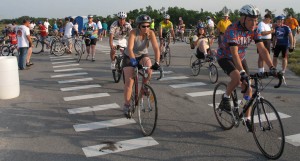 You and I are about the same speed. My last century was done at about 13 mph. My last ride was into a 14 mph headwind where I worked to maintain 10.5 mph, but then cranked effortlessly at 16-19 mph for the all-too-brief time when the wind was at my tail.
My two kids are morphing into go-fast riders. I don't know where I went wrong with them. Matt, the oldest, likes to get up at ye-god-o'clock in the morning and push himself with a group that rides the north end of Palm Beach County on weekends. It's made him a stronger and faster cyclist.
I don't like dragging myself out of bed early in the morning, and I'd rather ride my own pace, stopping along the way to take pictures and talk with folks I meet. Not knocking folks who like group rides, but they're not my style.
How comfortable are you in traffic?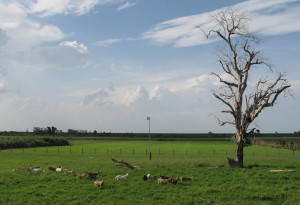 When I ride in South Florida, one thought keeps going through my mind: if Darwin was right, and only the strong and fit survive, how many N.J. and N.Y drivers were weeded out before they got down here?
A vehicular cyclist, who isn't afraid to take the lane when necessary and who rides defensivly, will find riding OK. If you're uncomfortable riding in urban traffic, you may have problems. There aren't many traffic-separated bike paths in the area.
One of the most pleasant protected places is the Lake Okeechobee Scenic Trail, a blacktop trail on top of the Lake O dike. It's not paved the whole way, but I have ridden the whole roughly 117-mile lake, and only about 15 miles of it was on ugly road with broken shoulders. That stretch was under construction and may be fine by now.
Check out Everglades Bike Club
The Everglades Bicycle Club out of Homestead, south of Miami, is a fairly active group. I've done their Snowbird Century twice. What they call their Easy Ride is about 26 miles at 14-16 mph, so they may be a little fast for you.
There ARE pretty places to ride in South Florida, you just have to look closely.
And, if you are REALLY a slow rider, you should hook up with my buddy, Charles Keefer, webmaster for slowbikes.org. If he went any slower, he'd have to have one of those beep-beep warning horns on his bike. (He also tends to be a bit slow in updating his site, but that's understandable. I think it's in the charter.)
Keep in touch. If you make it down here, I'm sure we can hook you up with some routes, if not clubs.