Wing Chun Training Videos – Martial Arts black; margin-top: 10px; margin-bottom: 10px;" title="Bike in Tree 01-29-2009 Nathan Hale and Webster West Palm Beach FL" src="http://www.palmbeachbiketours.com/wp-content/uploads/2010/03/Bike-in-Tree-01-29-2009-Nathan-Hale-and-Webster-West-Palm-Beach-FL_6511-500×382.jpg" alt="" width="500″ height="382″ />Son Matt and I spotted this bike in a tree when we were cruising a neighborhood not far from mine about this time last year. It didn't look like it was chained down or attached to the tree, so we couldn't figure out if it was supposed to be there or if someone had stuck it up there as a joke.
It wasn't there when I went down that street a couple of weeks ago, so I guess I'll never find out the whole story.
A bike garden in Queens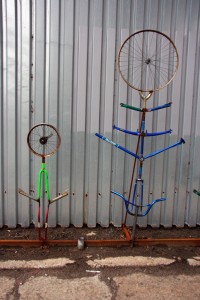 Sarah Mule, a former coworker at The Palm Beach Post, sent me a link to what she calls one of her favorite sites, ScoutingNY. That's what reminded me of the bike in the tree.
The fellow who does the site says he works as a film location scout in New York City.
"My day is basically spent combing the streets for interesting and unique locations for feature films. In my travels, I often stumble across some pretty incredible sights, most of which go ignored daily by thousands of New Yorkers in too much of a rush to pay attention.
"As it happens, it's my job to pay attention, and I've started this blog to keep a record of what I see.
That's a pretty good gig. Sort of like what I got to do as a newspaper photographer.
His posting today was of a "bike garden" in Queens under the 59th St. Bridge.
Click on the photo to go to his site.
If you are from the New York area, I bet you'll be fascinated by some of his finds.