When we moved into our house in West Palm Beach in 1976, my wife said, "You're not going to unpack all those boxes of books until we're sure we're staying here."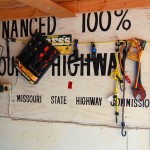 After renting a storage unit for several months, I built a 10′ x 20′ shed in the back yard, mostly from leftover materials from my dad's construction company.
Half of it was storage for the books, prints and other stuff I had accumulated, plus the growing fleet of bikes. 10′ x 6′ was a workshop and place to put tools and manly things. The remaining 4′ x 10′ space was for a sprinkling system water pump (so we could water our sand) and garden tools.
It's 2009 and the books are still boxed
Instead of book worms enjoying my collection of books, we found that the shed had been infested by termites this summer. We paid to have the building tented to kill the bugs and we brought in Brother-in-Law John to fix the place up, make it bug and waterproof and to install an air conditioner to keep the temperature and humidity down.
Life, Look and Saturday Evening Posts
The renovation was relatively simply, particularly when you have someone like John doing the job. PREPARING for the renovation is another matter. Remember those boxes of books? Oh, I forgot to mention the Life magazines going back to the early 60s. I've got 'em all. The assassinations, the moon landing, The Beatles, all of it.
I gave most of the magazines to former coworker Jan Norris this summer. She may try to do something with them. I don't care. At least I'm not going to be the one putting them in the dumpster.
THEN I found six more boxes. Niece Laurie of antique fame said she wants them. Do you have any idea what it costs to send something like that back to Missouri? Trust me, it's pretty close to the stimulus package.
My yard looked like my shed had thrown up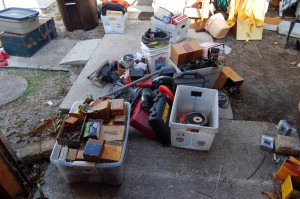 Every time I'd move one box, I'd find something else. A box that I thought contained only bug-eaten paperback books was half-filled with old prints going back to my high school days and newspaper clippings from Ohio and North Carolina.
It's amazing how many things I've seen, photographed, written about and I can't remember a single detail about them today.
A newspaper photographer's day is so fragmented that the same roll of film may contain a cute kid picture, a professional sporting event and a tragedy that has changed someone's life forever. To the guy covering history on horseback, it's just another day on the job.
A window that's "affordable" and "hurricane resistant"
I've had plywood over the Plexiglas window I put in the original shed for at least seven hurricanes. My wife and Bro-in-Law John suggested replacing it with a hurricane proof one. They came home from a big box store with a frosted window (so folks can't see all my tools) with a sticker attached that proclaimed it to be "affordable" and "hurricane resistant."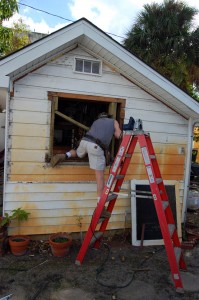 I hope their definition of "hurricane resistant" is more accurate than their definition of "affordable." Maybe it was affordable in the pre-Bernie Madoff days….
Space for the LHT, two Treks and a no-name
When it's done – and I'm not sure I'll ever live to see it finished – I'll have more space for my Surly Long Haul Trucker and the three other family bikes.
My old prints and negatives will have proper storage and I'll get started digitzing almost 50 years of photographs. (Closer to 100 years of photos if I count one taken by my grandparents.)
That's my excuse for being behind in my blog
Give me another week and I'll be out on the road, not wading in roach pellets.