From the files of 'stuff I never needed nor wanted until I saw it', allow me to present the RACKandROLL multi-sport trailer: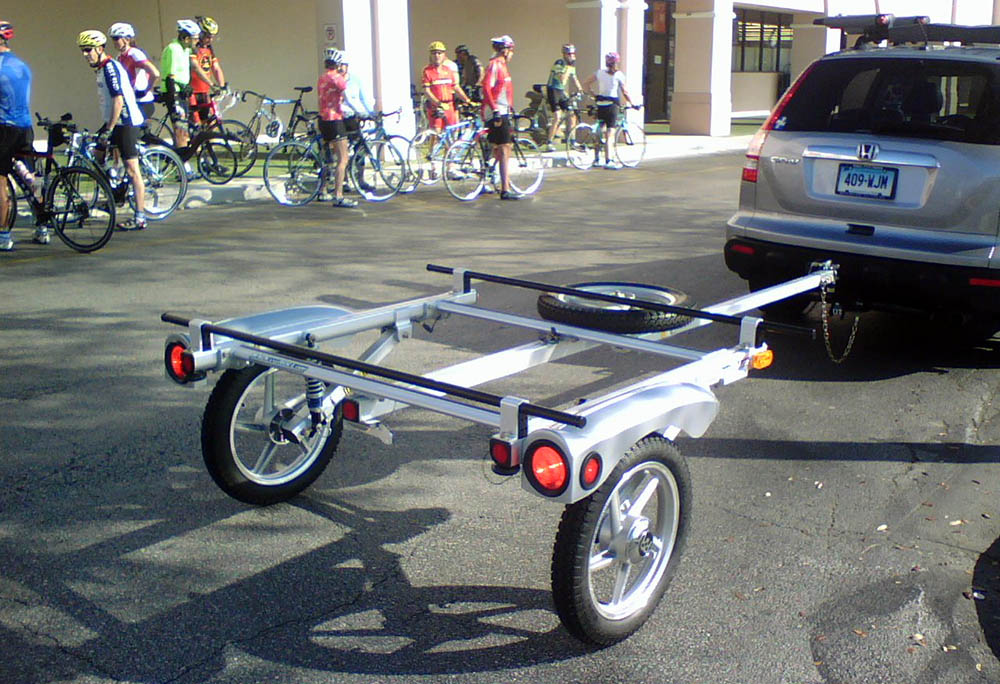 Basically, the RACKandROLL Trailer is a platform for a set of bars like you would usually find on top of an SUV or station wagon.
Trailers Versus Rooftop Carriers and Other Benefits
The brilliance of the trailer is that you don't have to lift stuff onto the top of your car. Since the trailer sits in the car's slipstream, you're not increasing your car's wind profile by stacking items on top. The trailer is also light and portable which means if you can't drive your canoe to the water, you can drag the trailer to the water. (The web site says the trailer checks in at 150 pounds but I perceived it to be less weight.)
Anything designed to work on a standard roof rack will probably work on the RACKandROLL trailer so there is plenty of third-party support. (Yakima acquired RACKandROLL last month and the RACKandROLL web site still says prominently that THULE hardware works well with the trailer.)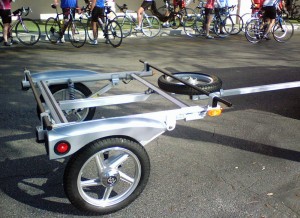 The trailer seemed well-constructed. The frame is aluminum to keep the weight down. It had a lot of gee-whiz features (telescoping tongue, tool-free wheel removal, tiny wheels on the back frame so you can store and move it upright in your garage) that really showed that someone had thought long and hard about how it would be used. Of course, with a list price of $2,150, it had better be totally awesome.
(In comparison, my 4'x6′ flatbed steel utility trailer cost $400 and it'll carry far more than the 350 pounds the RACKandROLL is rated. It also weighs four times as much and doesn't fold flat.)
Yakima Trailer Out of My Price Range
At more than $2,000, the trailer is out of my price range. For folks who have three times that amount of money in each of their bikes, this may be a viable product. I imagine a bike will take less of a beating behind the car in its draft than on top. I guess there is a greater chance of a rock being tossed at a bike on the trailer than on the roof but I'm not sure if that is a serious concern.
If you have a canoe or kayak in addition to a bike, this starts looking a lot better. It is in the same ballpark price-wise as many canoe trailers.
If you own a RACKandROLL trailer or are considering purchasing one, please let us know. I'd be curious to know what you think. The trailer certainly caused a lot of discussion at this morning's breakfast stop.
—Matt