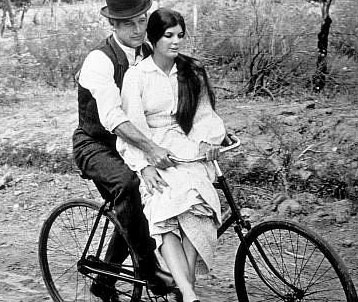 My friend Jan Norris called this morning to tell me that Paul Newman had died. "One of his most famous scenes was his bike ride in Butch Cassidy and the Sundance Kid," she reminded me.
And, indeed, it was. You can see it here. Maybe I didn't remember the bike part as much in those days because I was concentrating on Katherine Ross.
Paul Newman did his own bicycle stunts, after his stunt man was unable to stay on the bike according to a trivia site.
The 1969 movie was the highest-grossing Western in motion picture history, claims this excellent bio on Newman.
I shot Newman at Ohio University
When I was photo editor of The Ohio University Post in Athens, Ohio, circa 1967, Paul Newman paid a visit to the campus for some reason or another.
He was mobbed. I mean rock-star mobbed. I remember taking one high-angle shot of him completely surrounded by students. When we had a chance to interview him, he seemed to be a nice guy, graciously putting up with the same questions he'd probably been asked hundreds of times before. (If I can recall which cardboard box the clips from that era are in, I'll post some shots from the day.)
Depending on whether you believe the story or not, he briefly attended Ohio University at Athens, but was expelled for (allegedly) crashing a keg of beer into the president's car. I like to think it was true.
He also was supposed to have roomed in Scott Quadrangle, my dorm, but he couldn't remember which room when I asked him.

He came to Lake Worth in 1984 to film Harry and Son
I can remember showing up on the Harry & Son set, not to take pictures, but to ask the movie crew if they could switch to a different two-way radio frequency because it was interfering with The Palm Beach Post's radio system.
Newspapers and movie crews were both assigned a group of frequencies in the 173 MHz range. Movie companies would frequently rent their radios from a Ft. Lauderdale company and pick a channel at random. In this case, they grabbed 173.275, which we used.
They were nice enough to switch when I pointed it out.
Raindrops Keep Falling on My Head
The closing lines to B.J. Thomas' version of the song in this clip are a bit syrupy, but they ain't a bad epitaph:
But there's one thing I know
The blues he sends to meet me won't defeat me
It won't be long till happiness steps up to greet me
Raindrops keep falling on my head
But that doesn't mean my eyes will soon be turnin' red
Crying's not for me
Cause I'm never gonna stop the rain by complainin'
Because I'm free
Nothing's worrying me.