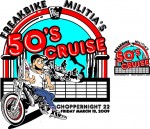 The Freakbike Militia's 50's Cruise from Flagler and Southern in West Palm Beach was supposed to leave in two waves: one at 5:30 sharp and the other at 6:30 sharp. I arrived a 5:20 to find myself all alone. I wasn't sure if I was early or late.
That's what happens when you're dealing with anarchists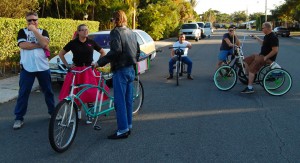 I took off down some residential streets for a ride, figuring that miles is miles. When I circled back around 6 PM, I found a small group gathering a block west of the announced meeting place. This was either my group, or I had taken a time travel to the 50s.
It turned out that the normal start time is 7:30, so most riders aren't used to showing up that early. The 5:30 wave was a wave-off since I was the only one to show.
We pushed off at 6:30 sharp with a group of about 50 riders, about half riding customized bikes or sporting what passed as mid-20th Century clothing. (One teenager was wearing a peace symbol T-Shirt. Right century, wrong decade, but points for getting close.)
If you LIVED through the 50s, you don't have to dress that way again
Since I was wearing my normal glow-in-dark bike jersey and bike shorts, I had a few folks look at me sideways.
"Hey," I justified, "I LIVED through the 50s. That makes me exempt from having to dress that way again."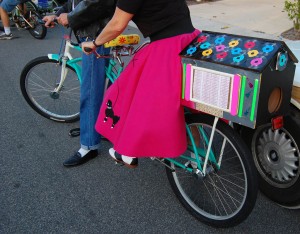 Continue reading "Friday the 13th with the Freakbike Militia"