Ron has a bike blog, The Cozy Beehive, with a different perspective. He's a mechanical engineer who brings his profession to his cycling passion. I read him every day. He tells you the science behind the sport.
These guys should visit the Cozy Beehive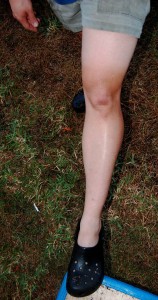 I have a brother and a son who are becoming weight wienies obsessed with removing as much weight as possible from themselves and their bikes. Son Matt just shaved his beard off and Jan Norris documented his shaved legs.
Bro Mark has been known to empty his water bottle before beginning a climb. Yep, both the internal AND external tanks.
Ron says they're on the right track
The destination of the ideal weightweenie is not a quest for the philosopher's stone, as some of our purist brothers and sisters will have us believe. To live and act the purposeful climber's life, we must look to our inner selves. Literally. There are multiple avenues to buy power. We do not see. Look to your inner self, yes inner self.
Fat is our enemy, and duplicated body parts superfluous.
Here's how they can do better
Look at this table he's put together to show how much weight you could save if you got rid of that extra kidney and eye. Even teeth, hair and fingernails add weight that slows you down. They've got to go.