When I started riding before the Turn of the Century (that sounds neater than "in the 90s"), I wore a pair of cut-off army surplus fatigue pants. I wore them until my wife pointed out that they had become so threadbare that my privates were about to become publics.
About that same time, I was in Dallas on business and rented a bike from Richardson Bike Mart, one of the biggest bike shops I've ever been in and where Lance Armstrong worked as a kid. While tooling around White Rock Lake, I was passed by a guy who had a caboose at least twice the size of mine. I thought, "If he ain't ashamed to stuff a sausage in that sack, then I won't be either."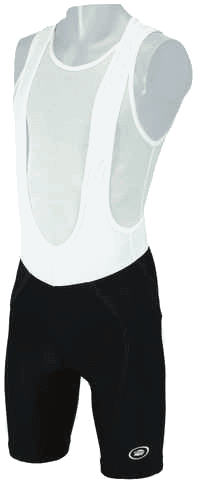 Shorts aren't cheap
When I got back home, I bought my first pair of Pearl Izumi bike shorts, paying almost three times what my last suit cost before I got married. I can safely say that I got more value out of the shorts than I did the suit.
After my shape became more aerodynamic (think keg, not six-pack), I transitioned to bib shorts and have found them much more comfortable. My first pair was the Performance Elite Bib Short. The editors at Bicycling Magazine gave them a 2008 Editor's Choice rating.
For some reason, I decided to switch to the Performance Ultra Bib Short and I passed my Elites on to my son, Matt. He called last night to say that his shorts were finally approaching the private / public stage after several years of hard riding.
Facing a full moon
Matt's first pair of bike shorts clearly demonstrated the difference between good shorts and cheap shorts. My brother Mark, his buddy Wally, Matt and I took off to Illinois for what turned out to be a century ride.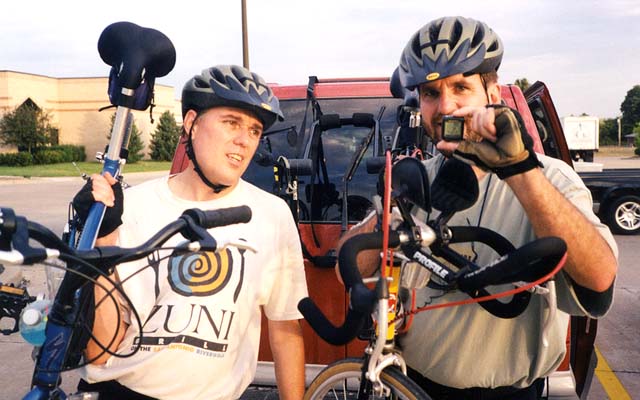 We were cranking along when I turned to the other guys and asked, "Do Matt's shorts have some kind of weird shine on them or are we looking at what appears to be a full moon?"
That question was answered when a pickup truck passed us with the woman driver holding her hand over a small child's eyes. Yep, you truly do get what you pay for. We increased our pace to keep Matt and his cheap shorts BEHIND us for the rest of the ride.

I like Ultras
I've found the Performance Ultra Bib Shorts to be the best buy for me. That's not to say there's not some shortcomings and that every pair is the same. Some of the first ones I bought had seams that were loosely sewn and came unravelled in way sooner than you would expect. I returned them for credit with no hassle.
Another year they introduced a new chamois that tended up bunch up on long rides. The later versions seem to have solved both problems. Again, bike shorts are a highly personal matter. What I like may not fit you, both literally and figuratively.
Like a full diaper
A good example of that was the Performance Century Gel Bib Short. They were slightly more than half the price of my Ultras, so I figured I'd give them a chance. I knew I had made a mistake as soon as I pulled them out of the package.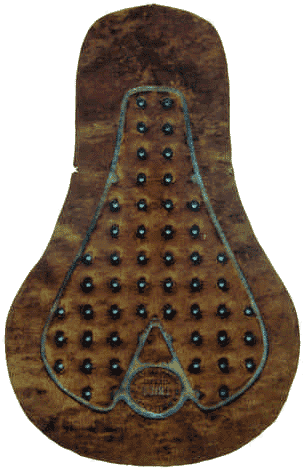 They were seriously heavy. Now, a guy who wears XL isn't much concerned with ounces, but these puppies were noticeably heavy. Turning them inside out, I discovered why. The brown gel chamois pad had the look and feel of a diaper.
A FULL diaper.
I have two sons and a toddler grandson. I know what a full diaper feels like.
Not only that, but it was THICK, like a gel pad my wife put on her bike. Sitting on that thing was about as stable as a sack of soft ball bearings. I don't know how you could ride with that thing squirming around underneath you like something alive trying to escape. [Editor's note: Wife said I should point out that the gel seat was a momentary act of insanity. She's graduated to a real seat since then]
Don't let anything come between you and your shorts
Oh, yeah, about that headline: in case you were wondering, you DON'T wear underwear under bike shorts. Although, if you are like Matt and his first pair of shorts, maybe that would be a good idea if anyone is going to be riding behind your behind.