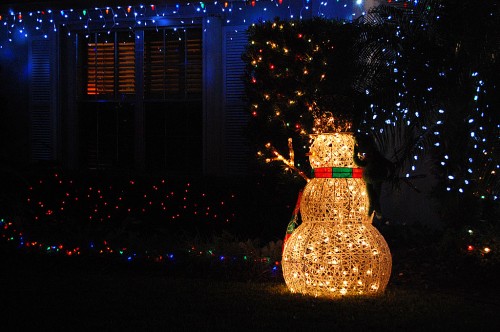 When I invited rider friends Anne and Osa to the First Annual Velo's Cyclery Christmas Cruise, I warned them that we might be the only ones to show up.
Organizer Juan Orellana had the same thought. "I didn't expect but about 10 people to show up, so that's all the maps I made up."
As it turned out, about 42 riders showed up at Phipps Park in West Palm Beach to take a tour of the famous (in this area, at least) decorations around Gabriel Drive in suburban West Palm Beach.
Juan led the charge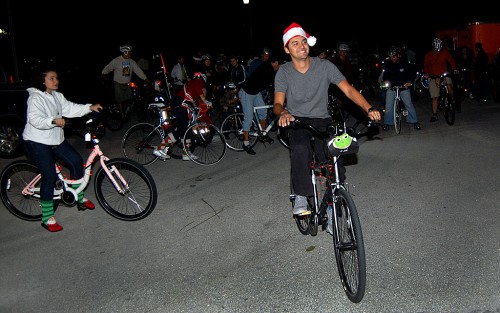 Riders of all shape and ages, riding tandems, tall bikes, expensive road machines and beaters, some decorated to the hilt, pulled out of the park shortly after 7 p.m. for the roughly 6.5-mile ride.
Most riders wore helmets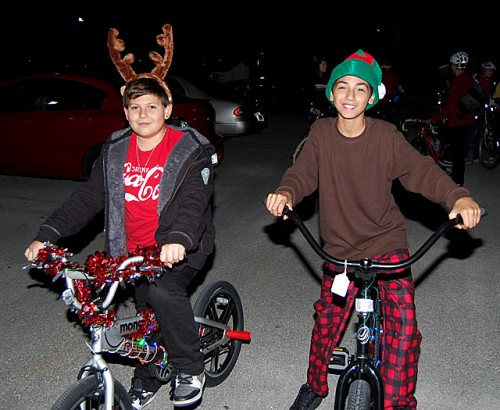 Most riders wore helmets, although these guys opted for style over safety for the evening.
Spectacular decorations
The neighborhood has been known for its extravagant decorations for as long as I can remember. Wife Lila insists that we make a pass through there almost every season. Traffic is usually a hassle, so I've considered riding on my bike, but dismissed the idea because I was afraid that motorists would be distracted and would run into me.
As Juan pointed out, "In numbers is better." It helped that we made such a spectacle of our own with all the blinking lights and strange costumes that motorists were VERY aware of us.
My friends are ready for next year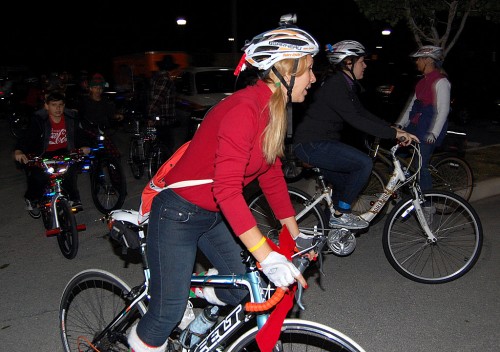 Anne and Osa enjoyed their rides very much. They're already looking forward to next year. Both of them managed to come up with excuses for missing the Freakbike Militia Choppernite 30 ride the night before, when temperatures were a bit more on the chilly side.
Juan said the event worked out so well that he's considering doing other family rides.
Christmas Cruise Video
Photo Gallery
Click on any photo to make it larger, then click on the left or right side of the image to move through the gallery.