Moni, a phred from Oklahoma, said it was 52 degrees with 30 mph winds gusting to 50. She was planning on a ride and was curious if any of the rest of us were going to hit the road.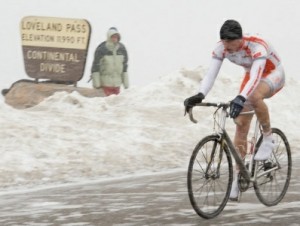 Icebikers are a whole different breed
I swiped this picture by Michael Oryl from the Icebike site, "dedicated to winter cyclists who brave ice and snow and cycle for transportation, recreation or competition."
I had to steal the photo because I didn't have anything like it. I don't even have a point of reference for the picture.
Cyclists started chiming in
A Montreal rider reported -19C and plans to stay home.
A Washougal rider said he had planned to get in an hour even though it was 37 degrees with rain turning to snow in the forecast. Then he confessed that he was going to log his hour on a trainer.
A Maryland rider did 32 miles in the mid-30s with an 8 mph wind.
SW Oregon cyclist did 29 miles at 43 degre

es adding "there were two short periods when it WASN'T raining" [Emphasis mine. I would have said there were TOO short periods when it wasn't raining.]

Several others in Colorado, S. Dakota and Virginia said they were snowed in.
I wimped out
After initially posting  that I was considering a ride this afternoon, I had to send the following confession:
I STARTED to go out riding this afternoon when the temps went above 66 degrees, but then it clouded over and looked like snow.
I put on my bike shorts, pulled on knee warmers, topped that with leg warmers and tights. I put on two pairs of socks underneath my Shimano Sandals and covered those with two layers of plastic newspaper bags. I had on my normal bike gloves covered by woolen mittens.
Unfortunately, just as I headed out to my bike, I found out that I couldn't walk with all that gear on, pitched forward on my face and twitched like a dying cockroach until my wife came out and helped me up.
It's probably a good thing.
The descent leaving the driveway – from 14 feet above sea level to 12 feet  – probably would have created wind chill that would have frozen my eyeballs.
Maybe tomorrow will be warmer. You just can't take too many chances.