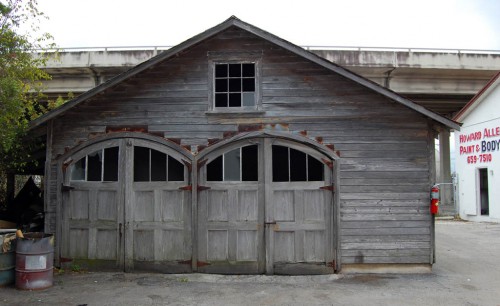 About 20,000 vehicles a day cross over the FEC railroad overpass on Southern Blvd. in West Palm Beach says the 2007 Florida Department of Transportation. Westbound drivers, who crane their necks just right, might see an old weather-beaten building in the shadow of the bridge.
Probably few of them do. The place is about a mile from home… almost exactly half-way between home and my former workplace. That means I passed it four to six times a day for about 30 years.
I never gave it a second glance – shoot, I don't know that I ever gave it a first glance – until recently, when my wife's Odyssey needed some work done at Howard Allen's Paint & Body Shop on Georgia Ave. in West Palm Beach.
Is it just a worn-out shack or is it a piece of local history?
The blue dot marks the spot
[At least it does in FireFox. It was MIA in Wife Lila's Internet Explorer. If the blue dot is missing, look for a small red roof north of the overpass and west of the railroad tracks.]
The exterior might have been cypress

While waiting for her, my eye was drawn to the asymmetrically-placed arched double doors with the rusty flashing framing them.
I don't know a lot about lumber, but the graying exterior looked like it might be cypress. It's one of the few woods that hold up under Florida's blistering heat and humidity.
Time and termites had taken their toll in a few places, but it looked pretty sound.
Square doors would have been easy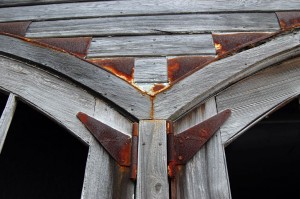 Someone took a lot of time and effort to make this building attractive and not just functional.
It takes a real craftsman to do cuts like this, especially with hand tools.
Rusty flashing and hardware only added to its character.
It's being used as a paint spray booth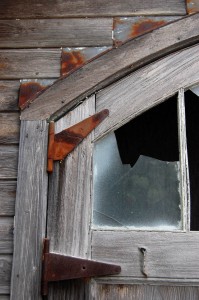 Mike Noel of Howard Allen's said they've been using the old building as a paint spray booth.
"When I first saw it, it still had all it's windows, but kids and time have taken their toll."
Did it come from Palm Beach?
Mike said that he's been told that the building was originally a carriage house in Palm Beach and may have been constructed in the late 1800s.
But he doesn't know that for sure.
"Some people have come by asking about it, and we'd be glad to give it to a good home, but they'd have to put up a new spray booth to replace it," he said.
How did it get to Georgia Ave?
If it had its origin in Palm Beach, how did it get on this side of the water?
Moving something this size wouldn't have been easy.
Even if it could have been floated across Lake Worth on a barge, the question is, why?
You would think that a new building could have been built for less than what it would cost to move this one.
Shrugs off hurricanes
Whoever erected it intended it to stay put. Large bolts hold the wooden structure to its concrete foundation.
It managed to survive hurricanes that splintered downtown West Palm Beach.
Buildings have souls

I could have spent hours looking at all the neat old hardware and wood patterns, but too soon my wife picked up her van and was ready to head home.
I've always felt a kinship to old buildings. I can walk though a deserted home touching walls, fixtures and doorknobs, picking up the vibes of people long gone and probably dead.
I can envision the excitement when the first person moved into a brandnew home with the paint still smelling fresh. I can hear the echoes of children singing "Happy Birthday," and I can sense the Gold Star Mother looking out the upstairs window for the son who won't be coming home from the war.
These walls didn't talk to me
Maybe the years of being used as a paint booth have poisoned its spirit, but I didn't pick up any of those strange feelings from this building.
It might have been because this was a "working" structure instead of a home.
I'd still like to know the real story
Maybe someone who sees this can unlock the real story behind this survivor of another era.