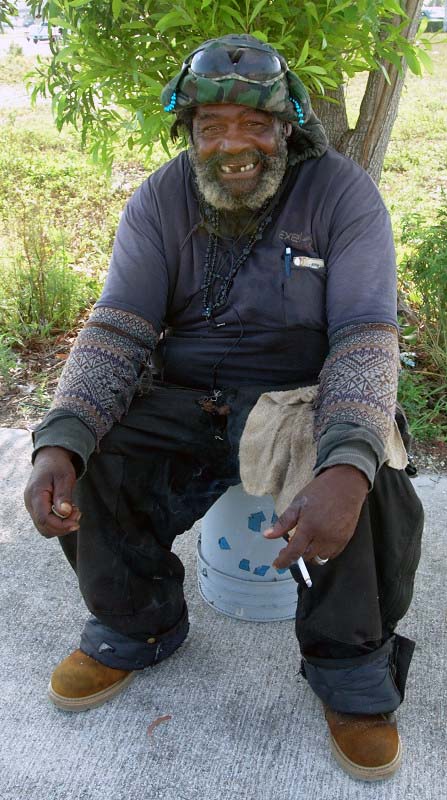 Phillip is headed to Chicago this summer to visit family. Phillip has 1,300 miles or so to go… On a bicycle… Pulling three fully-loaded trailers.
When I saw him sitting in the shade at the side of the road this morning, I had to stop and chat. I'm used to pulling my son around in a bike trailer. All told, him (42 pounds), his toys and his trailer (31 pounds) weigh in at 80-85 pounds. Phillip's convoy is every bit of 300 pounds.
Phillip doesn't know when he'll get to Chicago. He has done the round trip before but didn't keep track of the days, his peak wattage or calories burned. He rides without a GPS.
I wish I had more time to chat but I was running late for work. Below are some pictures. If anyone between Palm Beach County and Chicago, Illinios happens to see Phillip, please post an update to the comments below. I'd love to know what sort of progress he is making.
—Matt
(more photos of Phillip's Bike below)

| | |
| --- | --- |
| In this picture, you see the trailer being passed by a 2008 Toyota FJ Cruiser. I'm pretty sure Phil's bike trailer has more cubic feet of storage capacity than the 15/18mpg SUV. | |
| Here we have three headlights to go along with the three trailers. | |
| I'm not sure if a tree branch is heavier or lighter than carbon fiber. When dry, I imagine they are fairly similar in both strength and weight. | |
| In addition to the weight, I was really impressed at the length of the vehicle — more than 20 feet long. | |