I've been borrowing my dad's Trek Hybrid for nearly two years, and my wife has been borrowing my mom's Trek Hybrid for about six months. Friends and family members have been getting together nearly every weekend to do a 30 mile or so ride. My wife and I decided that it was time to look into our own bikes.
So, the search started. I checked the Internet for bikes. First thing to decide was whether I needed a road bike or a triathlon bike. Then, did I need a new bike or could I get away with a used bike? Next, was the difference between a $600 and a $900 bike really worth it? Shimano 105 or Ultegra? Wow, was my head spinning!
My dad talked me into seeing Phil Elliott at the local bicycle shop (Palm Beach Bicycle Trail Shop / 561-659-4583). A friend of my dad's recently "got a hell of a deal on a used full carbon Trek" there.
"Geez…. One more decision to make: regular or full carbon", I thought. So, I decided to head over to see Phil so that I could get myself straightened out.
Phil started to ask questions about how often I rode, how far we usually went and what I wanted to spend. I told him that I rode about twice a week, 50 miles total (soon to be more) and that I wanted to spend about $600. He suggested that I take a look at a new Trek 1.2 or a used Trek 2.1. The Trek 2.1 was a little more expensive than what I wanted to spend, but the components and the fact that it has a carbon seat stay would make it stand out. Also, since it was used, it could be had at a fraction of the retail price.
He told me to come back the next day and he would have it checked out and ready for me to demo. He let me demo the bike for a week. Wow! What a difference from what I was riding! I returned it and began to wonder if I could find a better deal somewhere else. Although, I did feel bad checking the prices when Phil had invested his time, I just wanted to make sure.
I went home and began to search the Internet for used Trek 2.1s and found a couple. But, my dad pointed out that I should buy it locally so that I would get the perks that come along with doing business with a local shop. The next day, I decided to visit another Trek dealer to compare. I headed over to see Mike Ellner from Cycle Science (561-627-2354) and explained the deal that I was about to do with Phil from Palm Beach Bicycle Trail Shop.
He looked through his inventory and found a used Trek 5200 full carbon. It was a 2001 model and had obviously been ridden, but did look solid and came with Durace and Ultegra components. I lifted it up and man was it light! I told him to give me his best deal, because I was just about to go back and see Phil. He gave me a number that put it in-line with the 2.1 I had already been demoing, and told me to come back the following day and he would have it checked out and ready for me to ride.
The first thing I noticed when I jumped on the bike for the first ride was the ease at which it shifted. The upgrade in components, even with them being years old, really made a difference. I really didn't notice a big difference in the ride other than the components, though.
I took the 5200 from Cycle Science to Palm Beach Bicycle Trail Shop the following Saturday. I knew that there was a fine line between asking for Phil's opinion and rubbing a sweet deal in his face, so I tactfully approached him. I told Phil about the price, what Mike was willing to offer and how much difference I noticed in the components. He looked at me and said "buy it."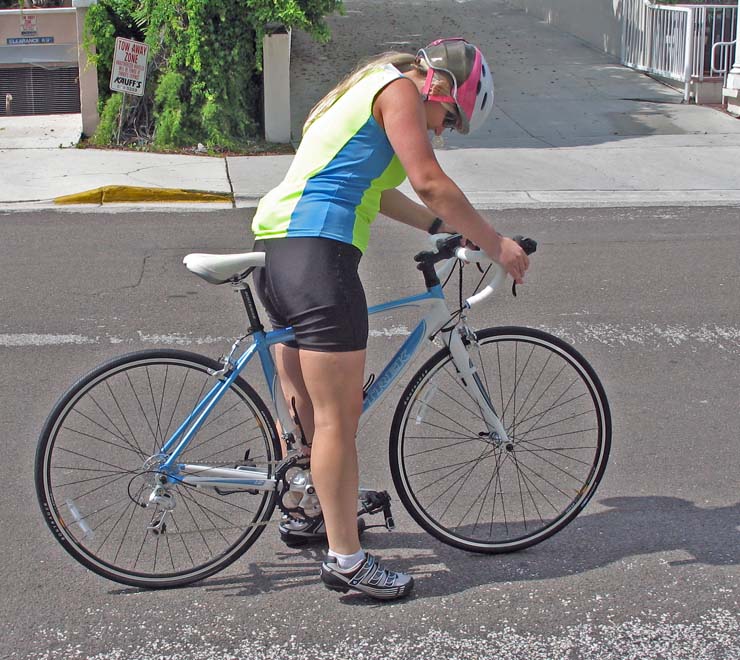 I really feel bad that I didn't get to give Phil the business, but I do have to say that I can trust nearly anything that he tells me from this point on.
I did end up giving him business, though. My wife purchased a brand new, Trek 1.2 WSD from him. And, I've told anyone who will listen what a great shop he runs. If you are in Palm Beach County and want an honest deal, go see him.
233 Sunrise Avenue ~ Palm Beach, Florida 33480
561.659.4583 ~ Fax 561.659.0445
–Adam