I've debated for a couple of weeks whether or not to make this post, because it's likely to be about as popular as kicking a puppy.
I've ridden my third – and last – Ride of Silence.
When I realized that it was getting to be that time of year, I turned to the Ride of Silence web page to find a local ride, which turned out to be an eight-mile loop in Palm Beach Gardens, FL. That seemed a little short, but it was convenient for my son, who could ride from home, and for my daughter-in-law, who was on the way. I added two coworkers to our band.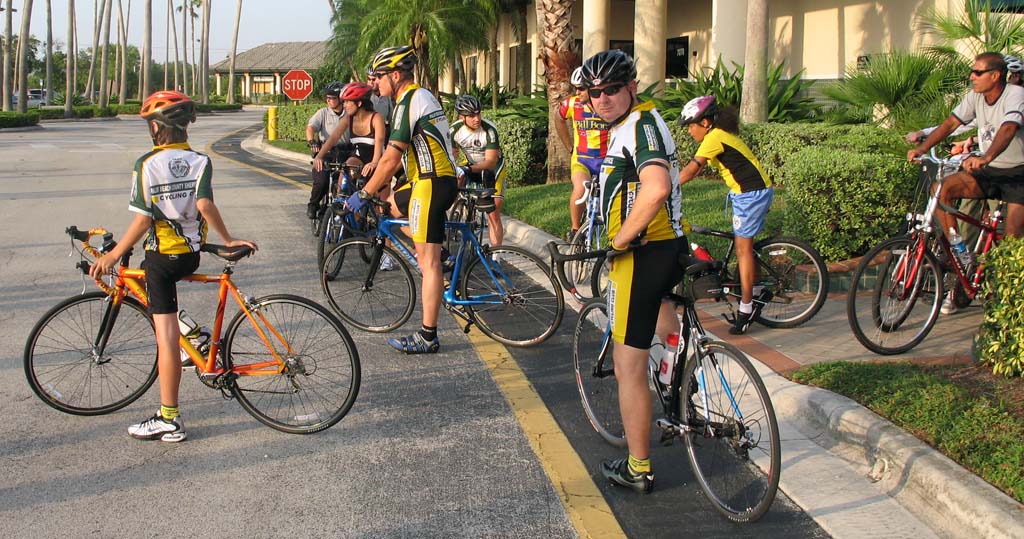 It was a much smaller group than I found in Boca Raton, FL, in 2006 and 2007, but, a ride is a ride. Riders ranged from young to old and were astride everything from beater bikes with rusty chains to light-weight carbon babies that cost more than three times my first car.
We started off with police motorcycle escorts fore and aft, despite that we were doing a loop in a mostly gated residential community.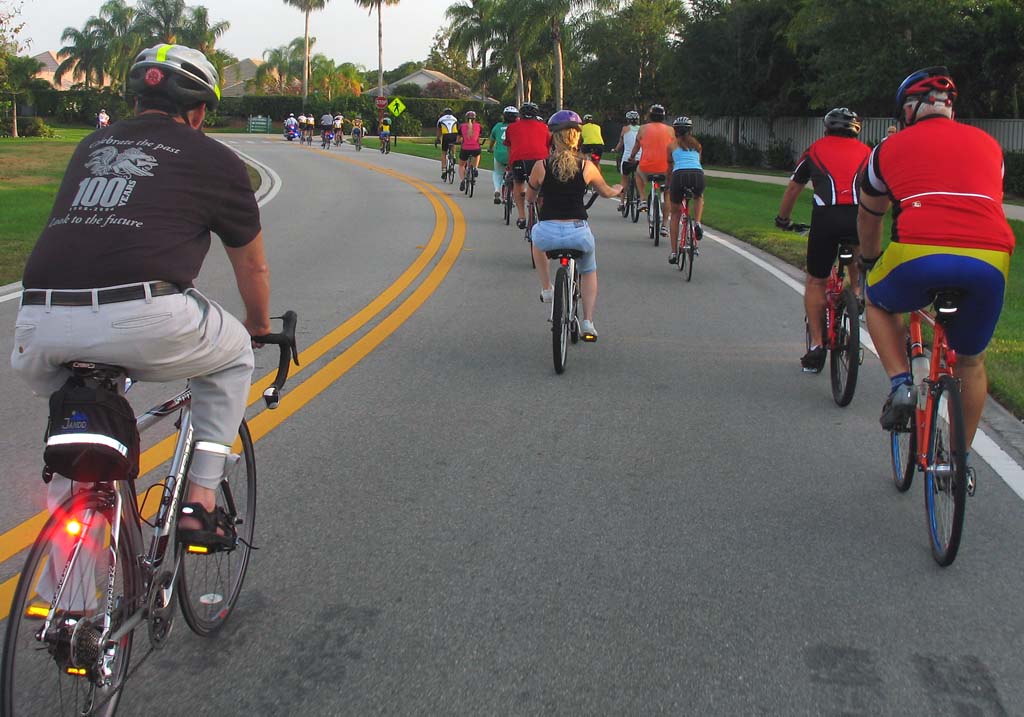 After the roll-out, the group was cruising at 10 to 12 miles per hour for the first 10 or 15 minutes while everyone got sorted out.
At the 20-minute mark, though, the pack started tightening up when the speed dropped to 6 MPH. Riders started weaving into each other.
Shortly after making a turn, my cyclometer showed that my speed had dropped to 4.6 mph (confirmed later by looking at my GPS track) and I unclipped several times thinking I was going to have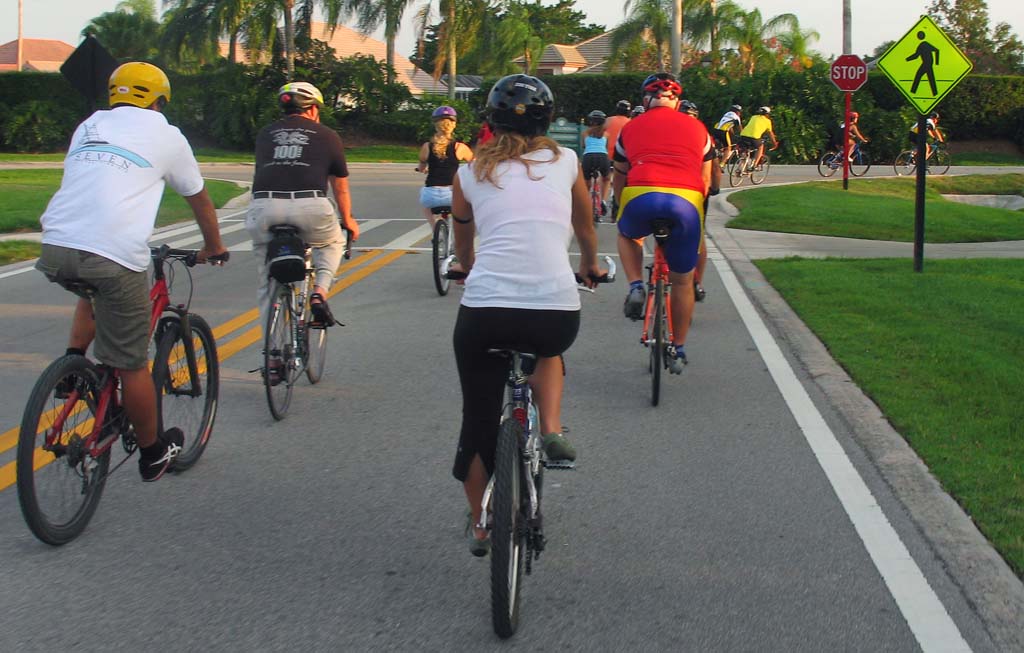 to come to a complete stop.
I had riders on all four sides and we were were coming close to touching wheels as we tried to maintain our balance. I don't like riding close to folks I KNOW and I didn't know these folks. I pulled up next to one of my coworkers and said, quietly, "This is too dangerous for me. I'm abandoning the ride." [If the picture doesn't look like we're too close, you're right. It was the last time we were still riding fast enough to safely hold a camera.]
I sprinted away from the group (if you would qualify 14-18 mph as a "sprint."
When I passed the lead motorcycle cop, I said, "This is too slow. It's dangerous back there.
"I know," he said.
Sheldon Brown that they may ultimately be bad for cycling.
The R.O.S web page says that "The Ride Of Silence is a free ride that asks its cyclists to ride no faster than 12 mph and remain silent during the ride. There is no brochure, no sponsors, no registration fees and no t-shirt. The ride, which is held during Bike Safety month, aims to raise the awareness of motorists, police and city officials that cyclists have a legal right to the public roadways. The ride is also a chance to show respect for those who have been killed or injured."
I applaud the idea, but doesn't it make it look like the only way cyclists can be safe on the road is to ride in a huge group with police escorts riding in front and back and blocking off intersections all along the way. It would be a lot more effective to have a single file row of cyclists riding appropriately along the road, signaling turns and stopping for traffic control devices. THAT's the way you show that you belong on the road.
The first year I did the Boca Raton Ride of Silence, my partner and I were in the middle of the pack. There were so many riders stretched out over such a long distance that there weren't enough police units to block every intersection. We came up to an unprotected crossroad with traffic backed up waiting for the light to change. When we got close, it turned yellow. We signaled that we were stopping and stopped just as it turned red. A bunch of club riders started hollering at us for having the audacity to ride like vehicles and promptly blew the light.
Great message to send.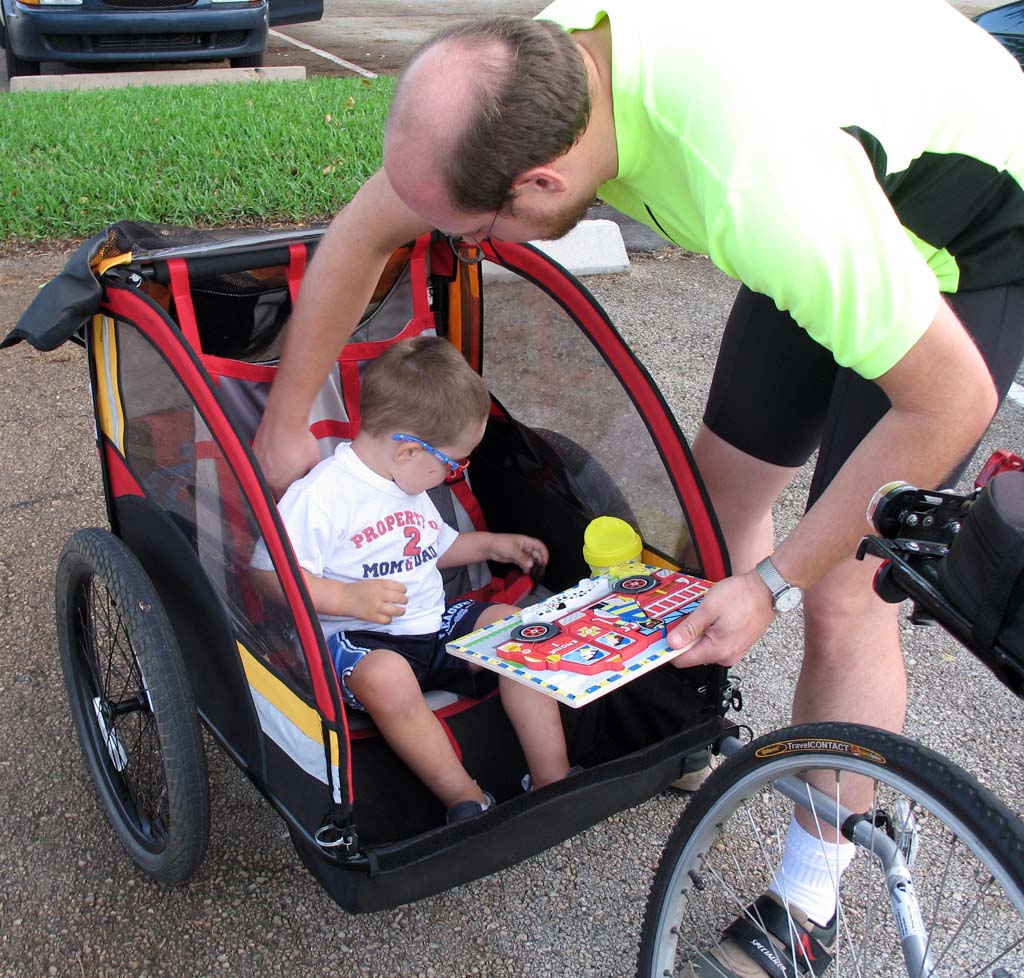 In fairness, my son and grandson in his bike trailer joined me for the 2007 Boca ride and we had a great time.
OK, I'm ready to duck and cover.