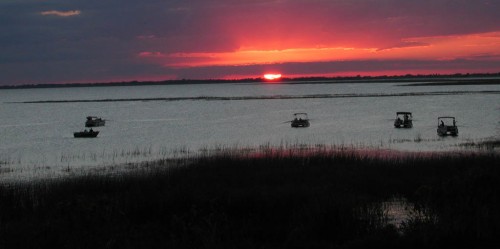 One of my favorite riding places in South Florida is the Lake Okeechobee Scenic Trail, better known as the LOST.
If you haven't done it because you didn't want to be out there alone, with no bathrooms and no refreshments, March 28 would be a great time to get your initiation.  The local Rotary Club is sponsoring its 6th Annual Bike Ride that Saturday.
The ride starts and ends at the Scott Driver Boat Ramp on Highway 78, west of Okeechobee and on east side of the Kissimmee River. They are featuring 12, 20, 40 and 54 mile round trip courses. 54 miles will take you from the north end of the lake down to Port Mayaca and back. Since there is only one trail, it's impossible to get lost on the LOST.
There is nothing magic about those distances, either. Just ride until you are half as tired as you want to be at the end, then turn around.
Be VERY aware of wind direction when you're calculating that. You're perched about 30 feet above the surrounding terrain with nothing to block the wind. That's good if you have a tailwind. That's really bad if you have a headwind, particularly on the way back.
Here's the registration form
Registration form for 6th Annual LOST ride
Starts and ends at Scott Driver Boat Ramp
Scott Driver Boat Ramp on Highway 78
There's an interesting mix of riders
You'll rub elbows with serious road riders with expensive bikes and locals on beaters who are puffing cigarettes as they cruise along. I've seen kids who couldn't have been more than seven years old lead their parents on the way out and were in better shape than their parents on their way back.
The LOST was Mary's first ride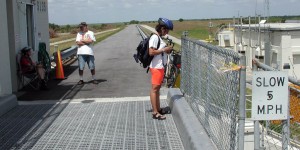 Mary Garita, a coworker for more than 20 years, showed up for the ride, not knowing what to expect.
She liked it well enough that we became regular riding partners. For awhile, we were riding the LOST a couple of times a month including an unsupported century on the south end of the LOST in November of 2006.
A month later, she crashed on the LOST, fractured her skull in five places and hasn't been able to work or bike since. There's a reason for that helmet requirement for that ride. Trust me.
The local support folks are great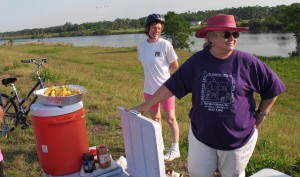 The local folks who man (person) the rest stops are friendly and interested in learning about cycling. I'll never forget the first year when we were explaining why all that funny clothing makes riding more comfortable. When I explained that the jersey is made of material that wicks the sweat away to keep you cooler and that the tail is cut long to hide biker butt, he noticed the rear pockets and exclaimed, "That'd be great for fishing."
I wish I had been carrying a spare jersey with me; I'd have given it to him.
What to take with you on the LOST
It's a supported ride, but it's always better to be prepared, I learned in Boy Scouts. Here's what I carry, supported of not:
Suncreen. There is NO shade up on the dike.
Spare tube and a way to inflate it.
Plenty of water; there are no facilities to buy any on the dike (although it will be provided at the rest areas)
A cell phone, just in case.
Emergency contact information (remember Mary?)
Mosquito repellent. Not necessary in the daytime, but bugs are brutal for about 45 minutes right at dusk.
A bandanna to cover my mouth and nose when riding at dusk (bugs are protein, but not my chosen type. Note to self: remove before walking into convenience store)
A camera; not absolutely necessary, but I guarantee that you'll spot something along the trail you wish you could document.