There's been a discussion on the Google Surly Long Haul Trucker's Group about whether you could put a 26-inch wheel on an LHT designed for a 700C frame.
The LHT is sold with 26-inch wheels on frames from 42 to 54 CM and 700C wheels on frames larger than that.
Is the bigger wheel faster?
When I went from my 26-inch-equipped Trek Navigator 300 comfort bike to a Trek 1220 road bike with 700Cs, I picked up about two miles per hour. I attributed it to the larger wheel size. I don't know if that's what it was, but it was as good a theory as any.
My 52CM LHT comes with 26-inch wheels
I was a little concerned about having to go back to 26-inch wheels on my new LHT, but enough folks assured me that it wouldn't be much different. They also said it's a lot easier to find 26-inch tires around the world than 700Cs.
I have to admit that I can't tell much difference. Once the LHT gets up to cruising speed, it seems to take little effort to keep it going. Of course, most of my riding is on flat ground.
The 700 IS quite a bit larger
I'm of the generation that is metrically challenged, so I didn't have a real grasp of the sizes. (I'm like the kid who will take a nickle instead of a dime because it's bigger.) While I was cleaning out my shed, though, I happened to grab the rim that came off my old Trek when I had my SON built into a new wheel for my LHT. At the same time, I also grabbed the original wheel off my LHT.
The 26-inch wheel fit inside the 700 with room to spare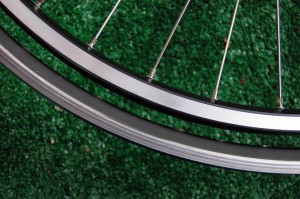 Wow! That puppy IS bigger.
I'll leave it up to folks who understand physics and rolling round things to explain to me exactly what performance differences to expect (feel free to chime in).